Lucy Dacus Releases Single "Kissing Lessons" as She Begins New U.S. Tour
Photos via Matador, Ebru Yildiz
Music
News
lucy dacus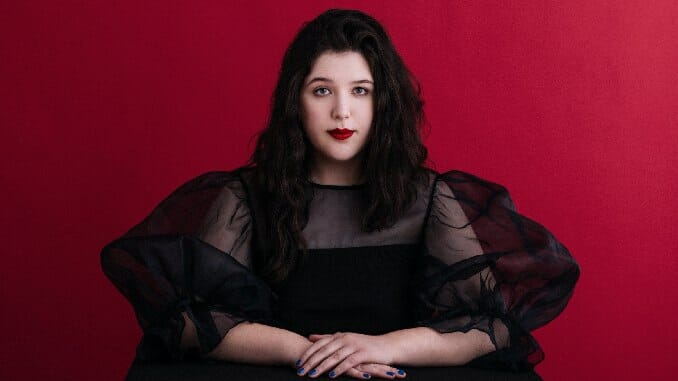 Just before she heads out on another major U.S. (and then international) tour in support of last year's Home Video, Lucy Dacus has dropped us another pearl of a new song, in the form of "Kissing Lessons." The single was recorded and mixed during the Home Video sessions, making it feel especially like a bonus track from that critically acclaimed LP, which was peppered throughout end-of-year lists in late 2021, including our own.
Dacus and her team playfully leaked this song last week after "a series of flyers appeared in several US cities with tear-off tabs for a 'Kissing Lessons' hotline." Lucky individuals who called into said "hotline" were instead treated to Dacus' new single over the phone, but it's now available for all to hear and see, via the accompanying video below, directed by Mara Palena. Like many of the other songs on Home Video, the story's subject is taken directly from Dacus' childhood in Richmond, Virginia—this time it's a lovely little ode to a childhood friend who was one year older than Dacus in grade school, when she taught her the secrets of romance. It's a sweet and instantly catchy track, and one has to hope that song subject "Rachel" will hear it and smile. The early 2000s childhood vibes are strong on this one, as in lines such as the following: "We'd take turns being seduced // Imagining the day it would come into use // Imagining the day we'd start breaking hearts // And taking names."
"Kissing Lessons" is being released on a 7'' with "Thumbs Again" on June 3, with pre-orders available now. Dacus, meanwhile, is launching off on another U.S. tour this week, hitting additional cities she hasn't already visited in support of Home Video, before she then heads to Europe and some major festivals. Check out the video for "Kissing Lessons" here, and the full tour dates below.
Lucy Dacus Tour Dates
February
Feb. 09 – Pitts, PA @ Stage AE *
Feb. 10 – Detroit, MI @ Majestic *
Feb. 11 – Newport, KY @ Ovation *
Feb. 12 – Indy, IN @ Egyptian Room *
Feb. 14 – Milwaukee, WI @ Turner Ballroom Valentine's Day *
Feb. 15 – Chicago, IL @ Thalia Hall (Rescheduled Date) * – SOLD OUT
Feb. 17 – Minneapolis, MN @ First Ave (Rescheduled Date) * – SOLD OUT
Feb. 18 – Iowa City, IA @ Englert Theatre (Rescheduled Date) * – SOLD OUT
Feb. 19 – Lawrence, KS @ Liberty *
Feb. 20 – OK City, OK @ Tower Theatre *
Feb. 23 – Athens, GA @ Georgia Theatre *
Feb. 24 – Asheville, NC @ Orange Peel *
Feb. 25 – C-Ville, VA @ Jefferson * – SOLD OUT
Feb. 26 – Asbury Park, NJ @ Stone Pony * – SOLD OUT
Feb. 28 – Ithaca, NY @ Hangar Theatre
March
Mar. 01 – Holyoke, MA @ Gateway City Arts
Mar. 03 – Providence, RI @ The Strand
Mar. 05 – Baltimore, MD @ Ram's Head
Mar. 18, 2022 – Leeds, UK @ Brudenell Social Club ^ – SOLD OUT
Mar. 19, 2022 – Leeds, UK @ Brudenell Social Club ^ – SOLD OUT
Mar. 20, 2022 – Glasgow, UK @ St. Lukes ^ – SOLD OUT
Mar. 21, 2022 – Dublin, IE @ Olympia Theatre ^
Mar. 23, 2022 – Manchester, UK @ Gorilla – SOLD OUT
Mar. 24, 2022 – Bristol, UK @ Marble Factory ^
Mar. 25, 2022 – London, UK @ Kentish Town Forum
Mar. 26 – London, UK @ Rough Trade – In-Store Performance
Mar. 27 – Brighton, UK @ Concorde 2 ^
Mar. 29, 2022 – Brussels, BL @ Rotonde ^ – SOLD OUT
Mar. 30, 2022 – Amsterdam, NL @ Paradiso Noord ^
Mar. 31, 2022 – Cologne, DE @ Artheater ^
April
Apr. 02, 2022 – Hamburg, DE @ Molotow ^
Apr. 03, 2022 – Copenhagen, DK @ Loppen ^ – SOLD OUT
April 04, 2022 – Aarhus, DK @ Atlas ^
Apr. 06, 2022 – Oslo, NO @ Parkteatret ^
Apr. 07, 2022 – Stockholm, SE @ Nalen Klubb ^
Apr. 09, 2022 – Berlin, DE @ Lido ^
Apr. 10, 2022 – Jena, DE @ Trafo ^
Apr. 12, 2022 – Vienna, AT @ Chelsea ^
Apr. 13, 2022 – Munich, DE @ Milla ^
Apr. 14, 2022 – Zürich, SU @ Bogen F ^
Apr. 15 – Paris, FR @ La Maroquinerie ^
July
Jul. 21 – New York, NY @ SummerStage in Central Park %
August
Aug. 7 – St. Charles, IA @ Hinterland Festival
Aug. 26 – London, UK @ All Points East Festival
Aug. 27 – Sun. Aug. 28 – Darmstadt, DE @ Golden Leaves Festival
September
Sep. 1 – Sun. Sep. 4 – Salisbury, UK @ End of the Road Festival
= with Indigo De Souza
^ = with Fenne Lily
% = with Hop Along