Unlock Maggie Rogers's New Single "Split Stones" Through a North Face Ad Campaign
Photo via The North Face
Music
News
Maggie Rogers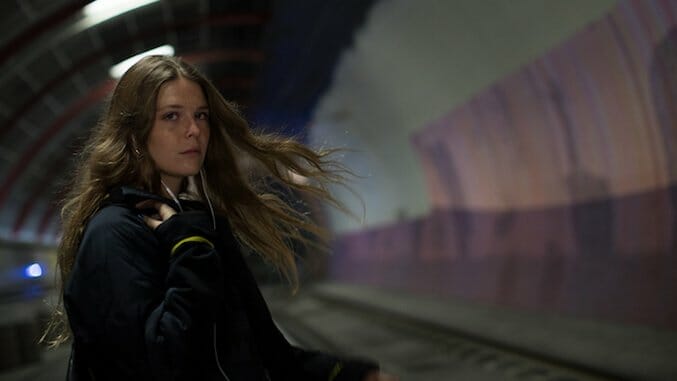 Singer-songwriter Maggie Rogers showed off her outdoorsy side in a collaboration with The North Face to promote her new single, "Split Stones," in conjunction with the release of their Ventrix jacket. Through an ad campaign for the product, the brand launched an interactive digital experience called The Release Project that encourages movement to unlock Rogers' new song.
The campaign attempts to parallel the function of the jacket itself, which releases excess body heat through ventilation that opens and closes with motion. While the aim is to get listeners to actually participate in something active, regardless of how you make your phone move, layers of the song are revealed until the track in its entirety is unveiled.
The film for the campaign, directed by Grant Singer, features clips of Rogers, along with various North Face athletes, hiking and camping in the Oregon wilderness, with Portland and Mount Hood as the backdrop of some of the clips. The setting of the commercial itself actually inspired the song, says Rogers:
"I took the first sound samples for 'Split Stones' on a month-long backpacking trip in Oregon during the summer of 2013; I've been collecting samples and piecing the song together in bedroom studios and trails ever since. I'm super excited about combining the two things I love-technology and the environment-to create a way that people can hear the song, but also feel a little bit a part of the action and process that inspired it."
"Split Stones" is the first song Rogers has shared since her EP Now That the Light Is Fading debuted earlier this year. The single will be officially released tomorrow, Sept. 20. Until then, check out the film for The North Face's ad campaign below.