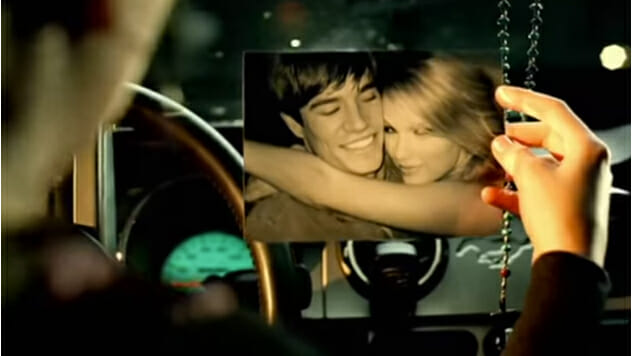 Once upon a time, teen prophet Lorde denounced "Bloodstains, ball gowns, trashin' the hotel room" in her song "Royals," which decried the zero-consequence life of the carefree rockstar. That life of "trashin' the hotel room" and leaving the mess for someone else has been glamorized in Snapchats, memoirs, documentaries and music videos. It fetishizes freedom, success and a lack of responsibility, but it also represents a void for something deeper that might be missing. Think the shirtless rock bands of the '80s, the pop-punk stunts of the '90s and now, the pop stars who are taking matters into their own hands.
Recently, Taylor Swift and Zayn took their rage out on a hotel room in their video for "I Don't Wanna Live Forever," smashing things to bits and wasting away fancy champagne. So in honor of destruction in music videos, here are 11 of the most recklessness musical moments. Enjoy, you ruthless fiends.
1. Blink-182, "The Rock Show"
There's no motive behind the destruction in Blink-182's "The Rock Show" other than sticking to the man. Mark, Tom and Travis blow their entire production budget for the vid by handing out cash to people on the street and getting others to shave their heads. Then, in typical Blink fashion, they fork over more money to buy new TVs, only to smash them to pieces and pour beer over them. In the end, they hire a dude with a crane to hoist an entire car over the pavement, letting it crash to the ground so satisfyingly.
2. Muse, "Hysteria"
Clearly the dude in this music video has some issues, and they get taken out on his hotel room. As the stalker watches footage of a Carly Rae Jepsen lookalike wandering through the streets, his hysteria grows, tears streaming down his face until his rage bubbles to the surface. Among the victims of his anger? A television, some fine art hung on the wall, a bouquet of lilies, a room service cart, a phone and more. Eventually, you come to realize that the hotel room he's trashing was supposed to be for him and his lover/obsession, and he can't really deal with her rejection.
3. Kelly Clarkson, "Since U Been Gone"
Kelly Clarkson's rampage in the "Since U Been Gone" video has since given wronged exes enough apartment-ravaging inspiration for decades to come. She snipped shirts, murdered pillows, doused a mirror in shaving cream, tore apart his bed, emptied his medicine cabinet and toppled his vinyl collection. Although it didn't do any good in the long run, there's something strangely satiating to the hurt soul in wrecking your ex's place. But if you don't have the guts to pull off the feat yourself, it's just as good watching Kelly do it.
4. Jazmine Sullivan, "Bust Your Windows"
Although the song is about how Jazmine Sullivan will "bust the windows out your car," there's no car-bashing in this visual (we'll leave that to Beyoncé in the "Hold Up" video). Make no mistake, however, she still ruins her ex's property by dumping his watches into a fish tank one by one. She also takes spray paint to his artwork, chucks his record collection down the stairwell and drowns his kitchen floor in the rest of his good champagne. That's what he gets for cheating, right? Unlike other videos where rock stars are trashing their rooms, Sullivan keeps a calm composure during the destruction, leaving us with no worries that she'll be just fine.
5. Pink, "So What"
Pink tries to prove that she's A-okay after her breakup (which happened in real life, by the way) by acting tough and putting up a fight in the video for "So What." By hardening her exterior, she tries to hide her wounded ego and show her ex that she's better off without him. She holds up traffic with wild hair, starts trouble by smashing guitars in Guitar Center, flashes the paparazzi and attempts to show a newlywed couple who's boss when she dumps beer and eggs all over their love-mobile. No real damage might've been done in this video (except to those drivers' morning commute), but Pink sure did try.
6. Carrie Underwood, "Before He Cheats"
If you want to know what happens in this video, she take it from Underwood herself: "I dug my key into the side of his pretty little souped-up four-wheel drive, carved my name into his leather seats. I took a Louisville slugger to both headlights, slashed a hole in all four tires." Maybe next time he'll think before he cheats.
7. Taylor Swift, "Picture to Burn"
Taylor Swift has an appetite for destruction in several of her videos (remember when she blew up a city in "Bad Blood?"), but the damage in the "Picture to Burn" video was done for classic revenge reasons. After Tay finds out that her old dude is with a new girl—and that he lets her drive that stupid old pickup truck she was never allowed drive—she hires of team of secret ops to go after all his stuff. They throw toilet paper around, spit in his mouthwash, strew his clothes about. It's a whole thing. In the end, we find out it's all a dream, but it still counts.
8. Shakira, "Don't Bother"
If Carrie Underwood could take a Louisville Slugger to both headlights, Shakira was going to go several steps further. In this music video, when her boyfriend does her wrong, she drives his precious car all the way to the junkyard, hops in a forklift and punctures that sorry piece of metal 'til there's nothing left. Then, for good measure, she puts it in the car-crusher. After dancing around frantically (it is a Shakira video, after all), she delivers the car back on his driveway. The ultimate revenge.
9. Sum 41, "Still Waiting"
All of Sum 41's music might make you want to break stuff, but only at the end of their "Still Waiting" video did they get to trash an entire soundstage. After the foursome were confronted by their label with a idea about how to change their image, the newly dubbed "The Sums" tried out the look, only to reject it. The best part of the whole video is the last 20 seconds when the guys knock down their pristine props and wreck their instruments, plunging a guitar into the kick drum and toppling over the light structures.
10. Joe Walsh, "I Can Play Rock 'N Roll"
In this oldie, the former Eagles guitarist goes crazy with a chainsaw as he goes on the hunt for a pesky housefly in his hotel room. With an aesthetic stolen from Jack Nicholson in The Shining, he busts furniture, a TV and mirrors with an ax. And, as if some people are attracted to that delirium, he throws a party among the squalor, drywall bits sticking to his guests' shoes and a dust of destruction hanging in the air. It's a delightfully cheesy throwback and a predecessor for a batch of broken music videos to come.
11. Oh Land, "Head Up High"
If watching stuff smash and crumble in slow motion is something that brings you weird joy, then fast forward to 2:58 in Oh Land's "Head Up High" video, where she lowers a motorcycle helmet onto her shoulders and leaves nothing whole. She slams a terra cotta pot against brick, takes a baseball bat to an old Dell computer, splinters wooden furniture, obliterates a perfectly good glass of orange juice, etc. There's empowerment in destroying an entire room, and Oh Land's head is held very high.