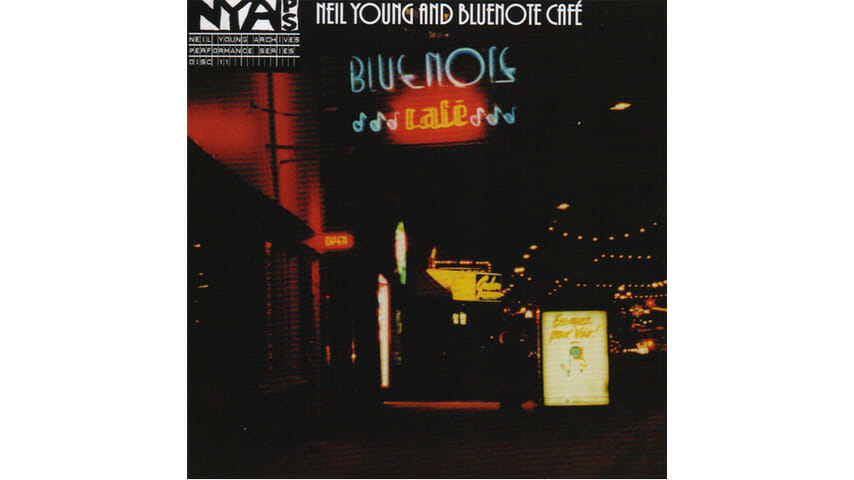 Neil Young never seemed to care very much about what his audience wanted to see when he came to town. Between 1982 and 1988, he toured with a vocoder and synthesizer in support of Trans, a full blown country band for Old Ways, and a horn section for This Note's For You. The latter album was originally credited to Neil Young & The Bluenotes, his backing band at the time, but has since become an oft-overlooked period within his storied career. Bluenote Café is excellent two-disc live set that chronicles this time, one that saw him playing by his own rules and performing material that was either unreleased or exclusive to This Note's For You.
Surely, the fans who came to the great Canadian guitarist and songwriter expecting blowout performances of such indelible chestnuts as "Cinnamon Girl" and "Powderfinger" were thoroughly disappointed on the This Note's For You tour. With its Eric Clapton-dissing anti-commercial title cut as its lead single, This Note's For You packed more muscle than anything Young had done since Re*Ac*Tor, only not enough for those longtime fans who know the kind of sonic damage he can inflict with Old Black when the volume gets turned way up.
Seven songs on this compilation—including choice Bluenotes-primed fare like "Soul of a Woman" and "Fool for Your Love"—have never been previously released until now, showing just how few expected hits Young played during that era. When he played with the Bluenotes band, however, Young delivered an incredible show one that showcased his deft skills on the electric guitar's clean channel as equally as its dirty one, seemingly channeling the bold, brassy atmosphere of B.B. King and Buddy Guy in their heydays.
Bluenote Café also includes This Note's For You cuts like "Welcome to the Big Room" and "Ten Men Workin," which definitely come across richer and fuller than their LP counterparts. A gritty run through the Freedom centerpiece "Crime in the City" offers a glimpse of what was ahead in '89. And when Young did throw the old timers in the crowd a couple of bones from his songbook, he offered up a funky run through his longtime live staple "On The Way Home" and a near-20 minute volcanic meltdown take on "Tonight's the Night."
While Bluenote Café is one of the tastiest and most generous installments in the Neil Young Archive Performance Series, it's easy to get overeager in looking ahead at the succeeding period of Young's career—with a return to Reprise Records and 1989's smash Freedom. It's exciting to think what the Volume Dealers have in store for fans next.