Watch Neko Case Perform Tracks from Hell-On on CBS This Morning
Image via CBS/YouTube
Music
News
Neko Case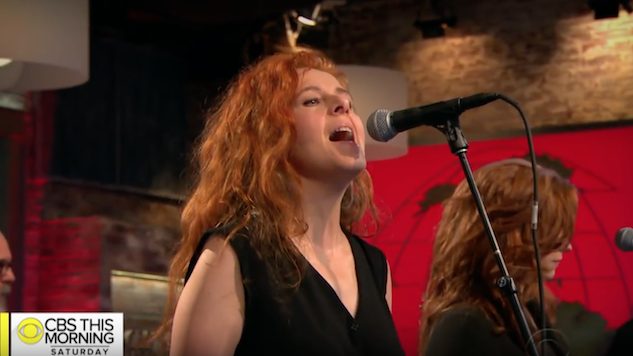 Prolific singer-songwriter and New Pornographers member Neko Case took to CBS This Morning this past Saturday to perform three tracks from her seventh solo LP, Hell-On.
The three tracks she performed—the expertly layered "Halls of Sarah," the soaring "Winnie" and the mythic "Last Lion of Albion"—showcase Case's ambition as a songwriter, in which the general parameters of the craft are disregarded in lieu of something entirely unexpected. Each track starts in one realm but ends somewhere entirely different, whether rhythmically, melodically or both, and it's the seemingly effortless path Case takes to get there in these performances that allows her true artistry to shine through.
Case's latest album was released back in June—you can read Paste's review of the LP here and check out our ranking of the 12 best Neko Case songs here. Watch Case's CBS performances below and see her tour dates further down.
Neko Case Tour Dates:
October
07 – Los Angeles, Calif. @ Adult Swim Festival
November
27 – Missoula, Mont. @ The Wilma
28 – Bellingham, Wash. @ Mt. Baker
29 – Seattle, Wash. @ Paramount
30 – Vancouver, B.C. @ The Vogue
December
01 – Portland, Ore. @ Roseland Theater
03 – Oakland, Calif. @ Fox Theater
04 – Chico, Calif. @ Sierra Nevada
05 – San Luis Obispo, Calif. @ Fremont Theater
08 – San Diego, Calif. @ Observatory North Park