Welcome to the first edition of Notes From New York, a new monthly jazz column by Bill Milkowski that includes observations on the scene along with interview snippets, gossip and gig information.
A Carla Bley Milestone
The irreverent and prolific composer Carla Bley celebrated the release of her new darkly compelling trio album Andando el Tiempo (ECM), with a special by-invite-only performance on May 11 at Steinway Hall. The occasion also happened to mark her 80th birthday. Some weeks before this intimate performance with bassist Steve Swallow and tenor saxophonist Andy Sheppard, Bley was worried that she may be sporting a cast on her left hand. She had fractured her wrist in a fall from a ladder while on winter retreat with her longtime musical collaborator and life partner Swallow on a small island in the British Virgin Islands. "It's nothing to do with aging," the NEA Jazz Master told me in an interview at her home in bucolic Willow in upstate New York, just outside of Woodstock. "I didn't get dizzy, I didn't misstep. I fell off a ladder because I was picking berries off a tree, and I was greedy. There was a berry that I wanted that was not within reach, and I reached for it. It was pure greed. And I fell on the road, which was a concrete road, unfortunately. So this is not related to getting old, I swear! This is related to not being smart about fruit."
It turns out the cast was averted, and she was in fine form while performing tunes from Andando el Tiempo, a moving meditation on the stages of recovery from addiction. The one-time cigarette girl at Birdland, the "jazz corner of the world" during its heyday in the early 1950s, is presently focused on her next project, a sprawling oratorio which will be recorded later this year and released next year on ECM. "This is the largest work of my entire life, bigger than Escalator Over the Hill (her ambitious 1971 jazz opera which featured a wild amalgam of musicians including John McLaughlin, Jack Bruce, Gato Barbieri, Larry Coryell, Don Cherry, Linda Rondstadt, Roswell Rudd, Paul Motian and Charlie Haden)," says the tirelessly creative, forward-looking spirit. "It's an oratorio for big band plus boys choir called The French Lesson. I wrote the bulk of it in 2012 and performed it once at the Moers Festival in Germany with a boys choir from an academy of music near Düsseldorf. The choir was about 40 to 50 boys, and in front of them was the Bohuslän Big Band from Sweden. That was my Swedish roots coming out; I wanted to work with Swedes. And they were so affected by playing with the boys choir behind them that they were either laughing or in tears the whole concert. And I think when this recording comes out on ECM next year, every big band is going to need a boys choir because it makes it so much more fun and more beautiful. So we're going into the studio for a week with the NDR Big Band and with [ECM Records head] Manfred [Eicher] holding court, and we're going to get a delicious album out of it. So I got my wish after four years. It'll be everything I dreamed of." Stay tuned.
The Freedom Principle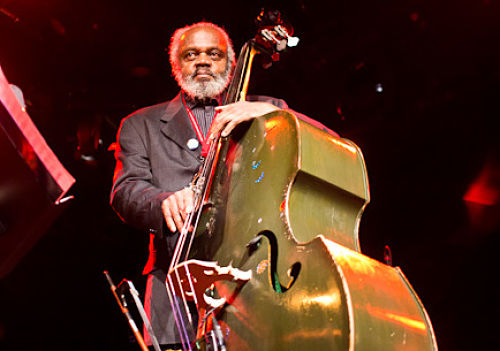 The Vision Festival, that gathering of musical renegades and avant garde aficionados that has both celebrated and defined the free jazz community in New York City for the past 21 years, had its annual week-long residency in June at the Judson Memorial Church, located in the heart of Greenwich Village, just off of Washington Square Park. The annual affair, which is produced by the non-profit Arts for Art organization, honors a significant figure who has made historic contributions to the music. This year's honoree was bassist Henry Grimes, a ubiquitous session man during the 1960s who appeared on important albums by the likes of Sonny Rollins, Cecil Taylor, Don Cherry, Pharoah Sanders, Archie Shepp and Albert Ayler before completely dropping off the scene in 1970, only to be rediscovered in 2002 in Los Angeles, where he was living in a tiny apartment and doing odd jobs to support himself. Bassist-composer Williams Parker, one of the forces behind the Vision Festival, along with his wife, dancer-choreographer Patricia Nicholson, was a key factor in Grimes' return to the scene. He not only donated a double bass (nicknamed "Olive Oil" for its distinctive green color) to Grimes but he also provided him with a showcase at the 2003 Vision Festival, a widely covered event which effectively jump-started Grimes' career. The bassist has been a fixture at the free jazz bash ever since, performing on double bass, violin and reciting poetry. His Lifetime Achievement Award, presented on opening day of this year's Vision Festival, is richly deserved. Grimes led a quartet with pianist Geri Allen, cornetist Graham Haynes and drummer Andrew Cyrille and also performed with a septet featuring guitarist Marc Ribot and drummer Chad Taylor. Other notable sets at this year's Vision Festival included a 60th anniversary celebration by the Sun Ra Arkestra, led by 92-year-old alto sax master Marshall Allen, an experimental set by trumpeter Wadada Leo Smith, who performed with four violas and electronics provocateur Hardedge, and a powerhouse set by the perennial fest favorite Kidd Jordan, the 81-year-old New Orleans tenor sax titan and Albert Ayler disciple who performed with his longtime drummer Alvin Fielder and his trumpeter son Marlon Jordan.
Seen on the Scene
In a week-long engagement at the Blue Note in early June, guitarist John Scofield unveiled his new-groove super trio with keyboardist Brad Mehldau and drummer Mark Guiliana. The music, which ran the gamut from Mehldau's drum 'n' bass-fueled "Wake Up" to Scofield's soul jazz anthem "Shuffle 7" and his funky Uberjam romp "Pop Ho," will be documented for release following Scofield's next Impulse recording, the George Jones-inspired Country for Old Men, due out in the fall; Irrepressibly swinging 87-year-old drummer Jimmy Cobb, the lone surviving member from Miles Davis' classic Kind of Blue sessions from 1959, was the driving force behind guitarist Peter Bernstein's superb quartet (featuring rising star pianist Sullivan Fortner and veteran bassist John Webber) in their week-long stint in May at the historic Village Vanguard; Anthony Wilson, guitarist extraordinaire and longtime accompanist to jazz pianist-singer Diana Krall, premiered new vocal material from his latest album, Frogtown, at The Django, an atmospheric new room inspired by Parisian boites of the Jazz Age and housed in the cellar of The Roxy Hotel in trendy Tribeca. Tenor saxophonist Levon Henry (song of famed producer Joe Henry) sat in on the kinetic 6/8 romp "Shabby Bird" and the edgy "Your Footprints," which had young Henry channeling his inner Ornette Coleman.