Paul McCartney's "Carpool Karaoke" Segment to be Extended into Hourlong Special
Images courtesy of CBS/YouTube
Music
News
Paul McCartney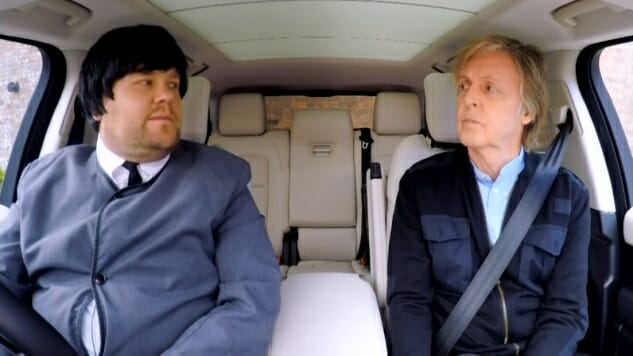 While we continue to wait for Paul McCartney's new album Egypt Station, due out this September, we can sate ourselves with an extended version of his "Carpool Karaoke" segment on The Late Late Show with James Corden, which is arriving later this month. The original ride, which was already 23 minutes long—significantly longer than other "Carpool Karaoke" segments, which typically run between 10 and 15 minutes—will be extended into an hour-long special using previously unseen footage. As reported by Deadline, Carpool Karaoke: When Corden Met McCartney Live From Liverpool will air Aug. 20 at 8 p.m. ET on CBS.
"We were overwhelmed by the response to our 'Carpool Karaoke' with Paul McCartney," Ben Winston, executive producer of The Late Late Show, said in a statement. "I think it resonated with people as Paul's music speaks to every generation, young and old, especially today. The message in the music is as relevant now as it has ever been."
In the original cut, fans were able to see iconic Beatles locations including McCartney's childhood home and Penny Lane. The longer cut will give viewers a greater look into Corden's chat with McCartney and McCartney's performance at the Liverpool pub.
Watch McCartney's broadcast "Carpool Karaoke" episode below and listen to one of his performances from the Paste archives further down.