Spoon Put On a Melancholy Performance in "I Ain't the One" Video
Photo by Cambria Harkey
Music
News
Spoon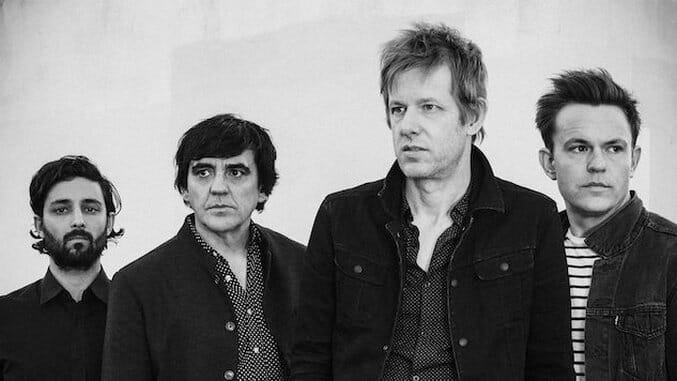 Things get dark for Spoon in their new video for "I Ain't the One," from their recent release Hot Thoughts. Renowned British filmmakers Iain Forsyth and Jane Pollard captured an intimate performance from the shadow-covered band, splicing in shots of moving walkways and escalators.
Dramatic synth and piano start out the performance, and throughout, there are moments in which all you hear is Britt Daniel's soulful voice. Even when the drums and guitar kick in midway through the performance, the recording maintains its stripped-down tension, creating a heavyhearted melody.
In addition to their new video's release, Spoon have also announced West Coast headlining tour dates with support from White Reaper, slated for January. They are currently on a U.S. run before taking Hot Thoughts to Europe for most of November, then returning to the States after that.
See their full itinerary below, along with the video for "I Ain't the One" and the band's 2008 Daytrotter Session. While you're at it, check out Paste's review of Hot Thoughts here, as well.
Spoon Tour Dates:
October
03 – Phoenix, Ariz. @ Comerica
05 – Morrison, Colo. @ Red Rocks
07 – Austin, Texas @ ACL
10 – San Antonio, Texas @ Aztec Theater
11 – Tulsa, Okla. @Cains Ballroom
12 – Dallas, Texas @ House of Blues
13 – Austin, Texas @ Stubb's
14 – Austin, Texas @ ACL
15 – Houston, Texas @House of Blues
17 – New Orleans, La. @ House of Blues
18 – Memphis, Tenn. @ Minglewood Hall
20 – Columbia, S.C. @ Music Farm
21 – Jacksonville, Fla. @ Mavericks
22 – Charlotte, N.C. @ The Filmore
November
02 – Brussels, Belgium @ Orangerie at Botanique
02 – Den Haag, Netherlands @ Crossing Border Festival
03 – Wessenhauser, Germany @ Rolling Stone Weekender
04 – Wessenhauser, Germany @ Rolling Stone Weekender
06 – Brighton, U.K. @ Concorde 2
07 – Liverpool, U.K. @ Invisible Wind Factory
09 – Cambridge, U.K. @ The Junction
10 – Amsterdam, Netherlands @ Paradiso
11 – Basel, Switzerland @ Kaserne
12 – Milan, Italy @ Santeria Social Club
14 – Barcelona, Spain @ Sala Apolo
15 – Madrid, Spain @ La Riviera
16 – Porto, Portugal @ Porto Coliseum
17 – Lisbon, Portugal @ Coliseu dos Recreios
28 – Brooklyn, N.Y. @ Brooklyn Steel
29 – Brooklyn, N.Y. @ Brooklyn Steel
December
01 – Poughkeepsie, N.Y. @ The Chance
03 – Stroudsburg, Pa. @ Sherman Theater
05 – Clifton Park, N.Y. @ Upstate Concert Hall
06 – Burlington, Vt. @ Higher Ground
30 – Washington, D.C. @ 9:30 Club
31 – Washington, D.C. @ 9:30 Club
January
11 – Seattle, Wash. @ Showbox
12 – Seattle, Wash. @ Showbox
13 – Eugene, Ore. @ McDonald Theater
15 – Napa, Calif. @ Jam Cellars
17 – San Francisco, Calif. @ The Masonic
18 – Santa Barbara, Calif. @ Arlington Theater
19 – Los Angeles, Calif. @ I Heart Radio
20 – Las Vegas, Nev. @ Cosmopolitan