How Spotify's "Indigo" Playlist Captures a Moment of Alt-Country Magic
The streaming giant's latest mixtape showcases a range of blossoming and already-blooming stars flying just below the radar
Images courtesy of Spotify / Photos by Carlos Santolalla, Alysse Gafkjen & Shervin Lainez
Music
Features
Spotify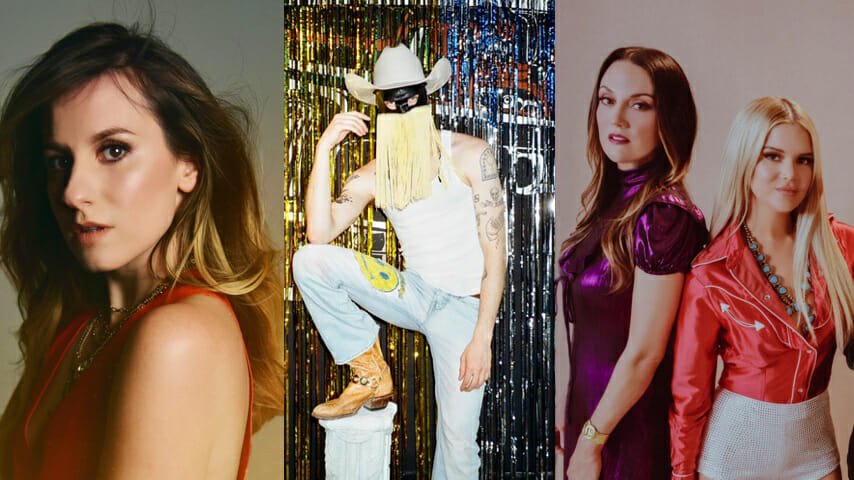 Pushing boundaries within country music is nothing new. Stars like Willie Nelson, John Prine and Emmylou Harris can speak to that.
But now, in 2020, it feels like artists are challenging notions of what country can be from more directions than ever before. There's not just honky-tonk, outlaw and sweetly sung mountain songs—there's everything from bluegrass pop and brushed folk to rootsy traditionalism and mainstream, souped-up country-rock of the Jackson Maine variety. There's outlaw Americana. There's a whole rainbow of country pop. There's plenty of Texas roots music and spaghetti-western inspired storytelling. It's a truly bountiful moment for roots music, and most of these blossoming subgenres can in some way be traced back or connected to the country genre.
The streaming giant Spotify is known to fashion playlists out of just about anything, from titles as ambiguous as "Kitchen Swagger" and "Chill Lofi Study Beats" to more conventional genre collections such as "Fresh Folk" and "RapCaviar" (a playlist famous for breaking some of the genre's up-and-comers). One of the streaming service's more recent entries, titled "Indigo" and released last week, feels more intentional than most "Mood" playlists users may stumble upon on the platform. "Indigo" doesn't just incite a feeling—it captures the aforementioned country moment, a time when artists are experimenting with the genre's conventions and slowly, but surely, making it their own.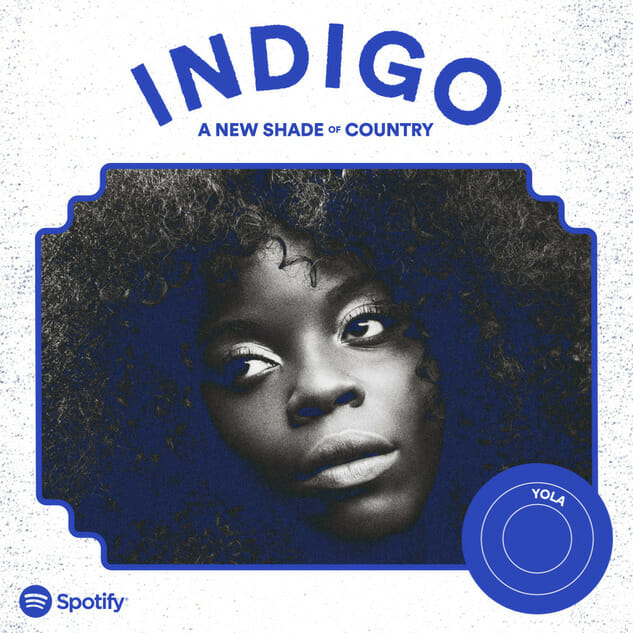 "Our Nashville team lives and breathes country music in all its forms, so this playlist has been a goal for a while," says Mary Catherine Kinney, Artist & Label Marketing Manager at Spotify's Nashville office and a force behind "Indigo"'s inception. "We saw a broad spectrum of country artists in the industry, and the subsequent diverse audience that was listening on Spotify. We also were seeing many of these artists on the road together as well: Hailey Whitters opened for Kelsey Waldon, Marcus King Band joined Chris Stapleton, Yola toured with Kacey Musgraves. The listening patterns of fans on Spotify mirrored these lineups, so there was a clear lane and appetite from the audience for a playlist of this nature."
Those artists are just a few who make up "Indigo"'s folds and creases. Look a little closer, and in addition to mainstream stars like Stapleton, Musgraves and Eric Church you'll find newer faces like country-pop singer Caitlyn Smith, space-age crooner Honey Harper, masked cowboy Orville Peck, country supergroup The Highwomen and roots duo The Secret Sisters. There are also veteran country outliers like Lucinda Williams, John Prine and Steve Earle, who arguably laid the groundwork for any curious, rule-breaking country artists who'd come after them. But they all have at least a few qualities in common:
"It all starts with the song," says Laura Ohls, a Senior Editor at Spotify. "Regardless of artist genre labels, be it "country" or "americana," the songs highlighted in 'Indigo' are those that reflect certain traits we see at the country genre's very roots—storytelling, organic instrumentation, and a more authentic, raw production approach. It's this sound of authenticity that we think threads the playlist together."
That authenticity is apparent all over "Indigo," which also notably features mostly left-of-center country artists—folks who aren't necessarily fully embraced by the mainstream Nashville establishment for whatever reason. Even heavy-hitters like Kacey Musgraves don't typically see significant radio airplay, so for any of her forward-thinking successors and peers, it can be even trickier to make noise in the traditional avenues for music promotion (For women it's especially difficult: They still only comprise about 10% of airplay). Caitlyn Smith tells me that niche playlists like "Indigo" are helpful in that regard.
"What's amazing about this playlist is that there are a ton of incredible artists out there that are maybe more genre-fluid that slip through the cracks in some of these bigger playlists," Smith says. "And what I am so excited about this specific 'Indigo' playlist is there's so many different types of artists that get to be represented."
Jessi Alexander, another Nashville-based country crooner, has found her songs on other Spotify darlings like the discovery vehicles "New Boots" and "Women of Country." She released her latest album, Decatur County Red, a dazzling alt/pop/rock country release with a humorously honest edge (see: "Mama Drank," about the onset exhaustion that comes with motherhood) a few weeks ago, and she's already found a home on "Indigo."
"I didn't really write these songs trying to fit into any particular format," Alexander says of her new album. "It's a country record, but as we all know that's kind of a loose term these days, so I loved that ['Indigo'] is kind of a harbor for people like myself that maybe made a record that's a little outside the box."
Landing on any one of Spotify's more notable playlists can be huge for an independent artist—even if it just means added visibility. During normal times (as in, when the live music industry isn't on hiatus because of an international pandemic), that can lead to more tickets and albums sold, even if streaming revenue doesn't amount to much.
"It helps you find your fans," Smith says of playlists like "Indigo." "I can't tell you how many times I've been doing meet-and-greets at shows and people tell me, 'We hadn't heard of you before, but we heard you on this Spotify playlist.' So it's one of the most important tools for new artists."
Another common thread for many of the newer artists (and in some cases, the newer materials by veteran artists, too) on "Indigo" is that the music exists firmly in a post-Golden Hour landscape. Country artists were certainly pushing the boundaries before Musgraves released her genre-defying masterwork in 2018: Outlaws have been testing country audiences' limits for decades, while fresher faces like Margo Price, Sturgill Simpson and Jason Isbell (all of whom are represented "Indigo," as well) had managed to solidify themselves as country misfits well before "Space Cowboy" was streaming. Heck, even Musgraves had made her share of enemies and outside-the-industry fans with taboo themes on songs like her 2013 hit "Follow Your Arrow." But Golden Hour was a whole new ballpark: It set the bar for genre-pushing country albums sky-high. It's the threshold by which any ambitious country artists will be judged going forward.
"Indigo" is a collage of those artists, some of whom have been part of the larger country community for years. Miranda Lambert's "Bluebird," a lullaby in the face of strife brought on by life, love and aging, is featured on "Indigo." So is the title track from Nathaniel Rateliff's latest solo album And It's Still Alright, written in the aftermath of his friend Richard Swift's death.
"'Indigo' is less about the individual artists and more about the songs in the list," Ohls says. "While the songs pull from a number of different genres, all of them unapologetically tackle the extreme highs and lows of everyday life."
We could spend all day dissecting the ins and outs of the denim-inspired "Indigo." But when you get right down to it, this playlist is, in some ways, uncategorizable. British country-soul singer Yola sounds nothing like the dirt-emo rocker Ruston Kelly, who has a penchant for AutoTune. Yet, here they coexist, because sometimes a separation from the mainstream is enough to bring a community together. More playlists like "Indigo" that highlight under-the-radar sectors of all genres for unassuming listeners can only be a good thing.
"The one rule all of these artists abide by is a fierce loyalty to their songs and craft," Kinney adds. "If there was a Venn Diagram of them all, 'Indigo' would be in the middle."
---
Ellen Johnson is an associate music editor, writer, playlist maker, coffee drinker and pop culture enthusiast at Paste. She occasionally moonlights as a film fan on Letterboxd. You can find her yapping about all the things on Twitter @ellen_a_johnson.