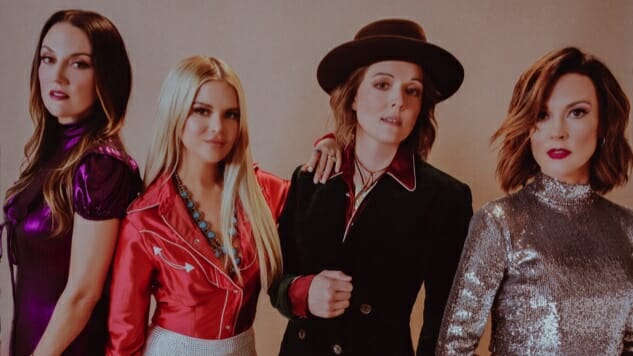 On July 31 at the Newport Folk Festival, the Highwomen gave their first-ever public performance. This quartet of two mainstream-country figures (Maren Morris and Natalie Hemby) and two Americana stars (Brandi Carlile and Amanda Shires) was the most anticipated moment of the fest, a supergroup whose combination stimulated the imagination of anyone who had ever admired several of the women individually.
To mark the occasion, the women commissioned legendary Nashville tailor Manuel to create four glittery, rhinestone-cowgirl suits, each in a different color and each with the wearer's last name embroidered in script on the back. Supported by a band that included Shires' husband Jason Isbell and Carlile's longtime collaborators Tim and Phil Hanseroth, the four women performed in sequence their entire debut album due to be released September 6.
If you were sitting in the folding chairs under the white tent at the festival's Quad Stage, it was easy to get caught up in the excitement around you: people were popping out of those flimsy chairs to cheer an especially spectacular vocal by Morris or an especially well written song by Shires or Hemby. There was a lot of talent on the stage, and it was dizzying to see it all in one place.
But, as so often happens with supergroups and all-star bands, the music was good but not great—less exciting than the event, less impressive than the members' best solo albums. Why do artists and their handlers keep forming supergroups? And why do those bands so frequently fall short of our hopes?
The impulse for assembling such line-ups should be obvious to any music fan who has sat before a record player at home and dreamed of putting his or her favorite musicians together in different combinations at the studio or on the stage. Performers and their managers enjoy the same fantasies, and they have the power to actually make it happen. They too like to imagine what might develop if you put this singer together with that songwriter or this guitarist with that drummer.
And, to be honest, they wonder how their income might expand if they add that artist's audience to their own. No one was more honest about this than bluegrass legend Ralph Stanley. When I asked him why he recorded a song with Bob Dylan, Stanley said, "He's well known, so I figured he'd have a lot of fans who'd want to buy the album."
If the goal is to create music that's better than the members' solo albums or to create an audience large enough that each member's split of the money is better than what they'd get on their own, the track record is not very good.
Cream is usually cited as the first supergroup, but it doesn't really count. Eric Clapton was a star when they formed, but Jack Bruce and Ginger Baker were fairly obscure sidemen before Cream made them famous. The same can be said of Led Zeppelin; Jimmy Page was already a famous guitarist, but the other three were little known to the general public.
The first proper supergroup was 1968's Crosby, Stills & Nash, which expanded to Crosby, Stills, Nash & Young a year later. All four men were already stars—David Crosby from his tenure in the Byrds, Graham Nash from the Hollies and Stephen Stills and Neil Young from Buffalo Springfield. For a brief moment, they submerged their egos for the greater cause.
There were some lovely moments on the first trio album and the first quartet album, for the three original members really worked hard on their Southern California harmonies and brought the best songs of their careers to the table. But there were also some embarrassing duds (Crosby's "Almost Cut My Hair," Nash's "Lady of the Island"), and a cloying sameness crept into their sweet singing and jejune romanticism. Neither album was as good as a typical Young solo album of the era.
As the group deteriorated from triumphant quartet to self-indulgent trio to the somnolent duo of Crosby and Nash, they demonstrated the challenges of a supergroup. Singers who have the talent and opportunity to be stars often find it difficult to make the concessions necessary to be a group member rather than a bandleader. And when those concessions creep into the songwriting in an effort to present a message every member feels comfortable singing, the songs grow less personal, more generalized and less interesting.
That seems to be what happened with the Highwomen. In their effort to create songs of female nobility suitable for choral singing, they bleed many of the songs of particularity and dramatic conflict. Whether the song is as politically heroic as "The Highwomen," as gently self-deprecating as "Redesigning Women," or as feel-good vibey as "Crowded Table," the songs feel vaguer and blander than their best solo compositions.
This is not a problem unique to the Highwomen. Their name is a pun on the Highwaymen, the quartet of Willie Nelson, Waylon Jennings, Johnny Cash and Kris Kristofferson, who released three albums between 1985 and 1995. As with the Highwomen, the sheer pleasure of witnessing the Highwaymen on the same recording or same stage didn't alter the fact that their ensemble music was far safer and more generic than their solo work.
Think of other notable supergroups: Blind Faith, Humble Pie, Journey, Asia, the Firm, the Traveling Wilburys, Tin Machine, Velvet Revolver, Prophets of Rage, boygenius and the Monsters of Folk. It's the same story over and over again: the whole is less than the sum of the parts. For big, well established personalities to operate within the same band, it seems necessary to take fewer chances and to not offend your partners.
There are exceptions to this pattern. Derek & the Dominos and the Pistol Annies were both very successful, but they had the advantage of having one person who was much more famous than everyone else (Eric Clapton and Miranda Lambert respectively) and counterintuitively that can make collaboration easier. Because nothing is ever going to change the pecking order, the star is more willing to bend and the sidekicks more willing to take chances. In these nurturing situations, Duane Allman, Bobby Whitlock, Ashley Monroe and Angaleena Presley emerged from semi-obscurity into a stardom of their own.
Perhaps the best supergroup of all time was the Texas Tornadoes, the quartet of Doug Sahm, Freddy Fender, Flaco Jimenez and Augie Meyers (with the great Louie Ortega as an unofficial fifth member). Sahm and Meyers had already co-founded San Antonio's Sir Douglas Quintet, and Fender and Jimenez were part of the same Tex-Mex music scene. Those bonds of shared geography, history and genre created the glue that made the group work so well for so long.
The exact same situation occurred with Lil' Band o' Gold, the wonderful octet that featured five gifted singer-songwriters: Steve Riley, C.C. Adcock, David Greely, Warren Storm and David Egan. They too shared geography (Lafayette, Louisiana) and genre (Cajun and swamp pop); they too committed to an ongoing association rather than a one-off project.
It's hard to accommodate more than two singer-songwriters in the same band, but it's easier if the band forms before anyone is famous. Consider these four bands who've contained three world-class songwriters: the Beatles (Paul McCartney, John Lennon, George Harrison), the Byrds (Roger McGuinn, Gene Clark, David Crosby), Fleetwood Mac (Lindsey Buckingham, Stevie Nicks and Christine McVie), and the Drive-By Truckers (Patterson Hood, Jason Isbell and Mike Cooley).
They were all nobodies when they started, and for a while a balance of competition and collaboration pushed them to maximize their talents. But it was an unstable situation; eventually certain members either quit (McCartney, Clark, McVie) or were pushed out of the band (Crosby, Buckingham, Isbell). The clock is always ticking in such groupings.
Perhaps it's easier to make it work if the members are as much instrumentalists as songwriters. Bluegrass pickers and jazz improvisers find it easy to sit down and play standards, growing comfortable with each other before introducing original material. That's certainly the case with the bluegrass trio I'm with Her, which also performed at this year's Newport Folk Festival.
Sarah Jarosz and Nickel Creek's Sara Watkins are virtuoso players, and Aoife O'Donovan is steeped in traditional Celtic and American string-band music, so they could establish a rapport by doing old tunes before they taught each other their own songs. They too have made a commitment to their combo as a continuing venture, and the hours of rehearsal have paid off in dazzling picking and precision harmonies.
Lack of rehearsal time is the bane not only of supergroups but also of guest-artist projects. Sheryl Crow will be releasing Threads, a new album of duets with guest artists this month, and she previewed some of those collaborations at Newport. Wearing a sleeveless purple top and tie-dye pants, Crow sang her own "Prove You Wrong" with Morris, Harrison's "Beware of Darkness" with Carlile, and Dylan's "Everything Is Broken" with Isbell.
There was a tentativeness in the vocals that comes from not having sung the material very much. Again, it was cool to see all these folks on stage together, even if the music wasn't top notch. The same thing happened in a surprise set hosted by Carlile Saturday evening at Newport. She sang not only with the Highwomen but also with Crow, Lucy Dacus, Maggie Rogers, Judy Collins and Dolly Parton. It was a delight to see these pairing in person, but believe me you wouldn't want to listen to the audio track later. There's just no substitute for putting in the time in to really get comfortable with a collaborator.
Phil Lesh & Friends, who also performed at this year's Newport Festival, also suffered from guest-artist syndrome. Like Ringo Starr, Lesh is an alumnus from the rhythm section of an illustrious band. And like Starr's All-Starr Band (also touring this summer), Lesh & Friends compensate for the leader's vocal limitations and advancing age by relying on younger, hungrier players and a few ringers (Tom Petty's Benmont Tench and the Grateful Dead's Warren Haynes at Lesh's Newport set) to fill the gaps.
The Highwomen weren't the only all-female supergroup at Newport this year. Our Native Daughters, a quartet of African-American singer-songwriters were making just their fifth public appearance after their debut album, Songs of Our Native Daughters, came out earlier this year. The biggest name in the group is Rhiannon Giddens, but the line-up includes Giddens' former Carolina Chocolate Drops bandmate Leyla McCalla as well as Birds of Chicago's Allison Russell and newcomer Amythyst Kiah.
These are all fine singers and Gidden and McCalla are gifted instrumentalists as well. But as with the Highwomen, the desire to create a unified voice has meant a loss of individuality in the songwriting. With the exception of Giddens' latest entry in her ongoing adaptations of slave narratives, "Mama's Cryin' Long," which had both the singer and many in the audience fighting back tears, most of the songs were more admirable than moving.
It's not like it was a bad show—the singing and playing were fine, and it was a treat to see those four women on the same stage—but it wasn't as good as some of their solo work. Both McCalla's 2018 The Capitalist Blues and Giddens' magnificent new duo album with Francesco Turrisi, There Is No Other, are far more powerful than Our Native Daughters in the studio or on stage. And what's the point of forming a supergroup if the results are less than, not greater than, the members' solo work?
The same question could be asked of the Highwomen. The four women's joint effort is likable enough, but it falls considerably short of their best work as individuals. The show did have its moments, especially on Shires' song about her irascible dying father, "Cocktail and a Song"; Hemby's song about her daughter, "My Only Child"; Morris's terrific vocal on "Loose Change" and Carlile's trad-country cheating song, "If She Ever Leaves Me" (written by Shires and Isbell).
But the standout performance of the set was the quartet's version of "The Chain," the only cover on the new album. Fleetwood Mac wrote that song when it was falling apart and the members were at each other's throats. It was a reminder that the best supergroups are less worried about getting along and presenting a unified front and more dedicated to pushing their individual visions against each other and watching the sparks fly. It was a peak the musicians in the Mac would never match when they went their separate ways.