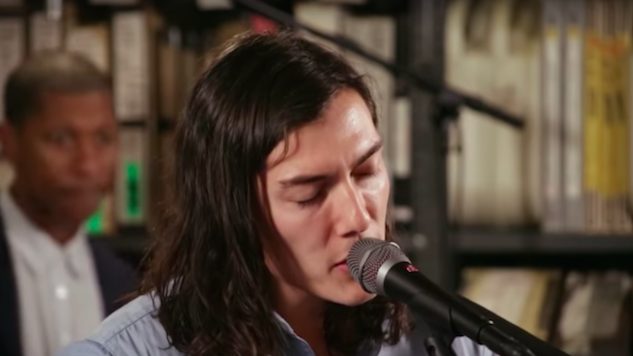 Last Friday, South Carolina-born and Seattle-based singer/songwriter Austin Crane released his latest album under the name Valley Maker. Rhododendron is Crane's debut for Frenchkiss Records. Valley Maker caught our attention with one of his recent singles, "A Couple Days" and the rest of his album proved to be just as much of a candid, earnest and enjoyable listen.
On album release day, Crane came into the Paste Studio with his band to perform three tracks from his new record: "Seven Signs," "A Couple Days" and "Beautiful Birds Flying." His crackling, rich vocals tell a story on their own, but his lyrics open up a clown car of cosmic folk tales infused with warm spirituality and prying at the door of the human soul. His songwriting style is tender and often cryptic, but no less accessible and moving.
His new LP features a wide range of collaborators, most prominently Chaz Bear of Toro y Moi who contributed instrumentals to the record and produced half of the album's tracks. The album was also produced by Trevor Spencer (Father John Misty, Fleet Foxes), and it features Beach House drummer James Barone and Father John Misty bassist Eli Barone.
Crane is currently touring in support of his album in the southeast U.S. with dates in Asheville, Nashville, Atlanta, Columbia and Charleston and after returning from Europe, he has some West Coast dates in December.
Watch Valley Maker's full Paste Studio session below.