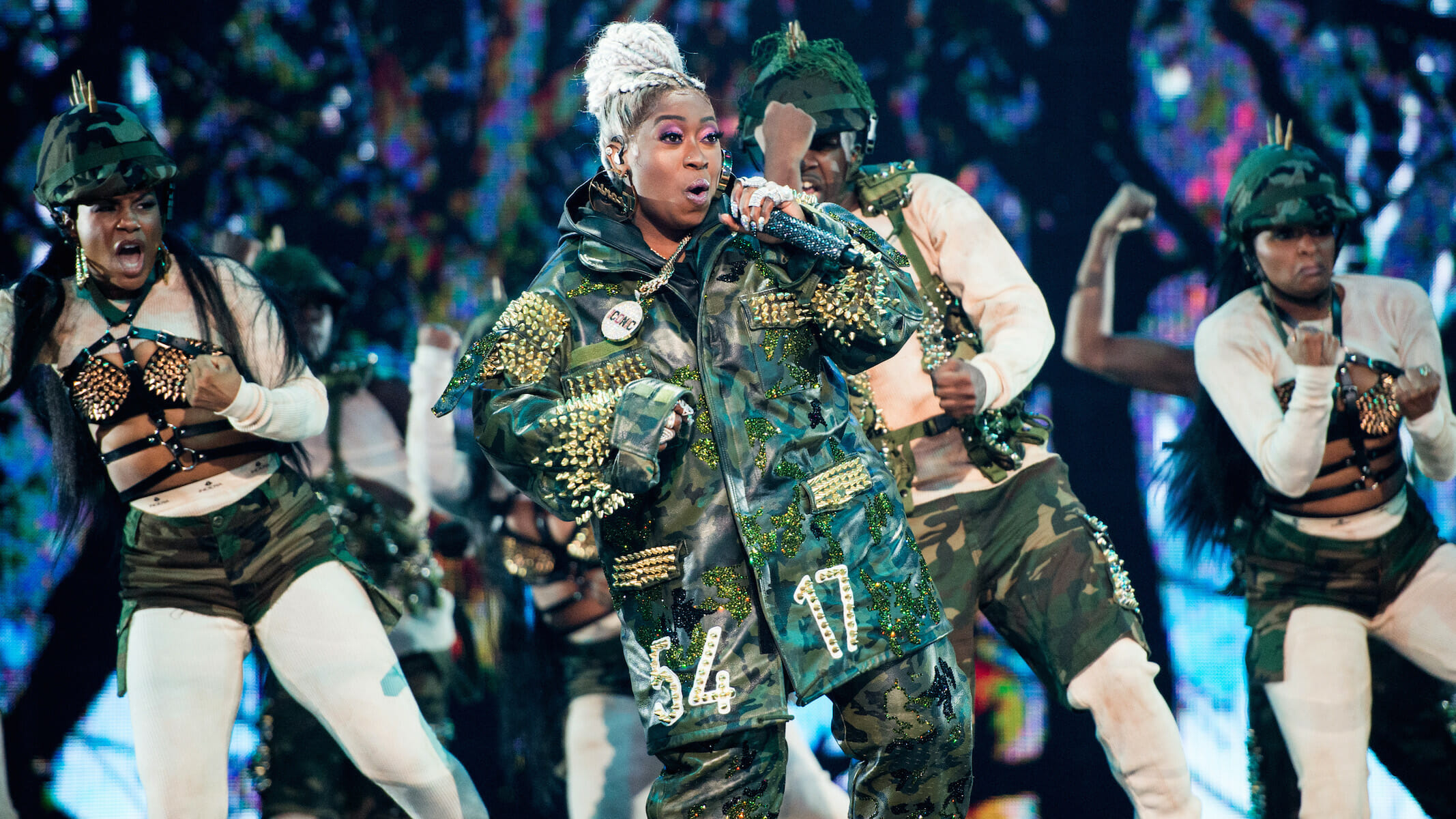 Like every other year, MTV's 2019 Video Music Awards (which aired Monday night) produced a night of mishaps and memories, drama and comedy, joy and confusion. Ariana Grande and Taylor Swift were tied for the most nominations, with Grande accruing the award for Artist of the Year and the Lover singer taking home a trophy for the "You Need to Calm Down" video. It felt especially sweet coming 10 years after Kanye West infamously stormed the stage during Taylor's speech, even as John Travolta (who memorably flubbed Idina Menzel's name at the 2014 Oscars) accidentally tried to hand this year's award off to drag queen Jade Jolie. The trophy eventually made its way safely into Swift's hands, at which time she took a stab at the Trump Administration by bumping the Equality Act during her speech.
Ms. Swift may have taken home the Man-on-the-Moon trophy for Video of the Year at Monday night's awards, but the real winners of the night were women artists of color. Artists like Missy Elliott, Normani and Lizzo delivered show-stoppers. Host Sebastian Maniscalco was pretty much a dud, but the night still delivered on a few performances, especially those by the aforementioned women of color. Keep scrolling to watch all the best ones.
Missy Elliott
Hot on the heels of her saucy new ICONOLOGY EP (released last Friday), Missy Elliott delivered one of the most iconic VMAs performances in the show's history, which is already littered with a lifetime of insanely memorable moments. A few months after Elliott's induction into the the Songwriters Hall of Fame felt like the perfect time for her to revisit some of her best songs ("The Rain," "Hot Boyz," "Get Ur Freak On," "Work It," "Pass That Dutch" and "Lose Control") and their respective music videos, and the resulting medley was a feast for the eyes. Elliott donned the chic black trash bag look from "The Rain," recreated the dope and dank underground from "Get Ur Freak On" and corralled the sexy scarecrows from "Pass That Dutch," all while audience members like Halsey and Taylor Swift bounced along to every word. Alyson Stoner, the 10-year-old (now 26) dancer who busted her stuff in the "Work It" video even reprised her starring role and tore up the floor once again in a bright yellow jumpsuit.
Normani
Former Fifth Harmony and rising pop star Normani made a huge splash on Monday night with a sparkly performance of her hit "Motivation" which featured an abundance of purple velour jumpsuits and group choreography executed to-the-T. Normani rolled right off a tiny malfunction midway through her costume change and proceeded to drop into a full split, followed by some more unified grooving from her and her backup dancers. This performance positions Normani as a nearly unstoppable triple-threat. Memorize her name now: You'll be hearing it a ton this year.
Shawn Mendes and Camila Cabello
This may be the hottest thing you'll see during a televised awards show this whole dang year (besides that Annie Clark/Dua Lipa duet from this year's Grammy's. Whew.). Hot Girl Summer may be fading, but summer 2019 is still alive in the form of this season's hottest real-life couple: the smooth-talkin', smooth-singin' pop star pair Shawn Mendes and Camila Cabello, who just happen to have one of the hottest songs of the year under their belts. "Señorita" is their stunning, sexy radio-hit duet, and their gaze-heavy, candle-lit performance last night looked like a scene out of a PG-13 version of Tangled. That they date in real life is icing on the cake. Shoutout to the good people at MTV for providing the gorgeous 360-degree camera work that allowed us to catch these lovebirds at every angle—including that last longing gaze. Major swoon.
Lizzo
The booty-work was perfection, and the good vibes were aplenty (duh) during Lizzo's performance of her most beloved, mood-boosting anthems "Truth Hurts" and "Good As Hell." After "shooting a shot" of tequila (actually, the whole bottle), Lizzo took a moment to deliver one of her famous uplifting speeches: "I'm tired of the bullshit," she belted. "And I don't have to know your story to know you're tired of the bullshit too. It's so hard trying to love yourself in a world that doesn't love you back." Amen to that. If Taylor Swift's awkward bops and bumps left a bad taste in your mouth, palate-cleanse with Lizzo's seamless, joyful church. It will remind you that the VMAs are still capable of producing powerful, beautiful moments.
H.E.R.
If you watched the Grammys this year, you'll remember H.E.R.'s career-making performance of her song "Hard Place." The uber-talented R&B singer brought the heat again on Tuesday, delivering a groovy version of "Anti." She quite literally stood high above the rest of the night's performances as she ascended upward on a floating pedestal, surrounded by a choir of singers wearing shirts with phrases like "Anti Racism" and "Anti Bullying." She ended the song with a righteous guitar solo, which left one Joe Jonas bearing a look of awe. We're right there with you, buddy.