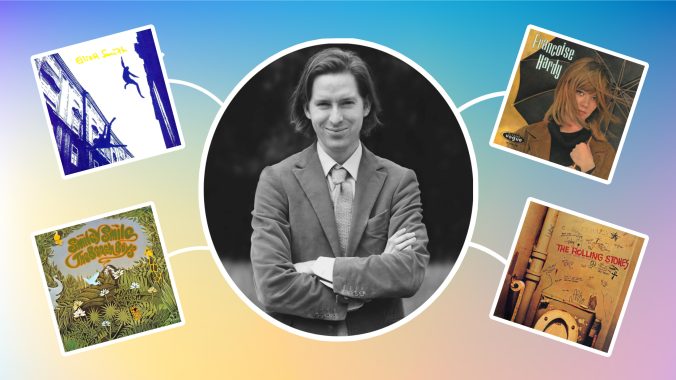 With Asteroid City currently in theaters, Wes Anderson has now made 11 films—all of which are these unique, singular, technicolor portraits of growing up, falling in love and searching for meaning in this breathtaking, emotional and, sometimes, kooky life. Not only is Anderson one of our greatest living storytellers, but he is also, without a doubt, one of the best soundtrack curators in film. He's in the echelons with Scorsese and Tarantino in that regard. To celebrate Asteroid City and its bonkers soundtrack, we thought it was high time to do a list of Anderson's greatest song choices in his films. Nearly half of this list comprises songs from The Royal Tenenbaums alone, and the title could've taken up nearly all 20 spots, too. However, we decided to only pick the best of the best from Tenenbaums so the rest of Anderson's catalog can have the space it deserves.
For the sake of streamlining these choices, we've elected to deny eligibility to any songs performed on-screen by characters. Unfortunately, that means "Dear Alien" from Asteroid City and Seu Jorge's performances from The Life Aquatic with Steve Zissou did not make the cut. Our sincerest apologies go out to all of the Jorge Heads out there. Without further ado, here are the 20 best needle drops in Wes Anderson's movies, from Bottle Rocket to Asteroid City.
---
Honorable Mentions: "Oh Yoko!" by John Lennon (Rushmore); "A Summer Song" by Chad & Jeremy (Rushmore); "Fly" by Nick Drake" (The Royal Tenenbaums); "Gut Feeling" by Devo (The Life Aquatic with Steve Zissou); "Play With Fire" by The Rolling Stones (The Darjeeling Limited); "Ramblin' Man" by Hank Williams (Moonrise Kingdom); "I've Seen That Face Before" by Grace Jones (The French Dispatch); "Indian Love Call" by Slim Whitman (Asteroid City)
20. "Freight Train" by The Chas McDevitt Skiffle Group & Nancy Whiskey (Asteroid City)
I'm entirely convinced that no director better understands how to soundtrack a final scene quite like Wes Anderson. His credit sequences get the same treatment as a climax, which is the work of an auteur who is meticulous and tasteful. In his recent masterwork, Asteroid City, we watch our main protagonists ride off into the Western sunset to the tune of "Freight Train," a fun boogie by The Chas McDevitt Skiffle Group and Nancy Whiskey. Whiskey's vocals are perfect and innocent and hypnotic, and her backing instrumental is one of bluegrass and stringed country perfection. "Freight train, freight train, gone so fast," she sings. Much like the movie, it came and went at the blink of an eye—a thoughtful parallel to the life-is-fleeting, anti-meaningless narrative that Asteroid City so greatly emblazons.
19. "Here Comes My Baby" by Cat Stevens (Rushmore)
Rushmore was the first Wes Anderson film I ever loved, and I seriously think it's aged better than any of his other movies not named Fantastic Mr. Fox. The raw, unproven talents of Jason Schwartzman mix aptly with Bill Murray's deadbeat comedy. One of the best montages in Anderson's catalog comes after Ms. Cross (Olivia Williams) convinces Max (Schwartzman) to make an attempt to enjoy life at his new school. In an incredible sequence, Cross tutors Max in math, while he takes up tennis with Blume (Murray), wins a ribbon in the science fair and joins the cheerleading squad. Of course, all hell hasn't fully broken loose yet—but it's nice to sit in the space of joy, even if only for a few minutes. Cat Stevens' "Here Comes My Baby" is the only song that could have ever soundtracked this Rushmore montage.
18. "Street Fighting Man" by The Rolling Stones (Fantastic Mr. Fox)
Fantastic Mr. Fox, despite being adapted from Roald Dahl's children's book of the same title, has some epic rock 'n' roll needle drops. One of the best is when, as the Fox family's beloved tree home is demolished by Walt Boggis (Robin Hurlstone), Nate Bunce (Hugo Guinness) and Frank Bean (Michael Gambon)—the angry farmers whose factory goods Mr. Fox (George Clooney) and Kylie (Wallace Wolodarsky) raided—the Rolling Stones' "Street Fighting Man" is used to soundtrack their escape through underground tunnels. It's such a perfect action sequence, even in stop-motion. Watching the backhoes destroy the tree, interwoven with shots of the Fox family digging relentlessly further into the earth, it's cinematic gold. If Wes Anderson knows how to do one thing well, its employing Rolling Stones songs in his work. Luckily for all of us, he knows how to do a couple other things well, too.
17. "Over and Done With" by The Proclaimers (Bottle Rocket)
I'm sure you know the Proclaimers from their hit song "I'm Gonna Be (500 Miles)," but their song "Over and Done With" gets some fun screen-time in Anderson's directorial debut, Bottle Rocket. Soundtracking a scene where Dignan (Owen Wilson) steals a car with Anthony (Luke Wilson), "Over and Done With" plays a crucial role in having lyricism that emphasizes the theme of the movie at-large. "When I think of it now, I acted like a sinner. I just washed my bands, then I went for my dinner," Craig Reid sings out. A heist movie about heists that never work out, Bottle Rocket gnaws at the compulsive (and hilarious) traits of wannabe criminals. Anderson only had $5-million to make his first film, and his use of "Over and Done With" is an early signal that he's one of the best—if not the very best—on-screen music curators in all of Hollywood.
16. "Me and Julio Down By the Schoolyard" by Paul Simon (The Royal Tenenbaums)
For as much hard damage there is in The Royal Tenenbaums, it's so beautiful when we get a scene full of unabashed joy. Perhaps the strongest case of that comes when Royal finally gets to spend time with grandsons Uzi (Jonah Meyerson) and Ari (Grant Rosenmeyer). The three Tenenbaums paint the town red together, going swimming, jaywalking on a busy New York City street, riding horseback (with Buckley the dog in tow), racing go-karts, heaving water balloons at taxi cabs, shoplifting milk, hitchhiking on the back of a garbage truck and betting on dog fights. Throughout, Paul Simon's folk rock boogie "Me and Julio Down By the Schoolyard" roars. "Well I'm on my way, I don't know where I'm going," Simon sings, in a jubilee that parallels the Tenenbaums' hijinx. "I'm on my way. I'm taking my time, but I don't know where."
15. "She Smiled Sweetly" by The Rolling Stones (The Royal Tenenbaums)
The subject of the relationship between Richie (Luke Wilson) and Margot (Gwyneth Paltrow) in The Royal Tenenbaums has long been up for debate. Though they are not bound by blood, the two Tenenbaums are, legally, siblings. A major plot point of the film is Richie's undying romantic love for his adopted sister, and his inability to be with her is what so often derails his mental health (see later in this list). After his suicide attempt, Richie finds Margot in his childhood tent. He shows her the (gruesome) stitches on his forearms while "She Smiled Sweetly" plays on the record player next to him.
Then, after Richie confesses his love to Margot, she returns the affection and they share a pleasant kiss while holding each other gently. Jagger's croons in the background perfectly punctuate the subtle sorrow buillding into a devastating climax between the two characters. As controversial as their relationship is, it's impossible to not feel empathy for Richie and Margot. They are both broken and, likely, know that they might actually be happy together. But, as all forbidden romances tend to be, they both know they'll never get what they truly want. "I think we're just gonna have to be secretly in love with each other and leave it at that, Richie," Margot says to her brother, as she leaves the tent and "Ruby Tuesday" begins to play.
14. "Search and Destroy" by Iggy & The Stooges (The Life Aquatic with Steve Zissou)
While out on their mission to find the elusive jaguar shark, Zissou (Bill Murray) and his crew are attacked by pirates. The attackers steal Ned's (Owen Wilson) inheritance and tie up and blindfold Zissou and his crew. But, after eating through his binds, the titular oceanographer unleashes a full, guns blazing melee against the pirates—all to the tune of Iggy & The Stooges' glorious proto-punk anthem "Search and Destroy." The song doesn't necessarily fit with the theme—at least not lyrically—but it's hard to argue against any use of a Stooges song anywhere. "Somebody gotta save my soul," Pop cries out. "Baby, penetrate my mind." The Raw Power opening track is devilish and full of adrenaline, making it the perfect sonic companion to any nautical bloodshed that ends with Bill Murray on top.
13. "Le temps de l'Amour" by Françoise Hardy (Moonrise Kingdom)
Moonrise Kingdom, much like The French Dispatch and The Grand Budapest Hotel and Isle of Dogs, is heavily dominated by score (although there a few great Hank Williams tunes lingering in the backgrounds of scenes), but one of the coolest needle drops in Anderson's entire catalog comes in during the film's famous beach scene, in which Sam (Jared Gilman) and Suzy (Kara Hayward) evade the Khaki Scouts and take shelter on the Mile 3.25 Tidal Inlet—which they lovingly name "Moonrise Kingdom." The two kids dance on the beach to Françoise Hardy's gorgeous French folk tune, where she sings of young love: "The time of love, it's long and it's short. It always lasts, we remember. We say to ourselves that, at 20, we are the kings of the world, and that, forever, there will be in our eyes all the blue sky." It's a perfect sequence at the climax of a perfect movie, which Anderson has made a habit of executing regularly.
12. "Heroes and Villains" by The Beach Boys (Fantastic Mr. Fox)
As far as opening scene needle drops go, it's hard to get any better than Anderson using the Beach Boys' "Heroes and Villains" to score the high-speed chase that opens Fantastic Mr. Fox. Of course, the first song we hear is actually "The Ballad of Davy Crockett," but the real introduction comes via the Beach Boys's undersung prog-pop hit. "You're practically glowing. Maybe it's the lighting," Mr. Fox says to his wife Felicity (Meryl Streep), before Brian Wilson's singing comes rushing in. After getting caught raiding Berk's Squab Farm, Felicity reveals that she's pregnant with their son, and that Mr. Fox has to get a safer job now that they're starting a family. It's a terrific scene-setter, especially when Wilson sings: "Once at night, cotillion squared the fight / And she was right in the rain of the bullets / That eventually brought her down / But she's afraid of what a dude'll do / In a town of heroes and villains."
11. "Judy Is a Punk" by Ramones (The Royal Tenenbaums)
God, I love Wes Anderson's montages. Some of the greatest moments in cinema from the last 30 years have happened right there in his passing-time collages. In The Royal Tenenbaums, we get an incredible one about Margot, soundtracked by the raucous Ramones song "Judy Is a Punk." A private eye hired by Richie and Raleigh (Bill Murray) reveals Margot's extensive and colorful backstory. We learn about how she started smoking at age 12, escaped school at 14, got married for the first time at 19, had a lesbian lover at 21, went on an abusive publicity tour at 24 and had brief flings with many men over the next eight years—all in a matter of 60 seconds. The punchline, however, hits as "Judy Is a Punk" comes to a halt, when Raleigh closes the file and deadpans one line: "She smokes."
10. "Last Train to San Fernando" by Johnny Duncan and the Bluegrass Boys (Asteroid City)
The most recent entry on this list, Wes Anderson knew exactly what he was doing when he picked Johnny Duncan's riot of a country tune as the opening number in Asteroid City. It's the music that welcomes us to the microscopic, meta and kooky town where Anderson's latest film takes place—and it's an absolutely perfect pairing. With an aesthetic similar to the Burl Ives tracks in Fantastic Mr. Fox, it's dreamy and imaginative of a happy, married life in a faraway town. And goodness, what an absolutely dazzling earworm "Last Train to San Fernando" is. I kept humming it long after the Asteroid City title sequence played out in the theater. It's such a cute bluegrass tune that'll stick with you for a good while—and, arguably, Anderson's greatest choice for an opening sequence song ever. It goes 15 rounds with "Heroes and Villains" and comes out—just barely—victorious.
9. "Buckeye Jim" by Burl Ives (Fantastic Mr. Fox)
Though it's a subtle inclusion in Fantastic Mr. Fox, Burl Ives' "Buckeye Jim" plays in the background of one of Anderson's most thoughtful scenes across his entire filmography. With cousin Kristofferson (Eric Chase Anderson) visiting while his father is sick, Ash Fox (Jason Schwartzman) becomes upset that he's constantly upstaged by his talents and charm. That inferiority complex comes to a head in Ash's bedroom, when he yells at Kristofferson. As "Buckeye Jim" is playing through a radio on the shelf, Kristofferson, visibly distraught and emotional, begins crying underneath the train set—where he's been forced to sleep. Ash climbs down from the top bunk of his bed, turns on the train and the two cousins watch in awe of the locomotive's lights and wonder. "Way down yonder above the moon, a blue jay nest in a silver spoon," Ives sings, his childlike fantasy pairing beautifully with the scene—which evokes an unspoken connection between two boys who, at their core, do love each other in spite of every difference.
8. "I Am Waiting" by The Rolling Stones (Rushmore)
The foil to Rushmore's "Here Comes My Baby" montage, Anderson uses this Rolling Stones deep cut to soundtrack Max's life falling apart after getting kicked out of Rushmore Academy and watching Blume and Ms. Cross start an affair with each other. He picks up shifts at his father's barber shop and even avoids talking to classmate Margaret Yang (Sara Tanaka), who has come to visit him with the gift of a succulent. The quick cuts of Max, Ms. Cross and Blume all eating dinner alone in separate places is one of my favorite shots from any of Anderson's films. Even in its brevity, it still highlights the loneliness that much of Rushmore's plot so deftly illustrates. What precedes the montage, too, is the best lines of the entire movie: "She's my Rushmore, Max," Blume says. "Yeah, I know. She was mine, too," Max replies.
7. "The Fairest of the Seasons" by Nico (The Royal Tenenbaums)
This won't be the last we hear of Nico on this list, but her rendition of "The Fairest of the Seasons" at the end of The Royal Tenenbaums is an incredible au revoir to the dysfunctional family we love. What's incredible is that it's only the third best needle drop in The Royal Tenenbaums. That should be a strong enough single that Anderson's third film is, sonically, his smartest. Margot releases a play, Eli goes into drug rehab, Richie starts teaching junior tennis and Chas pulls back the reins on micromanaging his children. All the while, Etheline (Anjelica Huston) and Henry (Danny Glover) get married and Royal passes away from a heart attack. "Now that it's time / Now that the hour has landed at the end / Now that it's real / Now that the dreams have given all they had to lend / I want to know: Do I stay or do I go?" Nico sings, as we watch the Tenebaums slowly begin piecing their lives back together again.
6. "Queen Bitch" by David Bowie (The Life Aquatic with Steve Zissou)
I think Anderson's use of "Queen Bitch" by David Bowie at the end of The Life Aquatic with Steve Zissou is pure poetry. After tracking down his white whale—the legendary jaguar shark that ate his partner Esteban—the titular Zissou opts to spare the beautiful man-eating fish. At the premiere of his documentary about his expedition, the audience gives Zissou a thunderous standing ovation. He exits the theatre and proceeds to walk down some steps while enveloped by camera-clad paparazzi. He carries a young child—who is a devout fan of his—on his shoulders, as Bowie's riotous Hunky Dory track plays out. With one quick cut, we see that same child become a part of Zissou's crew, who have all returned to their beloved Belafonte ship. The legend of Zissou endures, as Bowie sings: "Oh God, I could do better than that / Oh, you betcha!" A perfect final song that nods to Seu Jorge's performances of Bowie songs throughout the film, "Queen Bitch" suggests that there are bigger fish awaiting us in the deep, vast ocean. I put my money on Zissou to find them all.
5. "Needle in the Hay" by Elliott Smith (The Royal Tenenbaums)
While I'm not certain this is everyone's go-to favorite needle drop in Anderson's catalog, it's one that only continues to grow on me with every single rewatch of The Royal Tenenbaums. Elliott Smith's "Needle in the Hay" is a haunting, spectral song that pairs heartbreakingly with Richie's suicide attempt. "I can't beat myself and I don't want to talk," Smith sings. "I'm taking the cure so I can be quiet." The breakdown arrives after Richie learns about Margot's long history of smoking and sexual liaisons, including a marriage to a Jamaican musician. Defeated and hopeless, Richie takes to Raleigh's bathroom, shaves his head and beard and slashes his wrists with a razor blade. Luke Wilson is terrific in this scene, and the way his eyes blanken into misery is bone-chilling. Add Smith's imperative ballad into the fold, and you've got a tragedy that'll leave you wilted and broken.
4. "These Days" by Nico (The Royal Tenenbaums)
Though it's not the best needle drop in Anderson's filmography, I'd argue that his use of Nico's "These Days" in The Royal Tenenbaums is the most perfect. As Richie waits to be picked up at the pier by his "usual escort" from his days playing on the professional tennis circuit, Margot descends from her green line bus to Nico's euphoric, generational ballad. When the siblings lock eyes, the scene goes silent, only to be illuminated quickly by Jackson Browne's beautiful guitar intro. "I've been out walking, I don't do too much talking these days," Nico sings. With Larry Fallon's string arrangements delicately rushing in, perhaps no scene in Anderson's career has conjured such romantic, otherworldly emotions. "These Days" is a baroque pop masterpiece, and The Royal Tenenbaums is a family dynamics masterpiece. It's hard to argue that the two creations are anything but a match made in breathtaking Heaven.
3. "Let Her Dance" by The Bobby Fuller Four (Fantastic Mr. Fox)
Every time I think that Noah Baumbach's White Noise ending is a rip-off of the closing sequence from Fantastic Mr. Fox, I remember that Baumbach actually co-wrote the stop-motion masterpiece with Anderson. Nevertheless, the use of "Let Her Dance" at the conclusion of Fantastic Mr. Fox is brilliant, joyous and, well, perfect. The farmers continue to wait for the Fox family to emerge from their sewers, but they've opted to take forever shelter there and even beckon their animal neighbors to join them. Mr. Fox, who now wears his tail as a clip on, raids the farmers' grocery store (which was cleverly teased via a banner flying on the back of a plane during the whack bat scene). In awe of their huge, neverending food supply, Felicity tells Mr. Fox she's pregnant again, and the whole family dances their cares away.
2. "Strangers" by The Kinks (The Darjeeling Limited)
While The Darjeeling Limited is likely Anderson's most underrated film, his use of the Kinks' "Strangers" remains a perfect artistic choice that'll stop you in your tracks. As the Whitman brothers—Francis (Owen Wilson), Peter (Adrien Brody) and Jack (Jason Schwartzman)—walk together to the funeral of a young boy who Peter could not save from drowning in a river the day before. With "Strangers" playing, the scene is done in slow-motion and says a thousand words without a lick of dialogue. The song brings extra depth to an already moving moment, a nod to the siblings' struggles with trust and love. "All the things I own I will share with you / And, if I feel tomorrow like I feel today / We'll take what we want and give the rest away," Dave Davies sings. Many musical moments in Anderson's catalog are either cool, nostalgic or emotional. His use of "Strangers," however, is—beautifully—all three.
1. "Ooh La La" by Faces (Rushmore)
Wes Anderson has employed dozens and dozens of songs in his films for over 20 years, but none have ever come close to Faces' "Ooh La La," which plays at the conclusion of Rushmore (and is, quite literally, a needle drop moment). In terms of tunes that perfectly encapsulate the theme of the scenes they soundtrack, you can't get any sweeter or more on-the-nose than "Ooh La La." We watch Max and Ms. Cross dance at the conclusion of his play, Heaven & Hell, as strobe lights twinkle across the room, fireworks crackle in the far background and the whole afterparty waltz together in joy. "I wish that I knew what I know now, when I was younger," Ronnie Wood sings out. It's a perfect encapsulation of Rushmore and its story. Don't dream of growing up so fast, Anderson gestures to all of us. You might miss all of the good parts of getting your heart broken and learning how to let it fill up again. "Ooh La La" is the exclamation point that closes the door on one of the greatest coming-of-age movies ever made.
---
Check out a playlist of these 20 songs below.