Universal's "Dark Universe" Loses Top Producers After The Mummy Underperforms
Image via Universal
Movies
News
The Mummy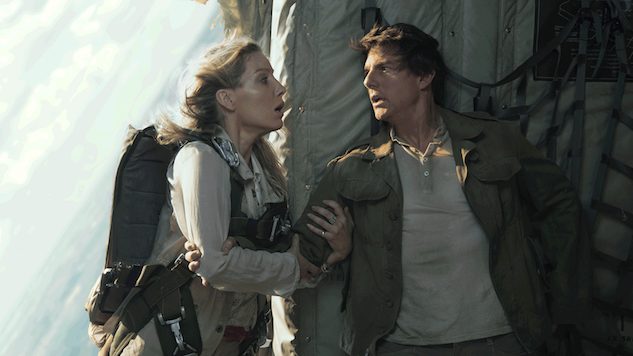 The monster-centric "Dark Universe" from Universal Pictures was an ambitious idea—and by "ambitious idea," we mean "they wanted to see some of that Marvel Studios money." Universal and Dark Universe producers Alex Kurtzman and Chris Morgan were hoping that this year's The Mummy would be their own Iron Man to kickstart a new cinematic universe, but not even the star power of Tom Cruise could save the doomed film from a fate similar to its titular antagonist. Despite long-term plans, Kurtzman and Morgan have exited the young franchise, per THR.
The Dark Universe had the intention of rolling out films based on the Wolfman, the Bride of Frankenstein and the Invisible Man, but these projects are all up in the air as a result of The Mummy's underperformance at the box office. Before the release of the Alex Kurtzman-directed monster movie, Universal circulated a cast photo that included Cruise, Sophia Boutella (the titular mummy), Russell Crowe (as Dr. Jekyll, the sort-of "Nick Fury" of the Dark Universe), Johnny Depp (cast as the Invisible Man) and Javier Bardem (cast as Frankenstein's monster).
But in the wake of The Mummy, the Bride of Frankenstein project was taken off of Universal's release schedule due to script concerns; the project had Bardem attached to star and Bill Condon (Dreamgirls, 2017's Beauty and the Beast) writing and directing, with Angelina Jolie being courted for the female lead role. The film was originally set for a Feb. 14, 2019 release date.
Meanwhile, Kurtzman and Morgan will move on to their own respective projects, with Kurtzman producing a number of television shows, including Star Trek: Discovery, and Morgan screenwriting the Fast & Furious films, which will have ninth and tenth installments. As the Universal office space filled with monster regalia empties out, the studio is weighing its options for the future. Options include continuing work on these legendary properties as standalone films, rather than a shared universe. Alternatively, Universal could continue the Dark Universe concept with a new creative architect, but it may be difficult to recover from the damage The Mummy inflicted.
The Mummy was one of several reboots and sequels that contributed to a disastrous summer box office in 2017. Check out our review of the film here.