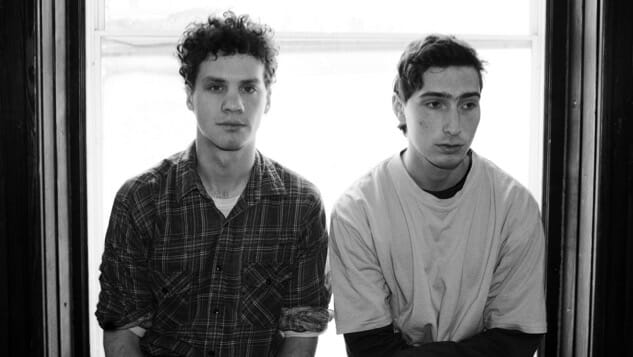 In LCD Soundsystem's documentary Shut Up and Play the Hits, writer Chuck Klosterman asks James Murphy, "Do you like talking about yourself? Is it fun to have someone ask you these questions?"
"I don't like boring interviews," Murphy replies. "We always joke, 'I'm going to have to go talk about myself for a half hour,' and that I find really boring."
It's hard to blame him. For both established and up-and-coming bands, the lead up to an album release means hours upon hours of interviews; it's a publicist's job to get an artist's name out there, after all. As a writer, it's tough to imagine what talking about yourself is like in that context, especially knowing that the majority of questions I end up asking most likely aren't unique. Thom Yorke nearly has a mental breakdown in Meeting People is Easy, Radiohead's tour documentary bridging the gap between OK Computer and Kid A, from simply getting asked the same things over and over again.
So as a courtesy to the many artists that I've interviewed, I always open with the same question – "what is something that you've always wanted to talk about in an interview but have never been asked?" I rarely get a response to this question, just a thank you for acknowledging how tough the interview process can be. But every now and then I do, and the results are fascinating.
When I asked guitarist Max Kakacek and vocalist/drummer Julien Ehrlich of Chicago laidback indie rock outfit Whitney my usual first question, Ehrlich wanted to talk about "Dave's Song," one of the more classic rock sounding tracks on the group's impressive debut record, Light Upon the Lake, out June 3rd on Secretly Canadian.
"That's the first song that we wrote, and it was more written as a joke," Ehrlich explains. "Dave was probably 350 pounds and would come up to our apartment without a shirt on with a half-drank bottle of champagne. No one ever puts that into interviews, and we've only told a couple people that!"
To be honest, I thought "Dave's Song" was a breakup song. After all, it features the lyrics "I've been sick since you left town" and "take me into your heart again."
I had to follow up – does Dave even know that they wrote a song about him?
"No way!" Kakacek exclaims.
"Dave doesn't listen to our style of music, I don't think," laughs Ehrlich. "Do you know the Tupac 'Thug Life' tattoo? He has that same tattoo, but it says 'Outlaw,' and it covers a little more ground, because like I said, he's 350 pounds. He's a crazy-looking dude. He has a ponytail and some weird skin going on on his face. We were kind of scared of him and intimidated by him, and we were kind of walking on eggshells around him. We didn't want to piss him off, because he seemed like a really crazy dude that could get violent if we told him to get out of our apartment."
Furthermore, the group's second song, "On My Own," was also kind of written as a joke. Explaining it as a writing exercise between the two friends in their Chicago apartment, the first demo sessions were extremely lighthearted and easygoing. The two had just gone through respective band breakups (Ehlrich was formerly in Unknown Mortal Orchestra, while Kakacek was a member of Smith Westerns) and needed an outlet to write new music.
But then something happened. The two wrote their third song, the idyllic road trip anthem "Golden Days," and it finally hit them that this new musical project was worth pursuing. "We were tapping into something we had never really heard before," Ehlrich remembered. "We figured that as long as we kept our heads down and continued in that direction, people would one day freak out!"
Though Ehlrich and Kakacek are two very laid-back people – and they're the first to admit it -it's all the more interesting to hear them talk about Whitney, their passion project. At one point, they mention that they occasionally get messages from fans saying that they got through break ups or deaths of loved ones because of Whitney's music. Even more so, it seems as if Whitney saved Ehlrich and Kakacek from the lowest points of their respective lives, giving them more of a purpose than ever before.
After writing "Golden Days," everything changed. "After that point, everywhere we walked or everywhere we went, we were carrying the next demo on our phones, and it took complete control over our minds," Ehlrich explained.
The rest was history as one of the best summer albums in recent memory was created. Full of Ehlrich's falsetto and Kakacek's jangly guitar riffs, Light Upon the Lake plays like a flawless rooftop album, perfect to get lost in while looking at a city skyline as the sun sets on a warm night.
But what sets this record apart from so many of its contemporaries is its emotional depth. On the surface, songs like "No Woman," "No Matter Where We Go" and "Polly" are all upbeat guitar and horn-led jams, but if you dig deeper, these are all tales about love, loss and self-doubt. "We're both fans of music that's good from both sides – you can zone out and not have a single fucking thought and enjoy the song, or you can pick a song apart and still enjoy the song," Ehlrich said. "I think our album kind of does well at both of those things."
The record does more than simply "well" at both of those things. Light Upon the Lake is one of the strongest albums of 2016 thus far, one that holds up extremely well after repeat listens. Ehlrich and Kakacek are experienced musicians that have been here before, but this time they're in charge. With seven musicians making up the live version of the band, Whitney's rich live orchestration is sure to be a highlight on the festival circuit this year, especially following the group's critically lauded SXSW performances.
At the end of the day, Ehlrich and Kakacek are simply happy to be playing music again at this level. "This is the kind of work that we love," Ehlrich explains. "We just don't take it for granted because of the last situations we were in. We know that it's hard to get to this place, and we're here. We're not in shock; we're grateful."
With an album this strong, we're grateful you're here, too, Whitney.