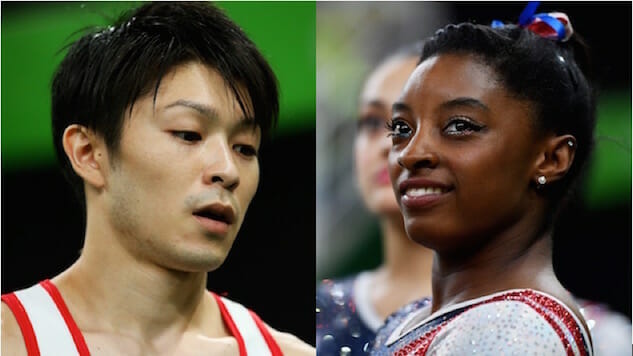 This, right now, is the best era of gymnastics. The switch to an open-ended scoring system (move away from the 10.0) in 2006 has allowed the sport to evolve faster than it ever had before. Skills are bigger and difficulty is harder, which gives a sense that the sport is now at its peak. While that may be true, what really makes this era of gymnastics the best is the ability to witness arguably the two greatest gymnasts of all-time compete in the same Olympics.
Those two are Kohei Uchimura of Japan and Simone Biles of the United States.
It's easy to say Uchimura is the top male gymnast and Biles is the top female gymnast, but it's quite difficult to figure out who is the better of the two. Both are coming off winning the past three World Championships since the last Olympics in London. Biles was the first woman to win three straight World titles. Uchimura, meanwhile, won the three prior World Championships also to make it six consecutive titles, and won the Olympic all-around in London in between.
To argue the best, one can consider either longevity or peak. Uchimura has the raw longevity, but with the difference in average lifespan of a male gymnast compared to a female, three years atop the women could be considered just as impressive as seven years on top for men. So then we can turn to peak.
Of course, gymnastics has scores, so there's a way to try to put numbers to these arguments. In Uchimura's seven all-around wins, he's yet to win by a margin less than 1.492. His margin of victory over second place goes all the way to 3.101, which is the amount he won by during the World Championships in 2011. One of Biles's three all-around wins have come by over her a point, her most recent in 2015.
But going by raw margin of victory isn't the best way to compare because the men compete on six events while the women have four. So instead we can break that margin of victory down to a per event average, dividing Uchimura's scores by six and Biles's by four.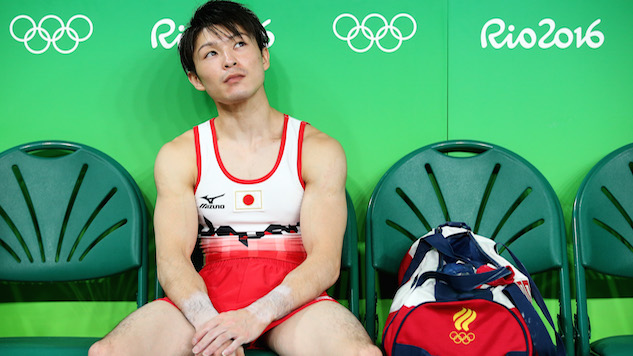 Breaking it down that way, Uchimura comes out on top with a 0.350 per event advantage over his seven wins, while Biles is at .203. However, this really only compares the winner to the runner-up and doesn't account for the rest of the field.
For this, we can dive a little further into the statistical toolbox and look at what's known as Z-Scores. What a Z-Score measures is the standard deviations above the mean, which helps account for the average score and full range of participants in each event, which can help show how dominant a win was over everyone who competed, not just the gymnast who came in second. In this case it can also give us a standard number that could be used to compare between men's scores and women's scores.
In the open scoring era starting in 2006, there have been 10 major international competitions, eight World Championships and two Olympics. That leaves us with 20 total scores to analyze—10 men and 10 women. Using this method, the three highest Z-Scores all belong to Uchimura with his World Championship wins in 2009 (2.587), 2010 (2.577) and 2011 (2.478). The fourth highest is Biles's World Championship win in 2015 (2.474). In the 20 competitions, Biles's two other world title Z-Scores rank seventh and 12th. Uchimura's Olympic win in 2012 is eighth, and his three other world titles rank 14th, 15th and 19th.
While Uchimura had the highest three-year peak, it's possible to say his peak has passed since those top three competitions came from 2009-11 and his past three titles have been his least dominant. Biles, meanwhile, has gotten better and more dominant over the competition in each year and it's clear she's just reaching what could be her peak now.
Uchimura will get the first shot at winning the all-around gold when the men take part in the individual all-around final on Wednesday afternoon. He'll be looking to become the fourth man to win back-to-back Olympic all-arounds. Uchimura was also 2.6 points away from having a chance to be the first man with a three-peat. At the age of 19, Uchimura finished second in the all-around during the 2008 Olympics behind China's Yang Wei.
Still, silver-gold-gold would be one of the most successful three Olympic stretch for any gymnast and would tie with Italy's Alberto Braglia, who pulled off that exact feat in 1906, 1908 and 1912 and Japan's Sawao Kato, who went gold-gold-silver in 1968, 1972 and 1976. Braglia and Kato are the only two gymnasts to medal in the all-around in three straight Olympics.
Heading into Rio, Uchimura was considered the clear favorite to take another gold, but that is less of a certainty after the qualifying round. After an extremely rare fall on high bar in the qualifying round—the Japanese gymnast is almost robotic in his perfection—Uchimura finished second behind Ukraine's Oleg Verniaiev, 91.964 to 90.498. Those were the only two scores of the meet above 90.0. Even finishing in second shows some of how good Uchimura is. Counting a fall that is a full point worth of deductions, he still had the second highest all-around score of the competition.
During the team final on Monday, Uchimura did all six events while leading Japan to its first team gold since 2004. He did not fall, but his all-around score of 91.598 was still 0.366 behind Verniaiev's qualifying total. It wouldn't be a surprise to see Uchimura turn on another gear during the all-around final, but his finish atop the podium is not as clear cut as it may have appeared a few days ago.
And then there's Biles. She'll take the floor for the individual all-around on Thursday afternoon, two days after leading the U.S. women to a dominant win in the team competition. Unlike the uncertainty now surrounding Uchimura, there's little doubt where Biles is expected to end up after the end of four rotations.
Biles has overwhelming been the best gymnast on the floor through the first two days of competition on the women's side. She's been near flawless in her routines, but the reality is she doesn't have to be in order to win. Biles finished qualifying in the all-around 1.759 points above the second place finisher, her teammate Aly Raisman. Breaking that down into a per event advantage, it's 0.440, which is well above her three World title wins.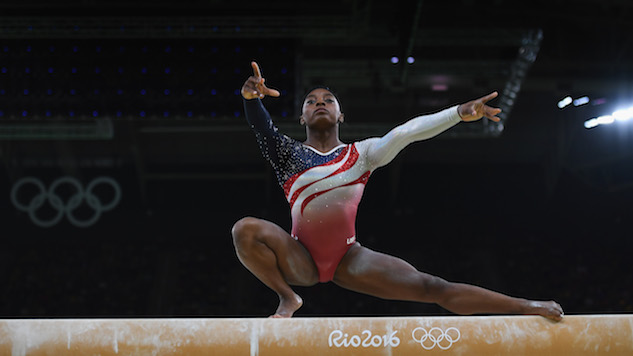 Using a Z-Score to analyze the qualifying process comparing Biles to the top 28 all-arounders in the competition, the top-24 and four more who made the all-around final because of those bumped due to the two-per country rule, Biles comes out to a Z-Score of 3.29. Not only is that well above anything she's done in the World Championships, it blows past Uchimura's best performances too.
That's not exactly predictive and doesn't mean Biles will have a 3-plus Z-Score in the final, but it does show there could be something truly special happening in the women's all-around. Biles has the highest difficulty in the world and she compounds that with nearly perfect execution. While Uchimura can get into second place with a fall, Biles could potentially still win with a fall, maybe two, and that many mistakes on four events just doesn't happen.
After this week, there might not still be a concrete answer to who should be considered the best gymnast in the world. But there's going to be a lot of great gymnastics on the way to try to get us there.