Morrissey Defends England's Far-Right Political Party, Does Other Mental Gymnastics in New Interview with Nephew
Photo by Karl Walter/Getty
Music
News
Morrissey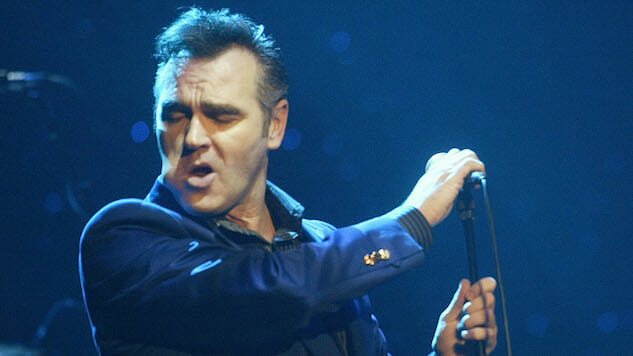 Morrissey sure does have a way with words, doesn't he? No, we're not talking about our list of the 10 Best Smiths Songs; we're talking about the Trumpian interview he just posted to his website in which he defends the U.K.'s far-right political party For Britain, declares he doesn't have white privilege and dishes new conspiracy theories.
Sam Esty Raymer, Morrissey's nephew and interviewer, asks leading questions throughout the conversation. Morrissey responds with the gleeful foot-in-mouth sensibility he has exhibited for the past couple of years; take this passage on Morrissey's thoughts on racism, for example:
The word is meaningless now. Everyone ultimately prefers their own race … does this make everyone racist? The people who reduce every conversation down to a matter of race could be said to be the most traditionally "racist" because everything in life is NOT exclusively a question of race, so why make it so? Diversity can't possibly be a strength if everyone has ideas that will never correspond. If borders are such terrible things then why did they ever exist in the first place? Borders bring order.
Yikes! Morrissey is responding to Raymer's claim that he hasn't heard noted Islamophobe Anne Marie Waters, the leader of the far-right political party Ukip, say anything racist. Moz then goes on to compare The Guardian and The Independent to the KKK. (Later, Raymer says this about Morrissey's history with race: "Obviously, I know your life, and there's been no hint of white privilege … white disadvantage, if anything!")
In true conspiratorial fashion, Morrissey claims that the Notre Dame fire was arson, comparing its media representation to that of reports of a plane crash that "has yet to hit the ocean."
Of course, this is a Morrissey interview, so he has to wax poetic about his past. When asked about the highlight of his career, Morrissey describes a show he organized for The Smiths in Surrey field where Iggy & The Stooges, Patti Smith and Lou Reed all agreed to open. He says it was a great day because "there was no press present and no reviews. That just about sums it all up!"
The whole interview is just a trainwreck, one that seems, from Morrissey's perspective, to clear things up. You can read it all here, and try and figure out where his remarks would land on our list of Morrissey's 8 Most Offensive Comments.