Here's a rundown of what has happened in handball at the 2016 Olympic Games in Rio de Janeiro so far…
France-Qatar: 35-20
The French men's handball team asserted its dominance over Qatar on Tuesday in the latest edition of a burgeoning and heated rivalry.
The French coasted to a 35-20 victory in a rematch of the 2015 World Handball Championship final, which saw them defeat hosts Qatar 25-22. Luc Abalo of Paris Saint-Germain scored seven goals as the French side, expected to go deep in the tournament, took down a Qatari side that included one of their own.
Many critics argue that Qatar's team is hardly Qatari at all, as it consists mostly of recently-naturalized players who had no prior connection with the small gulf nation. Case in point: Bertrand Roiné, who won a World Championship with France in 2011, was on the court Tuesday, lining up against his old teammates in the maroon uniform of Qatar.
Roiné is one of many European veterans brought in to raise Qatar Handball's profile overnight. Qatar have recruited heavily from Balkan national teams and handed out passports so brazenly that even Sepp Blatter, the notorious former head of FIFA, questioned their integrity.
On the court, it was a back-and-forth contest for the first half. France pulled away in the second, scoring six unanswered goals to go up 28-16 and smothering any hope of a Qatari comeback. The victory ensured that France would remain at the top of Group A with two games left to play.
Egypt pulls off historic upset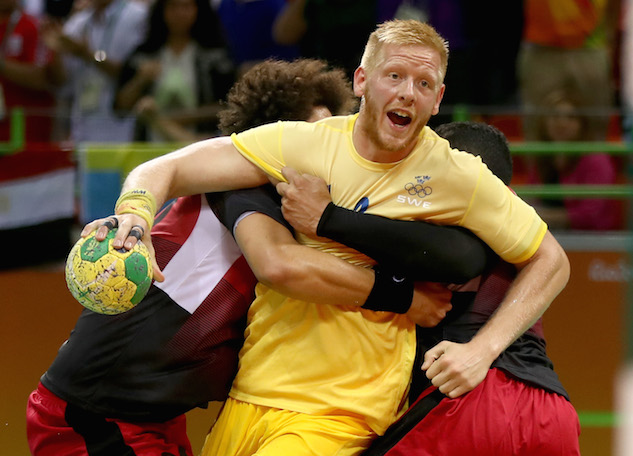 The biggest shock of the day was Egypt's impressive victory over Sweden, whom many had picked to win the tournament.
The Swedes got off to an ideal start and looked about to run roughshod over Egypt, but the Egyptian defense tightened up midway through the first half, dropping deep and perplexing their Nordic attackers.
Sweden began pulling their keeper – goalkeepers can be subbed out for field players and back in as the coach sees fit – but quickly realized they would need all the help they could get on defense, as Mohammad Sanad led a sharp-shooting attack that kept Egypt within reach at the half.
Turnovers and penalties plagued Sweden throughout, and they finally caught up to them in the closing minutes. Unable to capitalize on a power play that could have put the game away, they let up a goal while up a man and were down to five men for the last minute, when they were stunned by an Egyptian goal and could not muster a response.
The 26-25 victory was Egypt's first ever over Sweden, who now risk missing out on the quarterfinals.
Germany outlasts Poland for perfect start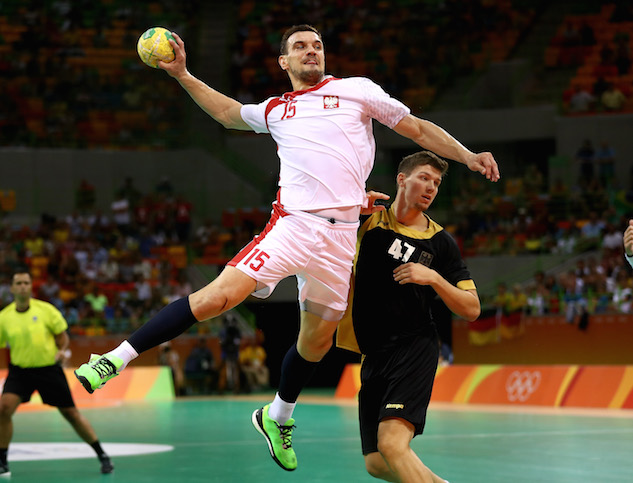 Germany just edged out their neighbors, fending off an electric performance from Polish flag-bearer Karol Bielecki to win 32-29.
A stellar start for Germany, capped by a goal from keeper Andreas Wolff, threatened to take the Poles out of competition early, but they kept the game close thanks largely to an excellent outing for Bielecki.
Wolff's acrobatics in goal made the difference, as he was called upon again and again to keep Poland at arm's length
Only once did the Poles come close to evening things up. With Germany's defense in disarray, they nearly drew level in the 16th minute, but a courageous save by Wolff kept it at 22-21 and Germany went on to score unanswered on their next three possessions.
21-year-old Paul Drux came on strong for the Germans in the second half, keeping them on the front foot as they began to pull Wolff and were often vulnerable to fast-break, empty-net goals. The gamble paid off, however, and Germany came away with the best possible result.
Hosts fall in thriller to stalwart Slovenia
An energetic Brazilian squad, led by Fabio Chiuffa and backed by an enthusiastic home crowd, played with verve and consistently threatened Slovenia but never led in their match. Slovenian keeper Gorazd Škof blunted some very pointed attacks from the hosts, and a good team effort from his offense kept Slovenia comfortably ahead throughout the second half.
The volume in Future Arena reached new heights in the 18th minute of the second period, when Brazilian keeper Maik Santos chucked the ball down the court into an empty Slovenian net to draw within 27-23. Brazil scored on the ensuing possession to bring it within three.
Slovenia, who had played the entire match at a concerted pace, slowed down even more in an effort to stop Brazil's comeback. Frustration was palpable on both sides, particularly as Maik continued to prevent Slovenia form achieving a comfortable lead, but his offense couldn't break through in the final minutes. The last ten minutes were a frenzy of chanting and Brazilian charges, but Slovenia kept the hosts in check and spoiled the party with a 31-28 win. 1-1 with two games to go, Brazil look confident but are by no means assured a place in the next round.
Denmark keeps pace with France in win over Tunisia
The Danes dominated throughout for their second win of the tournament. Despite Tunisia scoring some of the best-looking goals of the day, displaying a great deal of touch and flexibility in front of goal, they never posed a serious threat and have yet to notch points in Rio.
Tunisia was not helped by the early exit of key man Issam Tej, who received a red card in the opening minutes. Denmark capped off the first half with a penalty to go up 17-10 and did not look back. Goal differential will be a factor in deciding who advances, and the Danes looked like they knew it, never letting up and downing Tunisia 31-23.
Argentina falls to Croatia in final seconds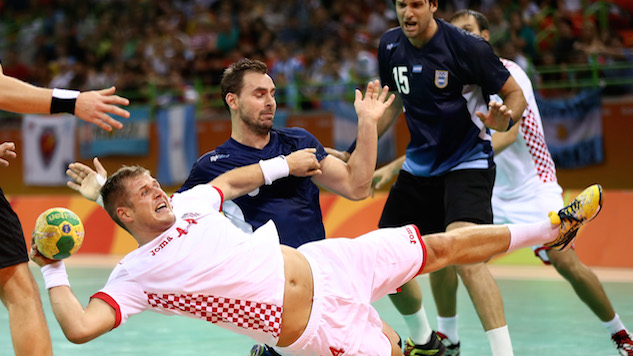 Croatia edged out a tough Argentinian team with a last-second goal, winning 27-26 despite an impressive performance from los Gladiadores.
Argentina set the pace for most of the game, and they appeared to have things wrapped up when, the score tied with half a minute to go, goalkeeper Matias Shulz made a crucial save. His offense let him down, however, handing the ball back to Croatia and fouling Domagoj Duvnjak, who made the game-winning penalty shot.
Despite exciting displays in front of goal from Federico Pizarro and Pablo Simonet, and despite the karma you'd think they might have gained from saving a tennis player trapped in an elevator a few days ago, the Argentines have no lost twice and will have their work cut out for them against France on Thursday.