Who Run The World? The U.S. Women Who Stole the Show at Rio 2016 Do
Using Title IX to fight off sexism in sports, a diverse group of U.S. women raise the bar for the next generation of athletes
Olympics
Features
Rio 2016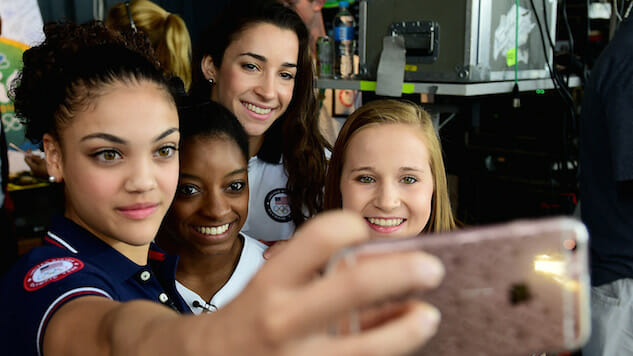 On Sunday evening during MTV's Video Music Awards, Olympic gold medalists Aly Raisman, Madison Kocian, Laurie Hernandez, and Simone Biles presented Beyoncé with the Best Female Video award, losing it with enthusiasm as she gave all of them hugs. It was a fitting recognition of the star power of U.S. women.
In the United States, it's been well documented that more women than men watch the Summer Olympics. If any young athletes were looking for role models to emulate this summer, they found an inspired set to choose from, some new to the grand stage and some who haven't already made their mark. During the Rio Games, we saw records being broken not just with numbers but also with diversity.
First we should praise the breakthroughs for four African-American athletes in the Rio Games, Simone Biles, who won four gold medals in gymnastics; Simone Manuel, the first black woman to win Olympic gold in an individual swimming event; Ashleigh Johnson, the goalie for the gold-medal-winning women's water polo team, and Michelle Carter who became the first American woman to win the Olympic shot-put, all of whom will make sure we continue to see increased participation in sports that have historically been white.
Laurie Hernandez, meanwhile, was the first Latina gymnasts in more than a decade for Team USA. At 16, she was the youngest US gymnast to be competing in Rio, and in 80 years of competition she has become only one of 4 Latinas who have represented Team USA Gymnastics. Both of Hernandez's grandparents hail from Puerto Rico—in interviews, she's very proud of her heritage.
"I feel I could be a role model for other Hispanic gymnasts interested in the sports," Hernandez told the Guardian in an interview before the Rio Games. "I feel I could be a role model to other Hispanic gymnasts interested in the sport but I also want them to understand the importance of being focused, determined, and not giving up, despite all the struggles."
There was another first in wrestling as Helen Maroulis made history by becoming the first American to win a gold medal in women's wrestling, to do it, she had to beat the most decorated wrestler ever: Japan's Saori Yoshida, the three-time reigning Olympic gold medalist and 13-time world champion. More breakthroughs, more big numbers, more medals.
Just looking at the numbers, it's clear the US had a remarkable run in Rio, winning 121 medals— the most by an American team in a Summer Games. U.S. women alone won 27 of the 46 US gold medals. If the US were divided into two countries, one male, and the other female, those 27 golds for the women would tie them with Britain for most of any country, put them one ahead of China, and far ahead of the American men. Had the women competed as a separate country, they would have ranked third in the overall medal chart (61), behind China (70) and Britain (67) and just ahead of the American men (60).
"I give full credit to Title IX, in terms of we're the only country in the world that connects sports with institutions," said Donna Lopiano, former CEO of the Women's Sports Foundation and current president of Sports Management Resources, a consulting group. In 1972, only 90 of the 428 athletes who represented the U.S. at the Munich Games were women. By 1996, that number had more than tripled to 277 in the Atlanta Games.
At the 1972 Olympics in Munich, American women won 23 medals compared with 71 for the U.S. men. The women didn't win a single medal in gymnastics and had no golds in track and field. That same year, the US Congress passed Title IX, barring sex discrimination in education programs that receive federal funding. This has helped revolutionize women's sports at both the high school and college levels.
"Most countries use an early identification system to spot potential athletic talent, but that limits the pool," Lopiano said. "Early identification also doesn't account for athletes who develop and mature at different rates. We mass-produce athletes," said Lopiano, who built a powerhouse program as women's athletics director at the University of Texas and is recognized as one of the foremost experts on gender equity in sport. "There are so many kids in our funnel; I think that's probably the primary difference. When you think about it, we have probably the largest mass of women in the world playing sports."
As time goes on, the US will continue to raise the bar for women's athletic performance through participation and the support women receive while pursuing Olympic dreams, and you'll see even more cultural breakthroughs like with fencer Ibtihaj Muhammad who won a bronze medal in the women's team sabre event during the Rio Games, becoming the first Muslim-American woman to compete for the US in a hijab.
Two female athletes played opposites of each other as they both had record-breaking performances, one with a coming-out party and the other with retirement. Swimmer Katie Ledecky, who brought in four golds and a silver as she smashed the world record in the 400-meter and 800-meter freestyles at Rio, will surely be back for another summer Games. Sprinter Allyson Felix, who took home two golds in relays and a silver in the 400 meters—boosting her to six career gold medals, the most in track by any woman from any country, and nine medals overall in her four Olympics—may be leaning toward retirement, but she'll go out as a record-breaker.
More notable track performances were by Dalilah Muhammad became the first American woman to win gold in the 400-meter hurdles, and Brianna Rollins, Nia Ali and Kristi Castlin who became the first Olympians from the same nation to finish 1-2-3 in the 100-meter hurdles.
Sue Bird, Tamika Catchings, and Diana Taurasi joined Teresa Edwards and Lisa Leslie as the only athletes in history with four Olympic gold medals in basketball as the women's basketball team rolled to a sixth straight Olympic gold medal and went undefeated during the Rio Games.
When asked how does it feel to be a part of that winning streak and the gold medal winning performance, forward Angel McCoughtry said, "That's unreal. We need to be on a Wheaties box." She's right—you could pick any of these women to be on a Wheaties box for what they did at the Rio games.
Unfortunately, many of the U.S. women were overshadowed by the Ryan Lochte controversy—or worse, taken for granted with sexist coverage during the Games, with more time spent discussing their hair, nail polish or attire instead of their performance on the field. Still, though, none of this will take away from the numbers women put up during the games which are what young athletes will remember from the Rio Games.
"Little girls are going to grow up watching Katie Ledecky just destroy by crazy margins, and they're going to watch Simone do things nobody's ever done before," said Maya DiRado, who won gold in the women's 200 meters backstroke. "Having an opinion, and saying it and backing it up, and just being so gutsy, I think that's great and I think that's why women's sports are doing so well in this country."
And with such a strong set of role models to look up, women's sports will continue to grow, flourish and become more of a common part of the sporting fabric of America culture. Hopefully, when we get to Toyko in 2020, we'll see fewer comments on hair, makeup and marital status and more focus on smashing world records, which Team USA will undoubtedly be doing again.