Trump Discovers New Way to Humiliate Emmanuel Macron, Brushes Dandruff off the French President's Shoulder
Politics
News
Donald Trump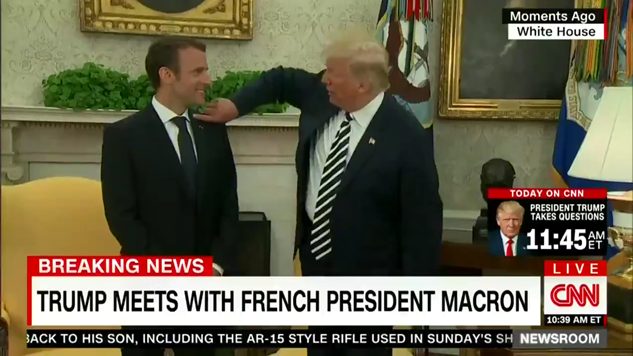 This is real, folks. We're living this. Right now. This is America, 2018. When the President of the United States meets with world leaders, it's like bringing a dog who pees in your house over to your friend's place, hoping it won't do what it always does. Instead of at least feigning diplomacy in front of the cameras with one of our biggest allies, Trump is locked in an escalating troll war with the French President. Emmanuel Macron fired the first shot, besting Trump in a handshake domination battle, then they battled to a real weird tie in a rematch at the NATO summit. Now, Trump has retreated to the land of Mean Girl pot shots. Ladies and gentlemen, I give you DandruffGate:
Trump literally told the French President that he has dandruff and tried to wipe it off of him. pic.twitter.com/JXqI7I6LYL

— Jamie O'Grady (@JamieOGrady) April 24, 2018
The Trump presidency is the dumbest thing that has ever happened in human history.
Jacob Weindling is a staff writer for Paste politics. Follow him on Twitter at @Jakeweindling.