Florida Panhandle County That Voted for Trump Targeted in 2016 Russian Election Hacking
Photos by Mark Wilson/Getty
Politics
News
Election Hacking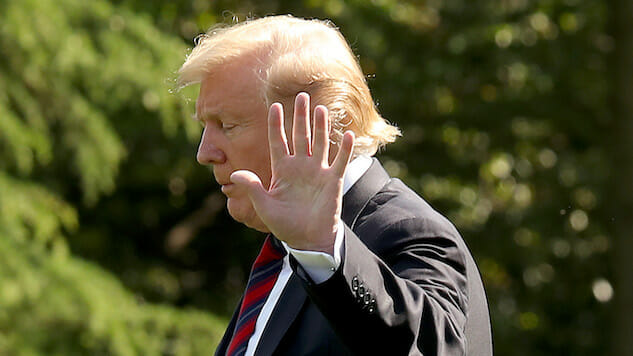 Washington County, in Florida's panhandle, was targeted back in 2016 by Russian hackers, a report from the Washington Post now confirms. It was one of two Florida county elections departments attacked at the time, and it's worth noting that Washington County saw a heavy turnout for then-candidate Donald Trump, who received 77% of the Washington County votes out of a total 11,000 ballots cast.
Florida Governor Ron DeSantis was briefed on the full details by the FBI and Homeland Security last week, but claimed that he was required to keep the names of the two counties under wraps because of a non-disclosure agreement (which is unusual).
According to WaPo, Russian hackers were able to gain access to Washington County voter information files. Two Florida residents say they are suspicious that the second targeted county is on the eastern coast of the state.
While Governor DeSantis did reveal that the hacking of the two counties in fact occurred, he assured the public that vote tallies were not tampered with—the FBI corroborated this in their briefing, and added that there is no evidence that any voter information was manipulated.
Member's of Florida's congressional delegation expressed that they were dubious about how the FBI had come to their conclusions. Democratic Representative Debbie Mucarsel-Powell said that it could not be proven with certainty that voter information was not manipulated during the attack.