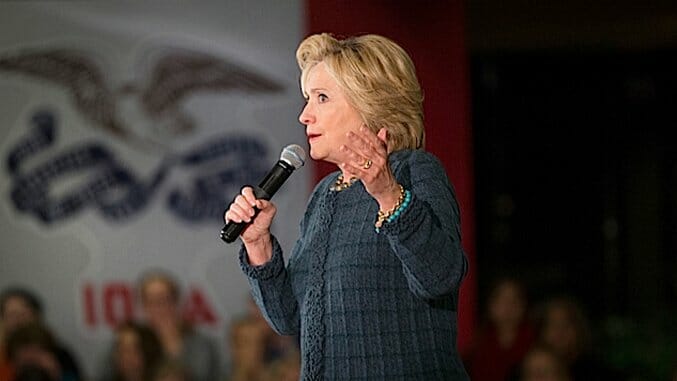 I want to start with a few key facts, because they'll be important in a moment:
1. Among left-leaning female voters under the age of 45, Bernie Sanders holds a significant lead in the polls.
2. He's received far more donations from females than Hillary Clinton.
3. The results in Iowa showed that he won handily in the under-45 category, regardless of gender.
As it happens, there is absolutely a gap in support when it comes to Sanders and Clinton. But it's not a gender gap—it's an age gap. The exit polls in Iowa would have been stunning for the sharp contrast they painted between young and old voters, if that divide hadn't already been reflected in just about every national poll that's come out in the past two months. Sanders won the 17-29 youth demographic in a rout with 84 percent support, and though the margin was smaller in the 30-44 range, he still trounced Clinton 58 percent to 37 percent. Climb higher, though, and the situation changes drastically. Among voters 45-63, Clinton won 58-35 percent, and for 65 and older, Bernie was clobbered 69-26.
It's simple math: Older people vote for Clinton, younger people vote for Sanders. I saw it at the precinct I observed Monday night, and the stats back it up.
In terms of the primary process, any sane candidate would much rather be in Clinton's shoes—older voters are reliable, and the young are famously fickle. But when it comes to the Internet, youth abounds, and the overwhelming preference for Sanders in that domain is starting to anger Clinton's small but devoted band of young supporters. Internet politics have a definite progressive slant—witness the thriving Sanders Reddit page, with 170,000 supporters and over a million dollars raised, compared to Clinton's anemic answer —and it has quickly become clear to the Clinton devotees that comparing the two candidates on policy always ends poorly for their preferred candidate. Without getting into issues of honesty and authenticity, the fact is that Sanders is a far more progressive politician. In our noisy little online kingdom, that plays well.
The strategy of Clinton supporters had to shift, and the solution was obvious: Avoid policy, and make the campaign about sexism. It wouldn't be much of a stretch. In fact, they simply had to reprise the old tactics from 2008, when "gender bias" was one of the most reliable arrows in Clinton's quiver, and Obama supporters fretted about losing the female vote because of perceived abuse toward Clinton's backers. It's the same today, and it started with the "Bernie Bro" phenomenon—a fabricated demographic supposedly chock-full of misogynistic dudes whose support for Bernie is less about policy and more about keeping a hated female out of office.
The entire concept of a vast sexist conspiracy operating from the political left is ridiculous, and has been effectively debunked by Glenn Greenwald and Sam Kriss at Vice, but it's worth looking at a specific example of its origins to examine the absurd, dishonest way it has gathered steam. I'll take you step by step, with this post as a guide.
1. Emily Nussbaum, of The New Yorker, tweets that she's been called a "psycho" after expressing support for Hillary Clinton. "Man," she writes, "the Feel the Bern crew is such a drag."
We'll stop here for a moment to point out that the person who called her a psycho was a Republican congressman named Steven Smith who identifies as a Tea Party advocate and who, we can safely guess, is not feeling the Bern. (Edit: It has been pointed out to me on Twiter that the layers of BS go even deeper—it's not even a real account!)
2. Outlets like Mashable and the BBC quote Nussbaum, without bothering to check who delivered the insult.
3. The New Republic cites Mashable.
4. Others cite The New Republic.
5. The narrative is off to the races.
This is apparently what passes for political journalism—an insubstantial daisy-chain proving, once and for all…that tea party conservatives can be sexist.
Stop the presses, right?
It's not that there aren't Bernie Sanders supporters who are misogynists. Of course there are! There are a massive amount of Bernie Sanders supporters online, and you will never find a group that large in any walk of life without attracting some bad, hateful eggs. But the idea that cherry-picking an angry tweet or comment here or there (some of which end up having been written by women) proves that a larger sexist groundswell is taking place, is, frankly, unscientific bullshit.
So why has it been seized upon with such self-righteous zeal? Because, as I wrote Monday, it looks like a good way to change the discussion. It won't work, just like it didn't work in 2008, and the impact might actually be negative for those who understand what's happening, but it has a certain tricky appeal. Talk about sexism, and at the very least you aren't talking about politics.
I got a taste of this tactic recently after posting a positive Facebook update about Sanders' candidacy that didn't mention Clinton once. "I'm deeply troubled by the misogyny coming from Sanders supporters," wrote an acquaintance. "Even you, yourself, have used language that originated from gamer gate to promote Bernie. If this is the new face of progressive politics, I'm not sure I like it. I don't mobilize for misogyny."
Confession: I am not a gamer. I didn't follow Gamer Gate closely, though I saw enough to know that there was some awful sexual harassment being committed by some vile people. I definitely did not delve into the language of Gamer Gate (and didn't realize the mouth-breathers behind it had "originated" any language at all), and I had no idea how I would have used their language, subconsciously or otherwise. I pressed for details, politely, and you'll be shocked at her response: "I can't find the article I'm thinking of right now."
I'm still awaiting that reply, and probably will be for a long time, but hey, that's the kind of discourse you get when the operating strategy is knee-jerk gender-baiting. It's the accusation that matters most.
Unfortunately, it doesn't begin and end with the "Bernie Bro" trolling. As that notion starts looking less and less substantial, and others start speaking out, the tactics have shifted. The new line of argument, which has started to emerge this week, is that Hillary Clinton's policies may not be great, but the choices she made happened because of misogyny. In other words, Hillary's spotty record—her support for the Iraq war, or her firm opposition to gay marriage that preceded a sudden shift in 2013, or her strong advocacy for job-killing and climate-damaging NAFTA—can all be blamed on sexism.
If you're encountering these arguments for the first time, you're probably failing to see the mighty leap of logic that takes you from point A to point B. Join the club. To figure this out, let's look at a couple examples, starting with a recent Facebook viral sensation called "An All-Caps Explosion of Feelings Regarding the Liberal Backlash Against Hillary Clinton." Author's words in bold, my responses follow:
As Bernie Sanders and Hillary Clinton have become head-to-head rivals, their denizens have begun attacking each other, the Democratic Party eating itself like a snake that loves science and Planned Parenthood. And things have gotten ugly.
For many of us, it's not simply politics as usual. It's very personal.
For me, the backlash against Hillary Clinton feels very, very personal.
Here is the thesis behind the sexism tactic laid out in plain language: Turn the discussion away from the political, and toward the personal. That way, there's no need to face Hillary's anti-progressive past, or even to address policy at all. After another paragraph lamenting the fact that Hillary isn't likable, we get to the rant.
FIRST AND FUCKING FOREMOST, COOL, YOU LIKE BERNIE'S WISHES AND DREAMS APPROACH TO POLITICS. "FREE COLLEGE FOR EVERYONE AND A GODDAMN PONY." YES, THAT SOUNDS FUCKING WONDERFUL BUT DO YOU THINK HILLARY COULD EVEN SAY THOSE WORDS WITHOUT FOX NEWS LITERALLY BURYING HER ALIVE IN TAMPONS AND CRUCIFIXES?
Who on the left gives a shit about Fox News, or the conservative media in general? Do you think they like Bernie? Of course not! Bill O'Reilly has already threatened to move to Ireland if he wins the election. Do you think any liberal actually cares?
The real question that's not being asked here: Why isn't the so-called liberal media, which is more aptly referred to as the corporate media, crucifying her for decades of centrist policy that has set the country back in irreparable ways? Why does she get far more coverage than Bernie Sanders on every cable news network? Why is phrase "wealth inequality" never uttered on those networks, unless it's coming from Sanders' mouth?
YOU DON'T LIKE THAT SHE HAD CERTAIN NOW-UNACCEPTABLE POLICIES BACK IN THE '90S? HEY, I GET THAT THAT SHIT SEEMS LIKE LAST WEEK, BUT IT WAS ANOTHER GODDAMN WORLD ENTIRELY.
Nope, it's still the same exact world! And you're not going to believe this, but those actions that happened 10 or 20 years ago? They still have consequences today. Crazy, right?
Workers who lost their jobs because of NAFTA still live in poverty. The Earth's climate still suffers because of the air and water pollution that resulted from free trade, and the power it gave corporations to escape protection policies. Gay people who were discriminated against by politicians like Clinton and suffered the psychological effects didn't watch their pain magically disappear when Clinton finally got on board in 2013. And that "ancient" decision on the Iraq War? The dead Americans and Iraqis don't get to come back to life, and their family and loved ones don't get to escape the shadow of their tragedies. Oh, and I almost forgot: We have ISIS now!
These legacies don't belong to Clinton alone, but she owns a part of it. Her lack of courage made these travesties possible. It mattered then, and it really, really matters now. If you don't see that, you're speaking from a place of blind privilege. Worse, you've insulted the victims by implying that their suffering should be dismissed as nothing more than a relic of "another goddamn world entirely."
I GET THAT WE ALL THINK WE'RE THE UNIVERSE'S BESTEST HUMANS BUT MOST OF THIS COUNTRY JUST LEARNED TRANS PEOPLE EXIST, LIKE, YESTERDAY. LET'S NOT PRETEND WE'VE ALL BEEN THE MOST INCLUSIVE PROGRESSIVE SUPER-COOL PEEPS FOR LIKE A THOUSAND YEARS NOW.
Bernie Sanders was holding gay pride events in Burlington in 1985. He voted against the Iraq War, questioning the Bush administration's intelligence and predicting the dangerous vacuum of power once Saddam Hussein was ousted. He vigorously opposed NAFTA, and the big banks, and he did it from the start. He was singing these tunes at the University of Chicago, and when he marched with Martin Luther King Jr. You know where Hillary was in college? Working for Republican Barry Goldwater, who opposed the Civil Rights Act.
The point is this: There are people with core principles in the world, and they didn't all start existing in the year 2010.
But I'm getting into political topics now. I forgot that this is personal.
PROGRESSIVE MEANS JUST THAT—PROGRESS. SHIT THAT WAS A BIG GODDAMN DEAL AT THE TIME IS NOT COOL NOW. PROGRESS. IT'S FUCKING SWELL.
Yes, when politicians identify as "progressive," what they mean is that they intend to have exactly the right stance on every issue…in 20 years. "We'll get this right eventually!" is the party motto. For now? Bombs over Baghdad!
I wish the tangled logic stopped there, but it did not. Oh, it did not.
YOU DON'T LIKE THAT SHE PLAYS THE GAME? THAT SHE HAS TIES TO THE ESTABLISHMENT? FOR ONE THING, THAT'S HOW SHIT FUCKING GETS DONE.
FOR THE OTHER THING, THE BIGGEST THING, A WOMAN DOESN'T GET THE FUCKING OPTION NOT TO PLAY THE GAME. NOT NOW. NOT YET. WE ALL WISH THINGS WERE DIFFERENT BUT THEY DON'T BECOME DIFFERENT WHILE WE'RE ATTACKING THE FUCKING PERSON WHO CAN MAKE THAT POSSIBLE.
Elizabeth Warren says hello.
Sorry, but gender is not an excuse for corruption—or "playing the game," in the euphemistic parlance of this post. I am not a woman, but I like to think that if I were, I'd be seriously insulted by this line of thinking. Being born with two x-chromosomes precludes you from having the courage of your convictions? Integrity isn't available to females? The author claims to be a feminist, but this is some seriously regressive shit.
THE DAY MY HUSBAND TOLD ME HE LIKED BERNIE, HE SAID, "I mean, how great is it to have a president who just doesn't even care how his hair looks" AND I EXPLODED "DO YOU THINK THERE EXISTS A WORLD WHERE A WOMAN COULD EVEN CONSIDER THAT?"
It sucks that women are judged on their appearance more than men. That should change, and I think that in the political arena it has, at least a little. I seem to remember a lot of unproductive, veiled sexist chatter about Hillary's appearance as recently as 2008, and I can honestly say that in the circles I run in, it hasn't been nearly as prevalent. Nobody gives a shit about Bernie's hair or Hillary's hair. We care about policies, and honesty.
But it leads me back to my central point: The fact that some people judge Hillary Clinton for her hair, and that sexism is a real and ugly force in American culture, does not justify voting for the war in Iraq. The two things are not related in any meaningful way.
And I can't believe I actually just had to type that paragraph.
AND THE MOST MINDBLOWING PART? THIS ISN'T EVEN COMING FROM THE GOP!
THAT'S NOT MIND-BLOWING! THAT MAKES TOTAL SENSE! IT'S COMING FROM PROGRESSIVES BECAUSE WE BELIEVE HILLARY'S RECORD IS DECIDEDLY UN-PROGRESSIVE, AND WE'RE ANNOYED WHEN SHE TRIES TO CO-OPT A POLITICAL POSITION SHE HAS NEVER PREVIOUSLY SUPPORTED! ESPECIALLY WHEN HISTORY SUGGESTS SHE WILL ABANDON ALL PROGRESSIVE PRINCIPLES THE MINUTE THE NOMINATION IS SOWN UP!
And believe me, if you'd feel better about these critiques coming from the GOP, just wait until she wins the nomination. Then you won't even have to invent the sexism!
BECAUSE WHAT I AM SEEING IS THE SAME THING WE SEE WITH OBAMA ONLY ON THE MORE LIBERAL END OF THE SPECTRUM—PEOPLE WHO WOULD NEVER CONSIDER THEMSELVES BIGOTS IN ANYWAY BUT JUST KNOW THERE IS SOMETHING THEY DON'T CARE FOR ABOUT THIS PERSON. THEY REFUSE TO BELIEVE THAT SOMETHING COULD BE SKIN COLOR OR GENDER BUT FOR VERY MANY OF THEM IT ABSOLUTELY FUCKING IS.
Translation: Other than gender, there's nothing you can criticize about Hillary Clinton! She's perfect, so the fact that young people seem to dislike and distrust her must be because she's a woman. (Also, here's something interesting that never gets discussed: Older men like Clinton more than younger men. So are the Clinton misogyny truthers positing that younger people are less enlightened and more sexist than their elders? Because that would be quite a claim.)
Seriously, though, as someone who has followed Sanders' campaign very closely, the idea that there are hordes of his supporters who are objecting to Hillary on a nebulous basis is not borne out by reality. We object to her for very specific, very policy-oriented reasons, and we'll happily tell you about it. We'll tell you about it until you're bored! We love to talk!
But Facebook posts like this one, which allege that Sanders supporters are using terms like "catty" or "bitchy" or "shrill" to describe Hillary, or spend lots of time mocking her clothes or hair, are likely reading right wing insults and wrongly attributing them to Bernie supporters. (Incidentally, I had the misfortune of accidentally listening to Rush Limbaugh yesterday, and in the moments before I could change the dial, he did indeed call Hillary "shrill.") Either that, or these are isolated incidents being used to establish a false pattern. As I said, there are sexists among Bernie's crowd, but their language is not the prevalent discourse—not by a longshot. If it were, he wouldn't have the same enormous female support, and I would personally refuse to be involved in his campaign. Men can care about this issue, too.
I'M NOT SAYING THERE AREN'T REASONS SOMEONE SHOULD DISLIKE HILLARY OR PREFER BERNIE. THAT IS FINE. THAT IS YOUR JOURNEY.
Gee, thanks for the permission.
BUT LET'S NOT PRETEND FOR A SECOND THAT THERE WOULD BE THIS MANY ISSUES WITH HILLARY IF SHE WAS A GODDAMN MAN.
If Hillary were a man, she wouldn't stand a snowball's chance in hell of securing the Democratic nomination in 2016. None. And there's not a serious pundit in the country who would argue otherwise.
Why? It's simple—we wouldn't have this obscuring gender fog, and we'd see her for the neo-liberal warhawk that she really is. The mood of the Democratic party and of the American left generally is favorable to progressive politics, which is why Hillary continues to adopt many of Bernie's issues as the campaign rolls along. Hillary leads nationally by about 20 points with women, and trails by about the same amount with men. Without her female base, she'd have no path to the nomination. And if she were a man, she would lose that female base and have to run on her policies and experience alone.
How would that go? Well, how did it go for the other centrist male Democratic candidates this year? Anyone remember Lincoln Chafee or Jim Webb?
AND IF YOU COME AT ME FOR EVEN ONE GODDAMN SECOND WITH A "YOU JUST LIKE HER BECAUSE SHE'S A WOMAN" I WILL DESTROY YOU WHERE YOU STAND. I LIKE HER! I LIKE HER POLICIES, I LIKE HER PLANS, I LIKE WHAT SHE STANDS FOR, I LIKE THAT SHE'S GROWN AND EVOLVED AS A HUMAN AND POLITICIAN!
If you're waiting for a single mention of those policies, you'll be waiting a long time.
I LIKE THAT SHE WAS FOR MANY OF US MY AGE ONE OF OUR FIRST ROLE MODELS OF A SMART, PROFESSIONAL, KICKASS WOMAN AND THAT SHE ISN'T AFRAID OF THE WORD "FEMINIST" AND I'M SICK OF HAVING TO APOLOGIZE FOR LIKING HER, FOR HAVING TO QUALIFY AND SEE YOUR SIDE AND RESPECT YOUR OPINION WHEN I FUCKING DON'T AND YOU FUCKING DON'T RIGHT BACK. I LIKE HER!
"If you come at me for even one goddamn second with a 'you just like her because she's a woman,' I will destroy you where you stand. Now, here's why I like her: Because she's a woman, so fuck you."
AND MOST OF YOU LIKE HER POLICIES AND PLANS TOO BECAUSE A) THEY'RE BASICALLY FUCKING OBAMA AND B) THEY'RE NOT THAT FUCKING DIFFERENT THAN FUCKING BERNIE.
A—Correct.
B—Incorrect.
C—Seriously, B is so insanely incorrect.
AND THE THING IS—I LIKE BERNIE! EVERYONE LIKES BERNIE! BECAUSE CRAZY GRANDPA IS TOTALLY ELECTABLE BUT CRAZY GRANDMA NEVER COULD BE. BUT WHY DO WE HAVE TO HATE HER TO SHOW HOW MUCH WE LOVE HIM? SOCIALIST JESUS TAKE THE FUCKING WHEEL.
Wait, I thought the party line was that Bernie was unelectable?
IT IS ABSOLUTELY GUT WRENCHING THAT THIS BADASS, IMPORTANT WOMAN HAS BEEN DIMINSHED AND WRITTEN OFF AND HATED HER WHOLE CAREER, HER WHOLE EXISTENCE AS A PUBLIC FIGURE. YOU LIKE BERNIE BECAUSE HE DOESN'T PLAY THE GAME, BUT FOR HILLARY RODHAM CLINTON, FOR A WOMAN, SHE HAS HAD NO OTHER CHOICE.
Bullshit. Here we are, back at the argument that being a female politician means you can't have integrity. Again, I find this insulting, and there are countless examples that disprove this stupid, sexist talking point.
Here's the truth: Being a politician with integrity is seriously hard for anyone. It takes strength to be honest, because you are constantly being asked to compromise your principles, and it's so easy to fall on the side of big money and line your own pockets, as Hillary has done for years ("being a woman means she had to take hundreds of thousands of dollars in speaking fees from Goldman Sachs!"). But people do it. They're rare, but they exist. And being female doesn't disqualify anyone from being honest.
SO, YES, I'M EMOTIONAL AND I'M YELLING. BECAUSE THIS IS FUCKING EMOTIONAL FOR ME. I WANT A FEMALE PRESIDENT AND I WANT PRESIDENT HILLARY CLINTON. I WANT BOTH OF THESE THINGS BUT MORE THAN ANYTHING ELSE I WANT WOMEN TO HAVE AN EQUAL FUCKING FAIR SHAKE. I'M SICK OF THIS STUPID BULLSHIT DISGUISED AS POLITICS, MASQUERADING AS POLITICAL OPINION.
Yeah, Bernie supporters, stop with all this political talk about actual issues affecting actual Americans, and start talking about emotions! That's where the truth lies! That's where we make progress!
Okay, enough of the idiocy. I'm not ignorant of the fact that writing this post as a straight white dude is going to open me up to a counter-attack. But let's call this author's line of thinking what it is: Hopelessly uninformed, if not downright deceptive. Appeals to emotion don't belong on the political left—they belong with the GOP, who spend every waking moment stoking fear and anger and finding scapegoats. What the author above has done, and what many of Hillary's supporters have done, is to adopt a Republican smear tactic. They, too, love to dodge the issues and rile up their base against some anonymous enemy. Just as Donald Trump insists on those mythical New Jersey Muslims who celebrated after 9/11, and his followers believe him despite enormous evidence to the contrary, so Camp Hillary dreams up the Bernie Bro, and it sticks.
It's the same class of dishonesty, and it's a shame that it's happening. But man oh man, it's a boom time for this specific brand of drivel! Another example: In a semi-viral post titled "The Inherent Misogyny of Sanders' Antiestablishmentarianism", another writer hits the same exact notes. I won't fisk the entire thing, but here are two noteworthy excerpts:
The Democratic primary system is about as establishment as it gets. White supremacy and segregation are about as establishment as it gets. And Bernie Sanders' campaign is unabashed about saying they are exploiting the caucuses, and the primary schedule, which puts early caucuses in disproportionately white states, in order to try to win the primary.
No joke, this is a key tenet of the argument: Sanders is misogynistic because he's trying to win the early caucuses. The author goes on to suggest that Hillary should be elected because she'd be symbolic, and that she's anti-establishment simply because of her gender, and that by focusing on the issues and not praising her symbolic status, Sanders is guilty of sexism. Again, concrete policies are not mentioned, because that would destroy the whole argument. And again, we get this little caveat:
Certainly I'm not saying that policy doesn't matter. Nor am I suggesting that there are not legitimate reasons to oppose Clinton's candidacy. There are. And no one should feel obliged to support her just because she's a woman…
But of course, that's exactly what's being said. Any substance-based argument against Clinton is actually just the sinister subconscious workings of sexism. It's a perfect closed circle.
As one final example of the rampant distortion currently sweeping the web, let's look at Salon, and the bulkily titled "Bernie bros, stop this meme: Your dumb joke about Hillary's music taste isn't funny — it's predictably sexist."
Here's an example of the meme the author refers to:
This answered my "Hillary or Bernie" question. Bernie answer was perfect. Hillary can kick rocks #FeelTheBernpic.twitter.com/fnrk64OnPG

— King Kunta (@EmperorIra) February 1, 2016
The reason it is funny is because it plays off the notion that Bernie is a wonkish nerd with strong opinions—the kind of politician who, if he were a music fan, would be a total snob and talk your ear off—while Hillary is a phony who panders, ineffectively, to groups she considers "cool." (And come on, can that really even be debated? Cringe with me.) It's about personality, and authenticity. It's not about gender, no matter what the author wants to believe. Jeb Bush is taking the same kind of flack on the Republican side, because he's also inauthentic and awkward in unscripted situations. The reason there's less of it for him is because his campaign is tanking hard—just like Hillary's would, if she were a man.
A common refrain I've heard when this sort of argument is made by a male (and which I'm sure I'll hear again, probably in the comments section of this post), goes like this: "If you don't think misogyny plays a part in the criticism lobbed at Hillary Clinton, then you're part of the problem."
To which there's only one appropriate response: "If you're actively seeking to explain the entire progressive opposition to Clinton with misogyny, then you're part of the problem…a much bigger problem, which is the bone-deep dishonesty and corruption in national politics, practiced by the vast majority of male and female representatives in Washington D.C., that has created a corporate-dominated oligarchy where money trumps principle and the middle and working classes are at the bottom of everyone's priority list."
Sexism exists, it's a real problem, and it needs to be addressed. But it should go without saying that when sexism is used cynically, to deflect valid political criticism, it risks becoming an empty phrase. Why do fewer people than ever before care that Bernie Sanders identifies as a Democratic Socialist? Why, when the GOP whips out the words "redistribution of wealth" to give rich people a pass on higher taxes, does it resonate less than ever before with an angry population? Why are these reliable bogeymen failing?
Because when you fall back on a deceptive turn of phrase, even an effective one, people will eventually figure out exactly how you're lying. They'll understand your true purpose, which is to fog the playing field and stifle discourse. Democrats should know better than that. Democrats should be better than that. And if one of our candidates can't win on the issues, maybe that candidate shouldn't win at all.