It's Getting Litigious: Tulsi Gabbard to Sue Hillary Clinton in $50M Defamation Case
Photo by Alex Wong/Getty
Politics
News
Tulsi Gabbard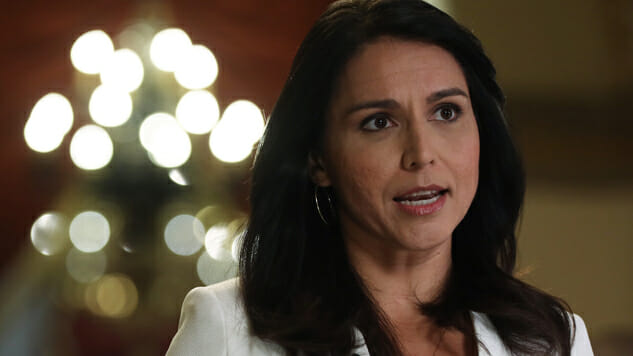 Back in the fall, Hillary Clinton insinuated on a podcast that presidential candidate (still, somehow) Rep. Tulsi Gabbard of Hawaii was being "groomed" by the Russians, referring to her as a "favorite." Gabbard, who was interestingly the only representative to vote "present" during the impeachment trial at the house, is now suing Clinton for $50 million on grounds of defamation. The lawsuit states it plans to hold Clinton, as well as other political elites, responsible for "distorting the truth in the middle of a critical Presidential election." She also claims to have suffered economically after Clinton's claims, something that will need to be proven at trial.
Former attempted Democratic candidate Marianne Williamson tweeted in support of Gabbard back when Clinton accused her of collusion with the Russians (or just being especially susceptible to being manipulated by them, jury's out on what exactly she meant). Williamson recently dropped out of the running to be the Dem nominee. In her tweet, she cited the ways in which the Democratic establishment pits women against each other. Gabbard seems to be adding fuel to the fire.
The Democratic establishment has got to stop smearing women it finds inconvenient! The character assassination of women who don't toe the party line will backfire. Stay strong @TulsiGabbard . You deserve respect and you have mine.

— Marianne Williamson (@marwilliamson) October 19, 2019
Gabbard also tweeted in defense of herself back then, providing a legendary thread in which she calls Clinton the "queen of warmongers."
Great! Thank you @HillaryClinton. You, the queen of warmongers, embodiment of corruption, and personification of the rot that has sickened the Democratic Party for so long, have finally come out from behind the curtain. From the day I announced my candidacy, there has been a …

— Tulsi Gabbard (@TulsiGabbard) October 18, 2019
Of the lawsuit, Clinton spokesman Nick Merrill told NBC News, "That's ridiculous." A partner at the law firm Gabbard is working with for the lawsuit said "although Rep. Gabbard's presidential campaign continues to gain momentum, she has seen her political and personal reputation smeared and her candidacy intentionally damaged by Clinton's malicious and demonstrably false remarks." We aren't too sure what momentum Brian Dunne, the partner, is referring to. Newsweek recently reported Gabbard was the "most disliked democratic primary nominee" after her "present" vote, a decision she has greatly backpedaled on, stating the most centrist idea that "I also could not in good conscience vote for impeachment because removal of a sitting President must not be the culmination of a partisan process, fueled by tribal animosities that have so gravely divided our country."
We'll see how it plays out. Gabbard has suspected Clinton has held a grudge against her ever since the 2016 election in which Gabbard became the first prominent politician to endorse Bernie Sanders over Clinton. Maybe it's true—the dent Clinton's comments have made in Gabbard's campaign has been noticeable, despite the fact that Gabbard has failed to gain traction over the course of her entire campaign.