It was the 58th minute at the Hawthorns, and West Brom were leading Arsenal by a goal to nil. Peter Odemwingie, roving in between the Arsenal lines, burst onto a ball that the Arsenal defense allowed to bounce in front of them. Just as the striker got a touch to the ball, a grey shirt hurtled into the frame. It was Manuel Almunia from the Arsenal goal, arms outstretched and attempting, in vain, to cut out the danger. He got nowhere near him, and Odemwingie rounded Mikel Silvestre to roll the ball, agonizingly, into an empty net. 2-0.
That was in 2011, three years on from Jens Lehmann's departure, and Arsene Wenger was still trying desperately to find a replacement for the big German in the Arsenal goal. Almunia had been his understudy, but never really looked the part when asked to step into the number one shirt. Over the next few seasons, Wenger would eventually turn to a pair of Poles, first Lukasz Fabianski and then Wojciech Szczesny, in an effort to find a solution within the club.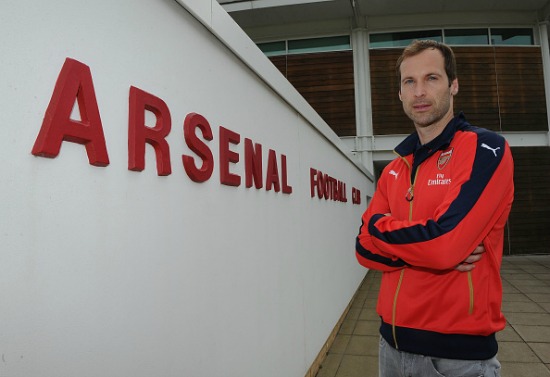 Over that same period, on the other side of London, an undisputed number one was nailing down his legacy as one of the best keepers of the Premier League era. Petr Cech had been with Chelsea since 2004, and by the time Almunia was making a hash of it at the Hawthorns, the Czech international had won the Premier League three times. He would go on to win it a fourth time with the West London club, along with the Champions League, the Europa League, the FA Cup (four times) and the League Cup (3 times). He has also won the Golden Glove, for most clean sheets in a season, three times.
It looks like Arsene Wenger has finally found a solution outside of London Colney – though not outside London – as he's on the brink of sealing an 11 million pound deal for the big goalkeeper. Should Cech pass a medical Friday, he will move across the capital to be Arsenal's number one, and it's about time. While Arsenal was languishing, scrapping for fourth place, Chelsea were winning titles, and their world class keeper played no small part.
Arsenal's frailties through the spine of the team have been an oft-cited factor in their struggle to challenge for major honors for nearly a decade. They have lacked robust players in the center of midfield, sure, and their center backs were too often simply not good enough (the aforementioned Mr. Silvestre being exhibit A). But it's hard to underestimate the value of a goalkeeper who is confidant enough in his own ability to truly anchor a team, to serve as the base of that strong backbone. While Cech is certainly a superb shot stopper, he also makes fantastic decisions and commands his area well. A good goalkeeper inspires trust in those in front of him, and the cohesive unit that Cech formed with John Terry and the rotating cast of Chelsea defenders throughout his tenure helped to make them one of the most persistently formidable defensive sides in recent history.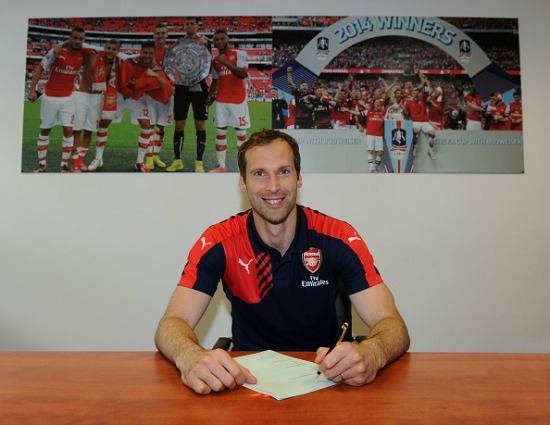 Almunia was a talented keeper capable of breathtaking reaction saves, like the double save off of a penalty he made for Watford to help his team triumph in one of the more miraculous Championship playoff semifinals of all time in 2012. But he never commanded his area well, and he always seemed to be on the cusp of a catastrophic error. Fabianski was remarkably similar – talented but far too error-prone – and neither inspired confidence in their teammates. That, in turn, led to communication breakdowns and panic at the back. At times, it seemed like Arsenal was hanging on by a thread any time they had to deal with an aerial ball.
Szczesny represented an almost across-the-board improvement when he snatched the number one jersey from his Polish compatriot at the age of 20. He brims with confidence by nature, though he seems to have suffered from losing his place to David Ospina last season, and has at times commanded his area with authoritarian vigor. He is taller than any Arsenal keeper since Lehmann, so he can get a hand to balls that the others would flap at, and he is a very good shot stopper. And yet, there's the feeling that he is not quite good enough (yet, perhaps) to help Arsenal win the league or reach the latter stages of the Champions League. His decision-making can still be poor, and he has not made enough critical saves to make the difference in games.
A good goalkeeper can prevent wins turning to draws and draws to losses. A world-class keeper can get you 10 points in a season you'd never have had otherwise. David De Gea did just that for Manchester United last season, pulling off otherworldly saves time after time to bail out the poorest United defence of the Premier League era. It's hard to recall any Arsenal keeper since Lehmann winning the team many points throughout the season, and no Arsenal keeper has won the league since. That's why the prospect of Petr Cech joining Arsenal is so momentous.
"He will save them 12 or 15 points a season," said Chelsea captain John Terry, when asked what impact his teammate could have on their cross-town rivals. "If they do get him, he will strengthen them for sure."
While 15 points might be a stretch, if Cech can rediscover some of his old Chelsea form he will be among the top three or four keepers in England, depending on whether De Gea departs for Madrid. More than key saves and a commanding presence, though, he could bring the kind of championship mentality to the dressing room that the team has proved unable to maintain over the marathon of the league season. He has more experience playing (and winning) at the highest level than just about anyone in world football.
Whether he's enough to put Arsenal over the top as a title challenger remains to be seen. He will marshal the backline effectively and bail them out on occasion, but question marks still remain over the center of defense. Laurent Koscielny is one of the most athletic center backs in the world, but has lapses in judgment and gives away a striking number of penalties. His partner, Per Mertesacker, looks incredibly vulnerable against strikers who are quick on the turn. It also remains to be seen if the club can win the league without a 20-goal striker leading the line.
Arsenal fans will hope Arsene Wenger has at least one more top-class signing up his sleeve. But should he secure Cech's signature, it will be a big step forward, close to what the signings of Mesut Ozil or Alexis Sanchez were in summers past. After all, the big Czech has been there, done that. The Gunners will be hoping he can do it again.