WATCH: Univision Commentators Do Tactical Analysis Of Groundskeepers During A Rain Delay
Soccer
Video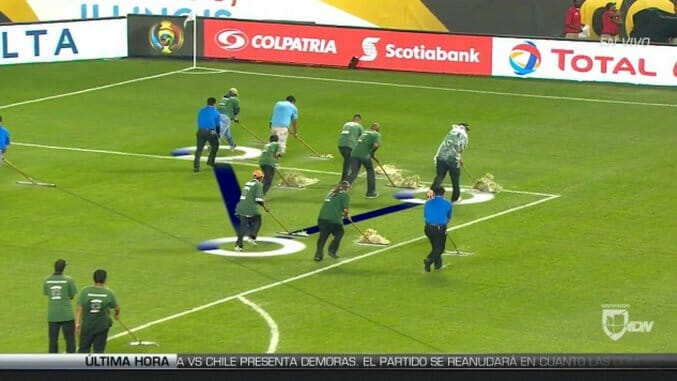 Powerful storms rolled through Chicago last night, forcing a lengthy weather delay during the Copa América Centenario semifinal match between Colombia and Chile. The postponement was announced during halftime, keeping both teams in the dressing rooms and fans under whatever shelter they could find.
After nearly two hours the rain finally let up and match officials gave the go-ahead to restart. But before that could happen, groundskeepers took to the pitch with mops squeegees to help clear the puddles of water off the grass.
Naturally, the commentators for Univision— the Spanish language broadcasters for the tournament— did what they do best: provide smart tactical analysis of what's happening on the pitch.
The game finally resumed at 10:25pm local time. Chile held on to the 2-0 lead they had at the break to secure a place in the Final this Sunday against Argentina.