HP's Elite Slice is a Modular Enterprise Desktop That Can Go Big When You Need It To
Tech
Features
Computers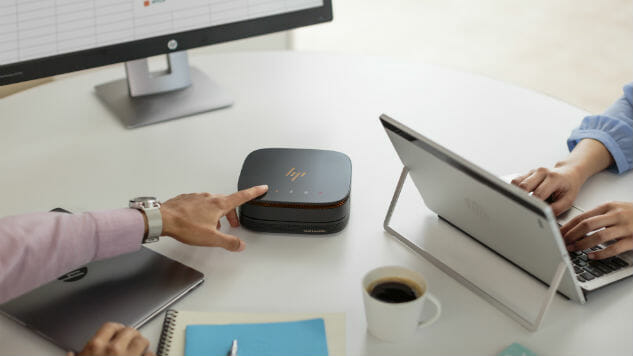 The time of big a bulky enterprise desktops may be finally ending. HP hopes that its new Elite Slice's modular PC design will help eliminate space-hogging PC towers, while still providing expandability and versatility when needed.
Aside from the aging tower design factor, a major reason why work desktops need redesigning is because employees have less space than before. Office space has shrunk by almost half, with employees occupying just 125 square feet today compared to 227 square feet a year prior, according to Mike Nash, HP VP of Consumer Experiences and Portfolio Strategy.
HP addresses these modern challenges to computing with the introduction of the Elite Slice, a compact desktop that can expand when you need to add more features to your desktop.
Design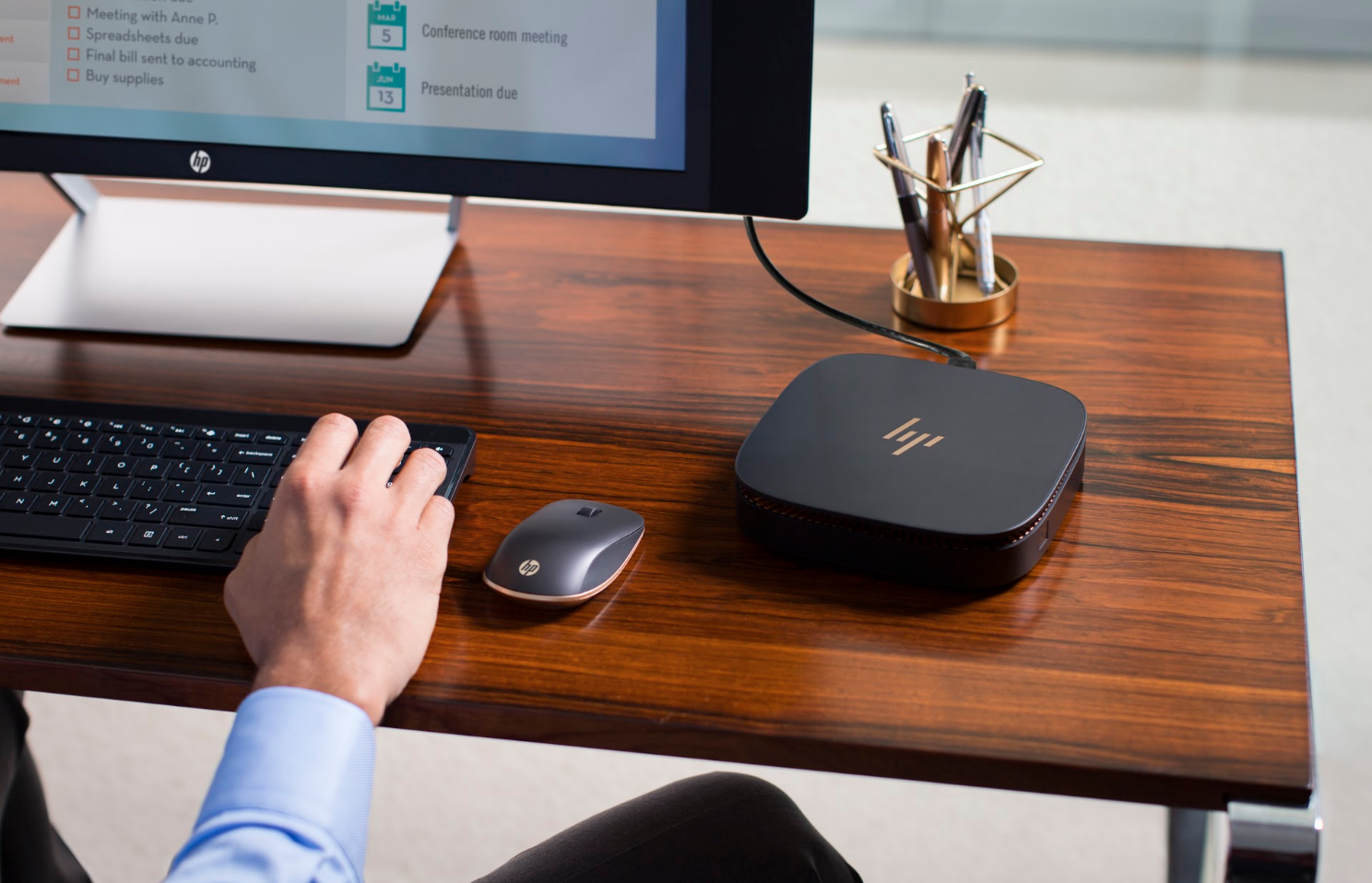 Traditional desktop tower design occupies a large volume of space that's needed if you want to add additional components to your PC. Over the life of your desktop, this extra volume and space is wasted if you find yourself never requiring any upgrades.
Rather than coming with this pre-built space, HP removed the empty space by configuring its work-targeted Elite Slice with just the core set of features—the motherboard, memory and processor. But the modular design still allows the Elite Slice to be easily expandable.
The modular concept isn't new, and it recently gained favor among smartphone-makers LG and Motorola. The LG G5 have swappable modules that can augment the power of smartphone, while Motorola's modules bring new functionality to the Moto Z line.
Rather than swappable modules on phones, the Elite Slice uses a stackable design, where different components can be stacked to the main PC when needed. This allows you to use multiple modules simultaneously. If you just need the basic experience, you'll end up with something that's the size of Apple's Mac Mini. The Elite Slice measures just 6.5 × 6.5 1.3 inches to the Mac's 7.7 × 7.7 × 1.4-inch footprint.
On its own, the Elite Slice is a complete PC, distilled to core components. Like the Mac, it comes with a processor and a variety of ports to connect your peripherals. However, if you need an optical disc drive for your line of work, for example, you can add HP's ODD module by stacking it to the bottom of your Elite Slice PC. This simple idea removes the wasted space on a traditional tower that's needed to accommodate a built-in DVD-ROM drive when you don't need access to it.
In addition to the optical disc drive module, HP will offer a number of different stackable module options for expansion, including a Collaboration Cover, Audio Module, VESA mount module and Wireless Charging Cover. As its name implies, modules with "Cover" in their names must be placed at the top of the stack. Just below the cover, you'll place the Elite Slice, and then other modules will follow.
Performance and Ports
Like the Mac Mini, the Elite Slice is a fully functional PC even without its additional modules. To keep workers productive, HP said that the Elite Slice ships with the latest 35W-powered Intel Core i series processors, up to a Core i7 configuration.
The processors support Intel's vPro technology, and the Elite Slice ships with HP's SureStart self-healing BIOS technology to ensure that the PC is free from BIOS-level corruption.
The device can be configured with up to 32GB of memory and up to 512GB solid state storage or 500GB hard drive. It comes with Wi-Fi 802.11ac and Bluetooth radios for wireless connections, but you can also attach wired peripherals to two USB 3.1 Type-A ports, two USB 4.1 Type-C ports, single HDMI port, DisplayPort, Ethernet jack, combo audio port or Slice connector, which provides USB Type-C data transfer rates.
The Elite Slice is powered by HP's proprietary charging connector. If you wish to minimize cable clutter, you can connect the slice to the new HP S240uj USB-C monitor. Going this route means that you'll connect the Elite Slice to the display using a USB Type-C cable, which delivers video output and power to the PC.
The HP display will only be able to deliver 65W of power to the Elite Slice using the single USB Type-C cable. This power supply should be fine for most users, but if your stack and connected peripherals require more than 65W of power, you'll need to use HP's power supply, which is capable of delivering 90W of power to the system.
Security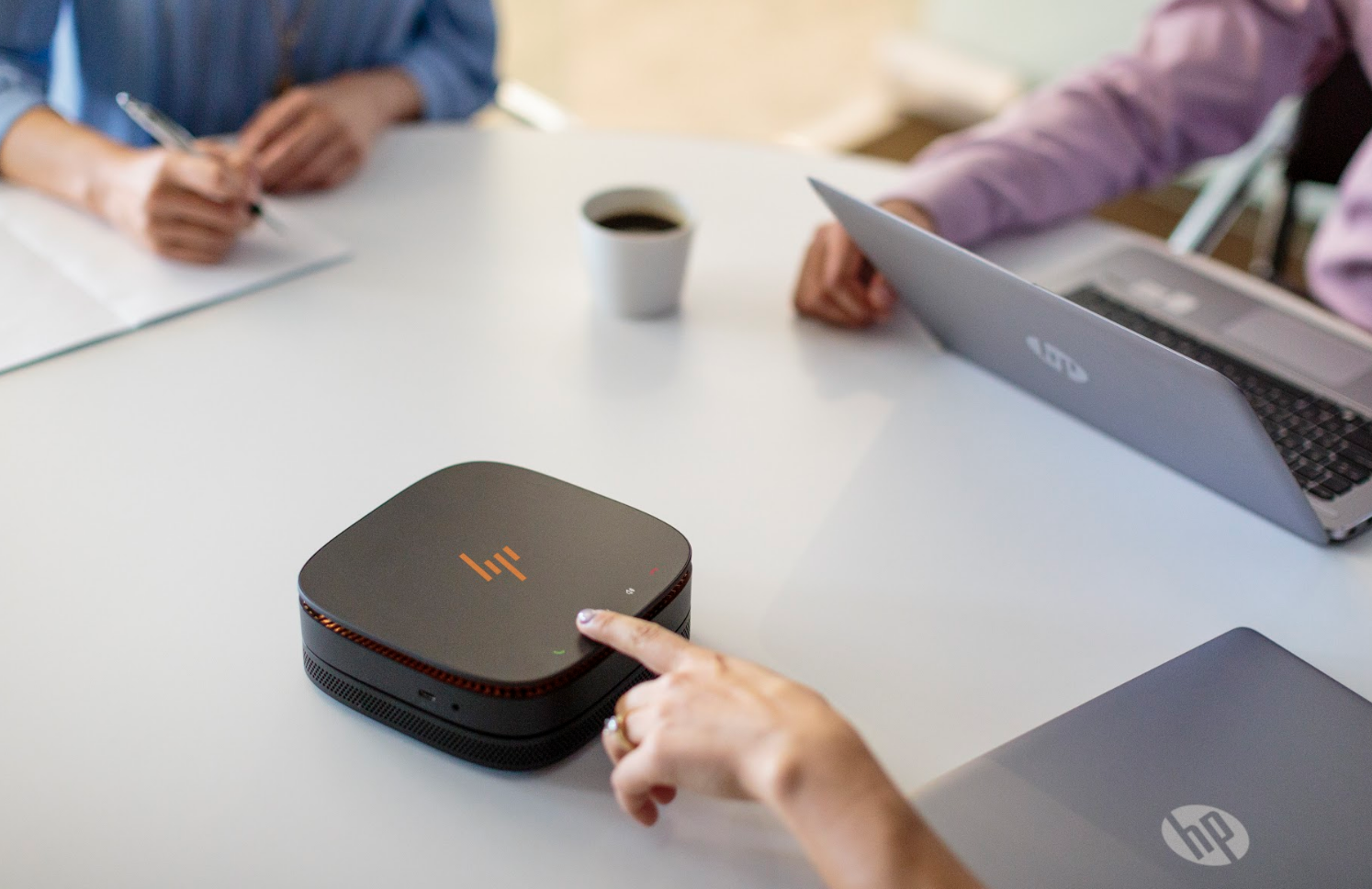 If you have multiple modules attached to your Elite Slice, each piece can be locked individually for inventory control. However, if you attach the optional VESA mount module to the bottom of your stack, you can slide the lock switch to secure the VESA mount and then attach a lock to lock all the modules together. This allows you secure all the modules in the stack, along with the Elite Slice, with a single lock, rather than individually locking each module.
For quick log-in using the Elite Slice, the PC comes with a touch fingerprint sensor. This allows you to authenticate using a single touch, rather than requiring a PIN or password.
Modular Expandability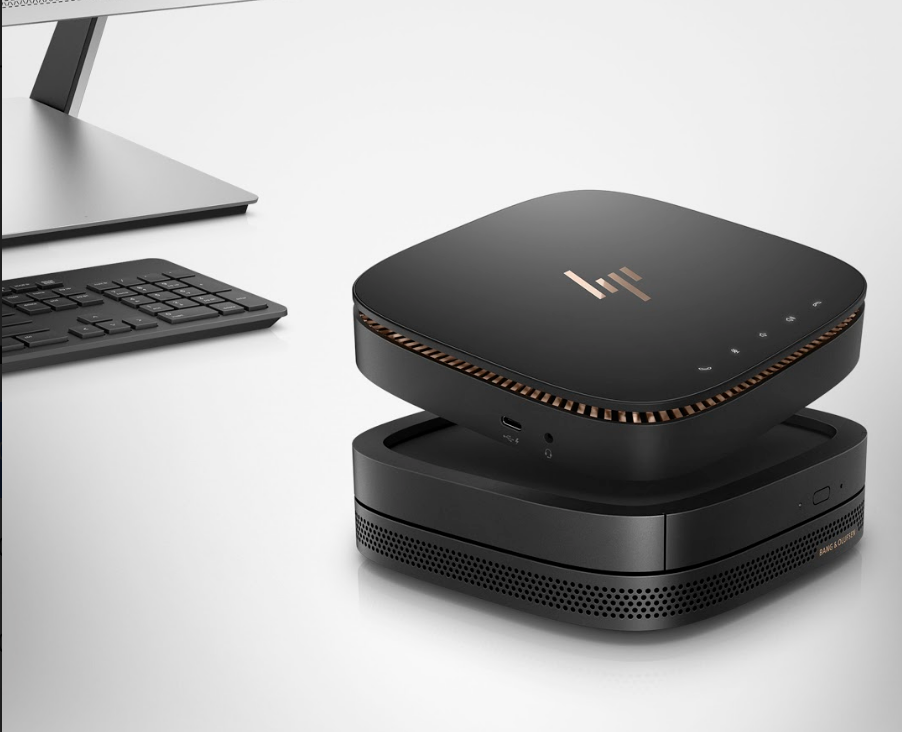 HP will offer five different modules for the Elite Slice. The VESA mount module allows you to attach the Elite Slice to mounts using the VESA standard, while the optical disc drive module, as its name implies, expands your Elite Slice with an optical drive.
In 2017, HP will offer a factory configuration of the Elite Slice with a Wireless Charging Cover. With the Wireless Charging Cover on, you can place your Qi-enabled phone, like HP's Windows 10 Mobile-powered Elite x3, on top of your PC to charge, reducing the number of wires on your desk, Nash said. The Wireless Charging Cover requires factory configuration, according to HP.
Another cover is the Collaboration Cover, which provides users with quick access to conference call controls. This is useful for Skype calls, and the cover allows you to quickly toggle volume, accept or reject the call and mute the call.
Lastly, the Audio Module adds a Bang & Olufsen-tuned speaker with a dual-microphone array for clear audio for video calls and entertainment. HP said that the speakers are tuned specifically for audio, so your video and VoIP calls will sound good. The speaker module also comes with HP Noise Cancellation software to reduce background noise. The microphones can pick up your voice up to five meters away, so you don't need to be next to your PC to conduct a video or audio call.
HP has not made any comments on whether the modules that ship this year will work on future versions of the Elite Slice PC. Having forward compatibility will be a big win for HP's modular ecosystem. This would allow users to confidently invest in modules if they know the modules won't be obsolete when they upgrade the PC portion of the stack.
The HP Elite Slice will be available starting in November at a starting price of $699. A configuration of the Slice with Intel Unite technology designed for Meeting Rooms will be priced at $949. The modules are optional extras.
Verdict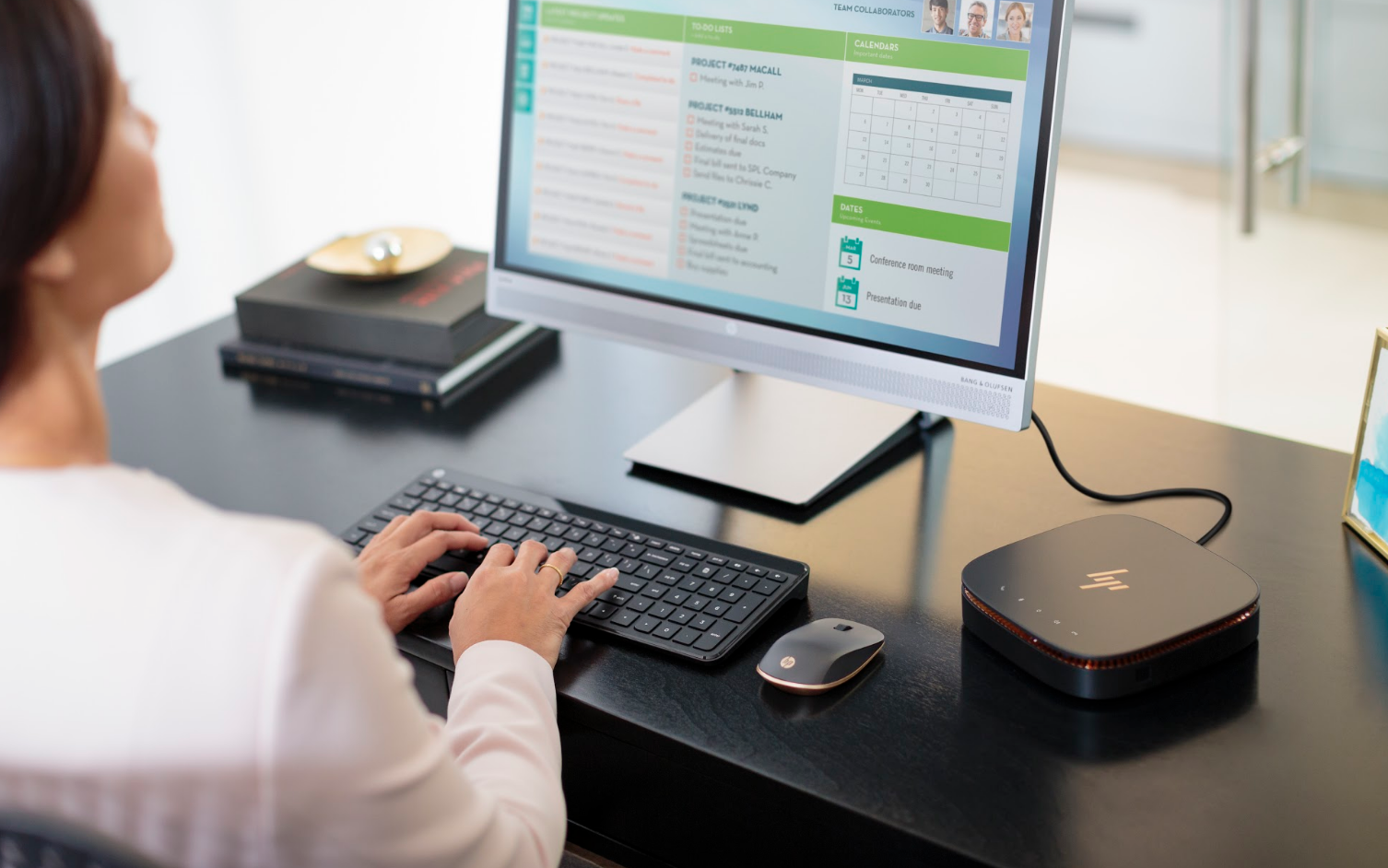 By removing dead space and adding modular connectors to its reimagined enterprise PC, HP has miniaturized the desktop while retaining expandability. The modular, stackable PC concept is something that we hope HP will bring to consumer desktops in the future.
At this point, it's unclear if HP has plans to bring new modules with additional functionality in the future, or if the company will allow third-party manufacturers to create custom modules for specific enterprise uses. For the module idea to be successful, however, HP will need to build in forward-compatibility. This way, the modules can be reused on future versions of the Elite Slice.
Moving forward, it'd be interesting if HP can introduce a module with discrete graphics, allowing businesses to upgrade their desktops to powerful workstations if needed, or a docking module with more ports and connectivity options. In the consumer space, an expandable desktop with a stackable graphics module can transform an ordinary PC into a compact performance rig without complicated tooling.
The modular concept adds a lot of versatility to a tried and tested form factor. With the design of the Elite Slice, HP has transformed the big black boxes of traditional desktop PCs into little black cubes that can expand and grow should your needs change down the line.