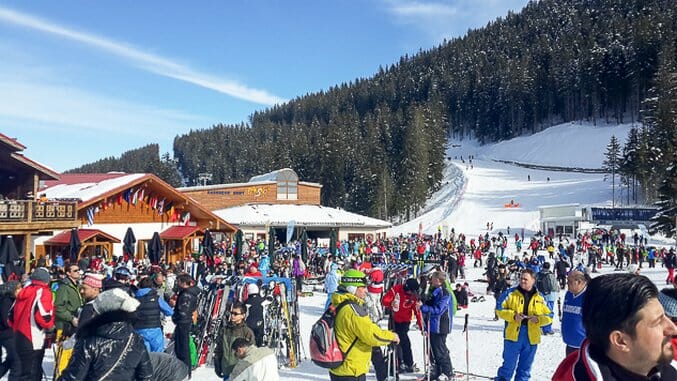 Ski season is upon us! But where to go this year? While you don't often find the words "affordable" and "ski vacation" in the same sentence, a growing number of ski enthusiasts are finding that resorts across the Western Balkans offer exactly that. Though the former Yugoslav countries may not immediately spring to mind for their ski potential, you may recall Sarajevo was home to the Winter Olympics in 1984.
The Dinaric Alps, which span from Slovenia in the north to Kosovo in the south, and the neighboring Sharr and Pirin Mountains offer a ski season that often stretches well into April at a fraction of the cost of Western European resorts. At this point, many of the ski options found on the Balkan peninsula get more points for potential than accessibility, but that's great news for anyone who doesn't mind working a little harder and paying a lot less for first tracks in fresh powder.
1. Kranjska Gora, Slovenia
Hugging the Austrian and Italian borders, this is Slovenia's most popular ski resort and for good reason: with great skiing and plenty of ski-in/ski-out accommodation, Kranjska Gora rivals similarly sized Alpine resorts at a fraction of the price. With an après ski culture to match, you can easily make yourself at home in the ski village for a weeklong vacation. Alternately, consider spending at least part of the week 40 minutes south in the enchanting lakeside spa town of Bled, one of our top Balkan towns to visit in 2016.
-Number of trails: 18, 6 chairlifts and 13 drag lifts
-Difficulty: mostly beginner and intermediate, but experts will find plenty of terrain using the lifts to the Vitranc peak from nearby Podkoren (included in the day pass)
–Price of lift ticket: 32.50€ ($35) for an adult day pass, 164€ ($175) for a six-day pass to all of Slovenia's ski resorts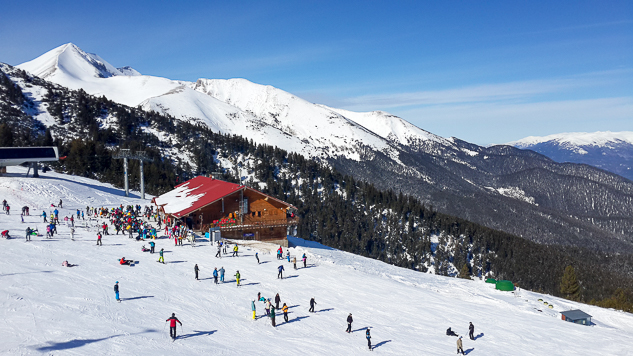 2. Bansko, Bulgaria
The only destination on the list that was not part of former Yugoslavia, Bansko runs a close second to Kranjska Gora: less variety of difficulty on the slopes, but easily the region's best après ski. You'll rub elbows with a lot of Greeks, Russians, and an increasing number of Brits in the many bars and restaurants along the slopes and in town. A gondola takes you from town to the base of the main ski center. While the scenic ride is worth the price of admission, the line gets incredibly long around mid-morning, so be sure to get there early.
-Number of trails: 16, 9 chairlifts and 5 drag lifts
-Difficulty: beginner and intermediate
–Price of lift ticket: 46 BGN ($25) for an adult day pass
3. Kopaonik, Serbia
With the nearest major airport four hours north in Belgrade, Kopaonik won't win any awards for convenience, but this charming resort town is worth the journey. Due to a vast snowmaking system and an average of 200 sunny days per year, you are almost guaranteed bluebird skiing here no matter when you come in the season. The resort boasts 34 miles of groomed runs, a top-notch ski park, and 12.5 miles of cross-country skiing trails. As the village is a bit spread out, ski-in/ski-out accommodation is rather limited – so make sure to book early.
-Number of trails: 36, with 11 chairlifts and 13 drag lifts
-Difficulty: beginner to intermediate
–Price of lift ticket: 300 RSD ($26) – 3550 RSD ($31) for an adult day pass
4. Jahorina, Bosnia and Herzegovina
Just 40 minutes from the city center, Bosnia's biggest ski resort hosted the women's alpine events during the 1984 Olympics. While some of the facilities at Jahorina are due for an update, you can't beat its convenience or value for money anywhere else in the Balkans. There is even night skiing available Wednesday, Thursday, and Friday nights on the mile-long Poljice slope. The much-discussed addition of a gondola from the nearby town of Pale would take the resort to the next level, though the project has been halted for the time being due to lack of funding.
-Number of trails: 9, with 9 ski lifts
-Difficulty: beginner and intermediate, with the three Olympic runs available for more advanced skiers
–Price of lift ticket: 11.25€ ($12) M-F, 12.79€ ($13.70) S-Sun for an adult day pass
5. Kolašin, Montenegro
Another one of our favorites for 2016, the tranquil mountain town of Kolašin also offers up some great skiing. The lack of snowmaking capacity makes the peak season a bit difficult to predict, but when all of the lifts are open, the resort offers about 10 miles worth of truly enjoyable groomed runs and even a ski doo safari. Even if the snowfall limits the amount of skiable terrain, there is still plenty to keep you occupied in the winter months. The beautifully renovated Bianca Resort and Spa has an indoor pool, first-rate spa facilities, and can arrange for snowshoe rentals so you can explore the forested Komovi Mountains another way.
-Number of trails: 7 long runs, with 6 lifts
-Difficulty: intermediate
–Price of lift ticket: 15€ ($16) for an adult day pass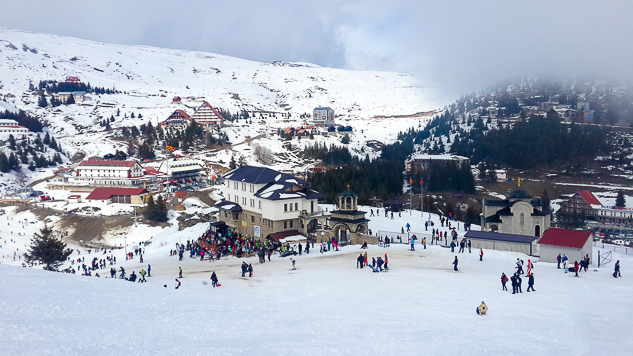 6. Popova Šapka, Macedonia
Though the facilities at Popova Šapka harken back to its Communist-era foundation, the snow cover here is consistent enough to guarantee good skiing from January to March. With only about six miles of groomed terrain, the resort can entertain beginners and intermediates happily for a day or two, but the real draw for experts is the area's immense backcountry. Local snow cat operator Eskimo Freeride has been offering well-priced backcountry ski tours here since 2008.
-Number of trails: 15, with 2 chairlifts and 7 drag lifts
-Difficulty: beginner to intermediate, with backcountry ski options for experts
–Price of lift ticket: 900 MKD ($15) for an adult day pass
7. Brezovica, Kosovo
Though plans for a $430 million investment in the resort have recently stalled, tiny Kosovo's Brezovica resort has perhaps the biggest potential of any other in the region. With only one of the resort's five ski lifts operational in recent years, there is typically only one advanced intermediate run open. Located just on the other side of the Sharr mountain range from Popova Šapka, Brezovica shares its neighbor's backcountry potential. In fact, the numerous expats living and working in Kosovo from Alpine countries like Germany, Austria, and Switzerland rave about the quality of snow and ski touring options in the area. Snow cat tours also be arranged.
-Number of trails: one, with one operational lift
-Difficulty: intermediate, with backcountry ski options for experts
-Price of lift ticket: 10€ ($11) for an adult day pass
Breathtaking Balkans columnist Bridget Nurre Jennions is an Emmy-winning TV journalist and an international development specialist in Kosovo. Follow her travels on her blog, Bridgekrieg.