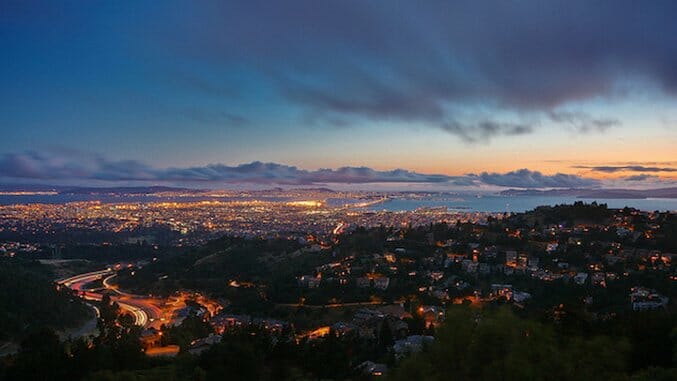 Thirsty? You're in luck. In Paste's drinking-and-traveling series, City in a Glass, we mix up a city's signature swills and slide them down the bar to readers. Grab a stool. This round, in Oakland, California, is on us.
The bartenders at Starline Social Club are wearing glittery nail polish. Down the bar, candles flicker under a makeshift shrine for Jennifer "Kiyomi" Tanouye, a Starline regular and victim of the Oakland fire that killed 36 earlier this month. Kiyomi spent her nights and weekends doing manicures for party-goers at places like Starline, and she was likely painting nails at a concert at the "Ghost Ship" warehouse when the deadly fire broke out. So now the Starline bartenders paint their nails to pay tribute to their friend, a loving, purposeful gesture in a time when most can barely grasp the tragedy that is still unfolding around them.
The Ghost Ship fire, the deadliest structural fire in the U.S. since 2003, put a global microscope on Oakland. The retrofitted warehouse space was dangerous, illegal and people, mostly artists, were living there. The fire exposed an underground way of life that shocked strangers then picked apart for being reckless. But this lifestyle was anything but underground for most people who live or work or hang out in Oakland, a city known for its thriving arts and music and dance scenes. It's the new reality: The cost of living has skyrocketed—mostly a bleed-over from the housing crisis taking place across the Bay in San Francisco—and many of the places people can afford to live now, like Ghost Ship, are just not safe.
"This was not a warning of an oncoming problem, this is a full-blown cancer that has gone unnoticed," says Ryan Benguerel, a bar manager at Calavera restaurant in Oakland. "The misconception is that the artists out here are a bunch of rave-happy little kids who make terrible decisions and who put themselves at risk and it's their fault. Excuse my language, but that perspective is bull shit. These are sacrifices adults are making in order to be the people who are making Oakland so damn attractive."
(Oakland has faced housing crises before. One of the original demands of the Black Panther Party, which was founded in Oakland in 1966, was decent housing for the black community. The Oakland Museum of California currently has a powerful exhibit on display about the Black Panthers' history and legacy.)
Chris Morgan, a bar manager at Starline Social Club, says Oakland's diverse community has come together to support each other. Many knew at least one of the fire victims. "You can see it, you can feel it," he says. "It's really hard to say, but the people who were in the fire would want us to continue to be who we are and be as positive impacts in our communities as we can." Jenny Schwarz, co-owner of Hopscotch restaurant and bar, says everyone in town is trying to do what they can to help. "These are tough issues and we don't know how to deal with all them yet," she says. "So for me, right now, I'm sticking to cocktails. I can at least try to make people smile."
On this city drinks tour, we're going to introduce you to three Oakland bartenders who are doing what they can to lift the mood in their community, one cocktail at a time.

1. Plaid on Plaid
Where to order: Hopscotch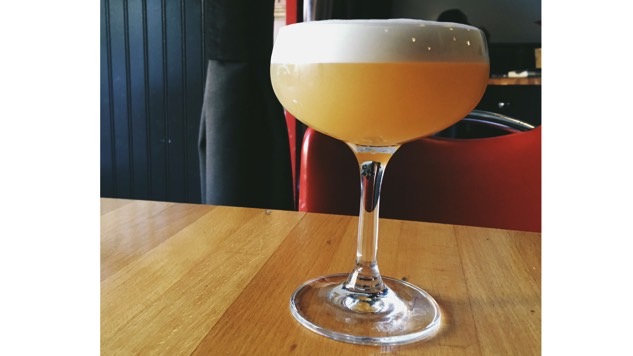 Photo courtesy of Hopscotch
Many transplants to Oakland settle here after being pushed out of San Francisco. Jenny Schwarz and Kyle Itani, who met while working at a Japanese nightclub in San Francisco, chose to open their restaurant, Hopscotch, in Oakland because they couldn't afford to open in San Francisco. And because Itani lived in Oakland and envisioned Oakland one day turning into a dining destination. (He was right.) Schwarz now calls Oakland home too, as do many people who work in San Francisco's restaurants, bars and breweries and cannot afford to live where they are employed. "I've worked in a lot of areas, and here we have the most diverse and sophisticated and interesting guests," Schwarz says.
Hopscotch, located in uptown, is an American diner with what Schwarz calls Japanese sensibility. Itani, the chef, is a fourth-generation Japanese-American and seamlessly incorporates Japanese ingredients such as soba and miso into American favorites like lasagna and bouillabaisse. Schwarz, the GM and bar manager, keeps the cocktails focused as not to distract from the food. "The more complicated a place is, the more things are going on, the more you have to make sure every part is elevating every other part you're working on," she says.
Her drinks are not simple; they are defined, using thoughtful ingredients and techniques. "I hate a really jumbled flavor. I like people to be able to pick out nuances in a drink, the same way I feel about a glass of wine," she says. "Oftentimes when my bartenders bring me a cocktail, it has one or two too many ingredients already. I'll ask them what's the last thing they added and I'll say try it again without those last two things. Let's tear it down a little bit so we can build it back up. But in a way that creates a little bit more precision in the flavor profile."
The Plaid on Plaid cocktail, for example, only has four ingredients: scotch, lemon juice, egg whites and honey. To come up with this smoky drink, which is a variation on the Penicillin, Schwarz says she had to fight the impulse to use a different smoky spirit. "Now that mezcal is popular, everyone wants to swap it out for scotch," she says. But she stuck with the original and even topped the drink with a few drops of heavily peated scotch for good measure.
Plaid on Plaid
2 oz. blended scotch
1 oz. honey syrup (1 part honey: 1 part water)
¾ oz. egg whites (whites from approx. 1 egg)
1 oz. lemon juice
Caol Ila scotch, for garnish
Combine all ingredients (except garnish) in a cocktail shaker. Dry shake (without ice). Add ice to the cocktail shaker. Shake. Double-strain into a coupe glass. Top with 6 drops of Caol Ila scotch.
2. Elephant Dream
Where to order: Starline Social Club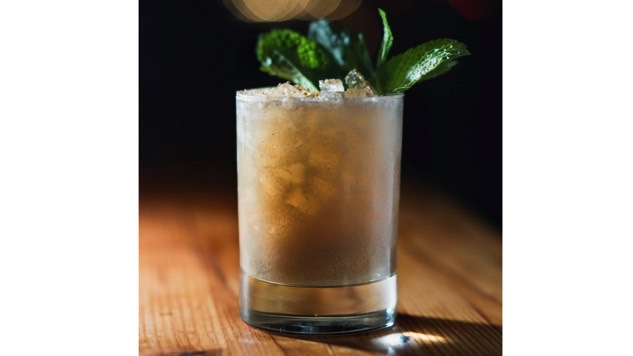 Photo by Patrick Demmons
Starline Social Club is a new bar and event space from local artist Adam Hatch. The bar occupies a multi-story building that was built in 1893 and has housed everything from saloons to underground dance parties. Today, the dance parties take place upstairs in Starline's 400-person ballroom. The ballroom also holds yoga classes, dance performances and live music shows. "We are an active space and we embracing the artist community," says co-bar manager Chris Morgan. "Anyone can come in here and be who they want to be and have the opportunity to express themselves."
As far as the cocktail menu goes, the bartenders don't take it too seriously (you'll find plenty of puns on the list), but they do make it accessible so everyone can find something to like. The bar's new menu, which launches in January, will trend tropical. Morgan says this is very deliberate. "It's been a long year," he says.
One new drink, called Elephant Dream, is a nutty concoction that incorporates a cream liqueur made from fruit of the marula tree. Found in the woodlands of southern Africa, marula trees are related to the cashew and nicknamed the elephant tree. (A popular myth is that elephants eat the fruit, it ferments in their stomachs and it gets them drunk.) Elephant Dream cocktail also incorporates a grapefruit, aperitif wine made in Portland, Oregon, plus rhum agricole, lime juice, honey and nutmeg. "Overall it's kind of got this fruity, grassy, jungle palate on it," Morgan says. "The winter is a fun time to bring it out because it's creamy and the nutmeg really warms you up."
Elephant Dream
1½ oz. rhum agricole
¾ oz. lime juice
½ oz. Pampleau fortified grapefruit wine
½ oz. Amarula cream liqueur
½ oz. rich honey syrup (2 parts honey: 1 part water)
Grated nutmeg, for garnish
Mint sprig, for garnish
Combine all ingredients (except garnishes), plus ice, in a cocktail shaker. Shake. Strain into a glass filled with crushed ice. Garnish with grated nutmeg and a mint sprig.
3. Black Truffle Old Fashioned
Where to order: Calavera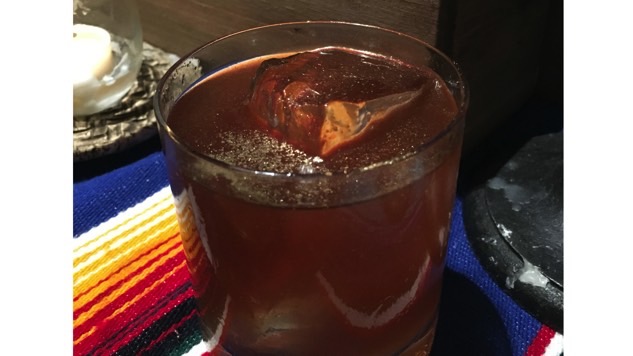 Photo courtesy of Calavera
As drinkers become more educated about mezcal, many get curious about single-origin varietals and other types of agave spirits. One place to expand their vocabulary is Calavera, a modern Mexican restaurant in uptown whose liquor list reads like a wine list: It includes 300 spirits and lists the producer, varietal and location of each. Even the kitchen embraces agave. The Queso Flameado Con Sotol, for example, is made with Chihuahua cheese, sotol (a grassy agave spirit) and poblano rajas.
Co-bar manager Ryan Benguerel says he enjoys turning people onto more esoteric spirits. "That's why we've gone through the effort to make such a thoughtful collection of mezcal," he says. "People find one varietal that they like and then can try that one varietal from five or six different producers. You can see how geography, water quality and elevation affect the final product. Artisanal mezcal is all made with wild, naturally occurring yeast. So you could take the same juice and ferment at the top of a hill and the bottom of a valley and you're going to get two different end products because the yeast that live in one area don't live in another. It turns drinking into an adventure."
The bar's cocktails are also an adventure. Its trademark Salt Air margarita, for example, comes topped with a fluffy "cloud" made of sea salt and lime juice. Then there's the sparkly Black Truffle Old Fashioned, which is made with mezcal, rum, black truffle honey and mole bitters. It includes food-grade luster dust to make it shine.
Benguerel's passion for spirits extends to his community. "Oakland will persevere and hopefully continue to bring light and joy to people's lives through food and culture and music and mezcal," he says. "Viva la mezcal."
Black Truffle Old Fashioned
1 oz. La Puritita Verda mezcal
1 oz. Ron Zacapa 23 rum
½ oz. black truffle honey, house-made
3 dashes Oaxacan mole bitters (such as Xocolatl)
Combine all ingredients plus ice in an Old Fashioned glass. Stir.
Image: Joe Parks, CC-BY-NC
City in a Glass columnist Alyson Sheppard writes about travel and bars for Paste and Playboy. She currently resides in the great state of Texas.