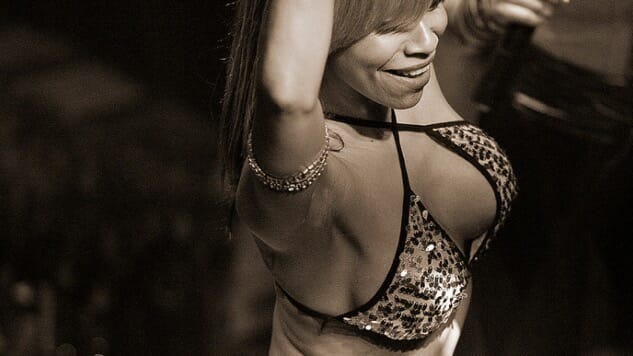 No, my wife is not a midget. And yes, the politically correct term is "little people," but I'm simply using the vernacular of the bar that claimed to have the "largest staple of midget performers in South America." If the M word offends you, hold on to your hemp hat because this travel experience only gets worse.
My backpacking partner Tamie and I arrived in Medellín, Colombia, in November 2009 and befriended a group of Colombians visiting from the nation's capital, Bogotá. Among them were Colombian fashion designer Adriana Capasso and my future wife Carolina. We met at the colorful Casa Kiwi Hostel where our new friends first mentioned Mango's.
"Do you have plans tomorrow night?" asked one of the Colombian girls to Tamie. "We're going to this club called Mango's."
Overhearing the invite, I interrupted, "Count us in!" Tamie rolled her eyes but agreed to go.
Medellín is the former base of notorious drug lord Pablo Escobar, and while the narcotraffickers learned to stay under the radar, many still reside in Colombia's second largest city. Besides the Escobar connection, Medellín is famous for its "eternal spring" weather and beautiful women, and the former plays a definite role in the latter's clothing choices. The unofficial fashion motto appears to be less is more, and Mango's is the place where ladies definitely wear less. The club sits outside the main commercial area, so we had to carpool in taxis, and I marveled as we arrived.
"This is the place?" I asked as we pulled up. "What the hell?"
Remember the Titty Twister in the film From Dusk Till Dawn? From the outside, Discoteca Mango's is the friendlier, prettier, less blood-sucking version of the Twister in the style of an Old West saloon. After paying an inexpensive cover (less than $5 USD), our group entered Mango's, and a female little person dressed in Wild West attire took us to a table. Inside, the club featured a dance floor, a bar area and a main stage, and at different points in the night, both female staff and customers would dance atop the bar. Grandiose adornments, including horse-head faucets in the bathroom and a fire pole/stripper pole on stage, gave the interior a House of Blues vibe, except less Country Bear Jamboree and more narcotrafficker playpen.
Mango's employed a large staff of servers and performers made up primarily of beautiful female Colombians and male little people. On this particular night, the female staff dressed as sexy cowgirls and Indians, who, at the time of our arrival, were line dancing on the main stage. Meanwhile, several sharply dressed little people ran around firing off confetti cannons at the crowd. The uptempo soundtrack included danceable hits in both English and Spanish, and flat-screen televisions promoted upcoming events with themes like New Orleans Madris Gras, salsa dancing and a nuns and devils party. Customers are encouraged to dress up on theme nights, and during the Christmas holidays, female customers can dance with a little person dressed up as Baby Jesus.
"Have you tried aguardiente?" asked Carolina.
"I have not," I replied. "What is it?"
"You will see soon enough," said her friend Adriana, laughing. "We ordered a few bottles."
When I turned back to the stage, the little people now held devices armed with toilet paper rolls firing out long strings of tissue. These makeshift machines would have been perfect for 1980s teens wanting to TP a house or car.
For much of the night, I followed Carolina and Adriana around like a lost puppy dog, I must admit, and my reward (or punishment) came in the form of the local firewater. The girls returned with an aguardiente bottle and camera, and since this would be my first taste of aguardiente, we needed to capture the moment on film. We snapped a few pictures with the bottle before cracking it open.
"Let's connect on Facebook so you can send me the photos," I suggested.
Carolina, a former recording artist who now ran her own boutique clothing line, had a boyfriend at the time, but she had caught my attention the night before. I was thrilled to make the new connection, but I was less excited about my first shot of aguardiente.
"Aargh!" I said after throwing back a shot. The licorice-flavored spirit burned the throat worse than cheap tequila. "That is rough."
"That is aguardiente," one of the girls laughed.
Aguardiente, the national drink of Colombia, is a sugar cane spirit flavored with anise. Colombia levies high taxes on alcohol, so prices are often double what one might find in the United States. For this reason, locals often turn to aguardiente as the least-expensive option, though it leaves one hell of a hangover.
Throughout the night, the club regularly changed up the stage show with their "staple of midgets" dancing, throwing stuff into the crowd and encouraging people to do shots. Finally, in the early hours after midnight, two little people emerged wearing oversized boxing gloves, and a faux ring announcer announced the fight. The little people then proceeded to box. The match was all in good fun, but what came next surprised me. The ring announcer started to speak in Spanish.
"They are inviting people in the crowd to fight," said Carolina, translating for me.
"You mean the customers?"
"Yes," she replied.
Two young adult males from the crowd took the stage and donned comically oversized boxing gloves. When the bell rang, they proceeded to pummel each other. Fortunately, the combination of intoxication and giant gloves limited any serious blows. The exchange lasted about a minute. Then the ring announcer spoke again.
"Now they are asking for two women," explained Carolina as her friends started to push Adriana toward the stage.
"No, no," said Adriana, but her friends kept insisting. She finally consented.
When she got on stage, Adriana could not look more out of place. She's an attractive young woman in a sexy, short mini-skirt and high heels, while the stocky woman across from her looked like she'd been in a fight that night already. As both girls donned the gloves, Adriana playfully smiled and giggled, while her opponent kicked off her heels and started making arm movements like this was a title fight. I asked for another aguardiente shot knowing this was not going to end well.
Ding, ding!
In an instant, the opposing woman charged Adriana swinging wildly, even throwing a few kicks, as Adriana did everything to backpedal and hide behind the huge gloves. Seeing the chaos, the little people rushed to restrain the Ronda Rousey wannabe, and the feral female fight only lasted seconds. As our friend ditched the gloves and left the stage, she followed my lead and went straight for the aguardiente. Our night ended shortly thereafter.
Mango's had an amazing run for about a decade, but in 2012, owner Jorge Lopez closed its doors and reopened later as a new concept. He said the original concept required 140 people on staff, making Mango's an expensive operation, and its growing popularity among tourists led to more aggressive customers and the arrival of hookers hoping to fleece the horny gringos. Nevertheless, videos like this paid tribute to Mango's heyday.
From Colombia, Tamie and I headed south to Ecuador, Peru and beyond, but we quickly connected with Carolina and Adriana on Facebook. After traveling through South America for another five months, I headed back through Colombia and asked Carolina out on our first date. We exchanged info at Mango's, so our first date needed to be equally trashy, and it was. We went to see the newly touring Guns 'n' Roses play one of its first tour dates in Bogotá.
Photo: Chris Beckett, CC-BY
David Jenison is a Los Angeles native and the Content Editor of PROHBTD. He has covered entertainment, restaurants and travel for more than 20 years.