Nashville, Asheville and Portlandia East are among the hot travel destinations right now, but why not pair that plane ticket with a food and drink event sure to incite loads of Facebook jealousy. Most mainstream festivals are too crowded and predictable, but the events listed below include less traditional activities like food-truck llama parties, chocolate mustaches and George Washington's buzz-worthy retirement plan. Please check out the links within the descriptions for more information about times and dates.
Harvest on the Harbor
Portland, Maine
Portlanders go bonkers for locally sourced farm-to-fork and trawl-to-table dishes, and Harvest on the Harbor offers Maine's finest (see photo above) amidst the radiant colors of a New England autumn. The Lobster Chef of the Year Competition is the hot ticket with local kitchen commandos putting their best spin on Maine's signature dish. Other events include the Brews, Booze & Blues Barbeque and the oceanfront Grand Tasting on the Harbor. As evidence of the state's culinary chops, Maine claims three of the last six James Beard Award winners for the seven-state Northeast.
Indie Spirits Expo
New York City, Chicago and New Orleans
After serving as our first president, guess what George Washington did next? He built the largest whiskey distillery in America. Students might not learn this in social studies, but attendees at last year's Indie Spirits Expo (ISE) in NYC had the chance to taste Washington's original recipe rye. Like a graduate class in home mixology, ISE expands your knowledge of small-batch distilleries serving spirts like scorpion-spiked mescal, solera-aged bourbon, peanut rum crème and vodka made from sugar beets.
Latin Food Fest
San Diego and Santa Monica, California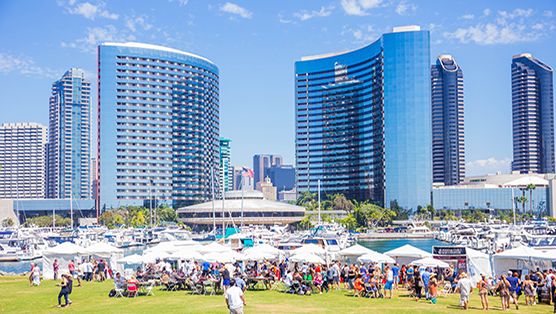 When Old Man Winter turns those fingers blue, remember that SoCal has sunshine, beaches and the largest Latin food and drink event in the nation. The Latin Food Fest (Santa Monica in March, San Diego in August) includes special gourmet dinners, food expos and a beachfront Grande Tasting, but the pantry at this Latin event does not end at Chiapas, Mexico. The multi-day festival typically includes intoxicating food and drinks from places like Peru, Colombia, El Salvador, Brazil, Argentina and Spain.
Around the World in 80 Sips
18 cities including Miami, Austin and the Hamptons
If Jules Verne's 80 Days novel pays tribute to a British Empire where the sun never sets, 80 Sips is about a bottle where the wine never ends. Produced by the online community Bottlenotes, Around the World in 80 Sips takes wine lovers around the globe with heavyweights like France, Italy, California and Argentina standing side-by-side with less-familiar producers like Greece, Moldova, Brazil and Texas. Man cannot live on wine alone (trust us, we tried), so the annual multi-city event includes pairings like tapas, cheese and chocolate.
The Vendy Awards
New York City, New Orleans, Los Angeles and Philadelphia
Bolivian Llama Party Photo by Clay Williams.jpg" src="http://www.pastemagazine.com/articles/Festivals%20-%20Vendy%20Awards%20-Bolivian%20Llama%20Party%20-%20Photo%20by%20Clay%20Williams.jpg" width="556″ height="342″ class="mt-image-left" style="float: left; margin: 0 20px 20px 0;" />
Photo by Clay Williams
That NYC boasts more than 10,000 street food vendors is curious, but something is clearly afoot when food trucks like Bolivian Llama Party, Korilla BBQ and the Halal Guys claim cult-like followings. Truckies, if you will, are hooked on the innovative and culturally diverse foods made by gifted street chefs who, for whatever reason, might otherwise lack opportunities to utilize their talents. Now in its 11th year, the Vendys is the nation's first street food competition series, and the nominated vendors assemble for tastings where both judges and attendees pick the top trucks.
The Brewgrass Festival
Asheville, North Carolina
Moviegoers know the Blue Ridge Mountains from The Hunger Games, but the local Asheville residents can hardly go hungry with Obama-loving barbeque (12 Bones Smokehouse) and a former elBulli chef (Katie Button at Cúrate). The mountain town does not go thirsty either, having won four Beer City USA crowns. Each fall, the city celebrates its food, beer and bluegrass heritage with Brewgrass, a one-day mountain music event where Stone Brewing and Allagash are considered the commercial beers.
Music City Food + Wine Festival
Nashville, Tennessee
If country crooner Trisha Yearwood can rock casseroles on the Food Network, the Kings of Leon can certainly start a food, wine and music fest in Nashville. KOL brothers Caleb (singer/guitar) and Nathan (drums) Followill started Music City in 2013, and elite chefs like Masaharu Morimoto and music acts like Billy Joe Shaver and the Watson Twins turned past events into a foodie hipster paradise. The festival food samples, booze tastings and well-curated music epitomize why Nashville is a trendy destination right now despite sharing a zip code with Toby Keith. Round three kicks off in September.
BottleRock Napa Valley
Napa Valley, California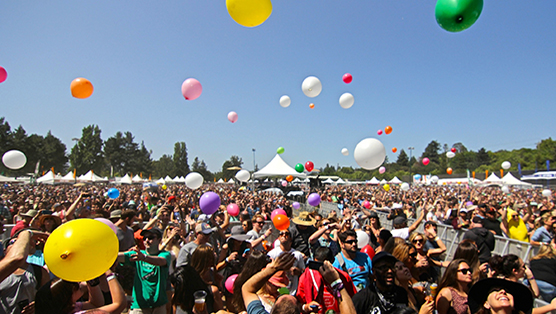 The end is surely nigh when Steely Dan headlines Coachella, while No Doubt, Robert Plant and Snoop Dogg rock a Napa Valley wine festival. You can almost hear Bill Murray scream, "Human sacrifice, dogs and cats living together, mass hysteria!" Set for late May in America's premiere vineyard destination, BottleRock pairs wine and rock (or wine and rhyme in Snoop's case) alongside artisanal eats from Napa-area restaurants like Morimoto, Angele, Il Posto and Bui Bistro.
Eurochocolate
Perugia, Italy
When it comes to per-capita chocolate consumption, the U.S. barely cracks the Top 20, so chocolate junkies should get their fix in Italy at Eurochocolate. Celebrating 22 years in October, the 10-day event fills the medieval walled town of Perugia with chocolate vendors, samples, sculptures and once even an igloo made from four tons of chocolate bricks. The 2015 theme is MustaChoc in honor of the chocolate mustache, a novelty food item with a very different meaning on Urban Dictionary.
Bonus: Festivals That ARE a Trip
Possum or grasshoppers? These types of options await you at the Roadkill Cook-Off in West Virginia and BugFest in North Carolina. No critters hopefully make it into the Southwest's longest salad bar at Yuma Lettuce Days in Arizona, but avoid eating any greens from the cabbage head bowling or lettuce sculpturing. The Waikiki Spam Jam has nothing to do with email and everything to do with canned meat as Hawaii leads the nation (for reals) in Spam consumption. Mahalo, our Aloha State spammers!
David Jenison is a Los Angeles native. He has covered entertainment, restaurants and travel for more than 20 years as a writer and editor.