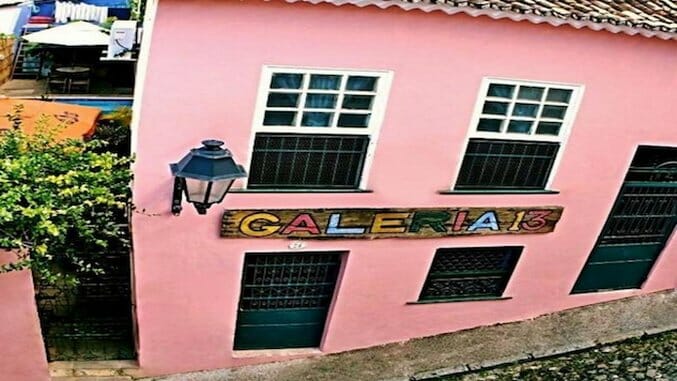 If you're visiting Salvador de Bahia, known for it's bustling vibes and colorful buildings, you'll want to book accommodations equally bright—both in energy and design. For that reason and more, Hostel Galeria 13 is ideal. While there are probably more glamorous hotels in the area, none offer the opportunity to sleep in one of the houses that make Salvador's streets so famous.
First Impressions
Walking through Salvador de Bahia's cobblestoned streets, misery ensues if you're traveling with a wheeled suitcase. Good luck making your way through the crowded plazas and narrows sidewalks with that thing. However, as you turn the corner onto a wider—and much quieter—street lined with houses all painted a different color (the entire rainbow is represented), you'll breath a sigh of relief. Don't be alarmed by the barking dogs—those are your very friendly hosts. They mark the entrance to the hotel's small shaded courtyard, which leads to reception. The cave-like Moroccan-themed area features a juice and liquor bar (where you will also check in), bright blue walls that contrast the unfinished ones across the room, and eclectic tchotchkes from all over the world like lanterns. Here you'll also find a dry erase board with daily events/activities the owner and staff think you'll enjoy. Flanking both sides of the reception/bar area are the hostel's pride and joys. The "Moroccan chill out" room comes with hammocks and beaded pillows, perfect for … well … chilling out. But if you're anything like us, you'll go in the opposite direction to the hostel's patio and pool.
While the reception area sets the tone for your stay in terms of personality and décor, you'll find the rooms are much less confined. You'll be staying either in the upper floors of the main building or down the block in other houses Hostel Galeria 13 owns. Don't worry, they're all easy to spot, thanks to their bright facades.
The Room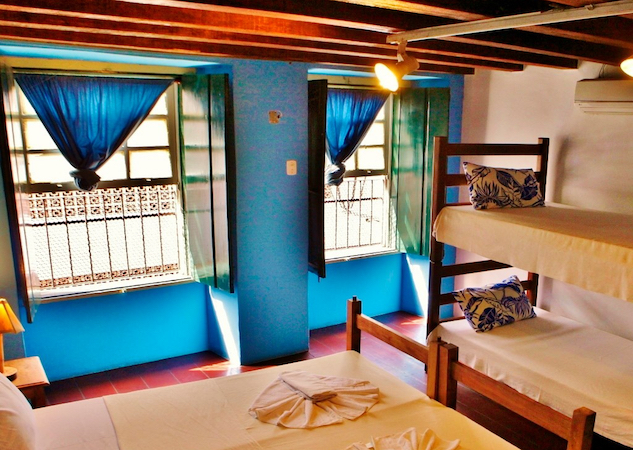 Hostel Galeria 13 consists of a few of the restored colonial houses for which Salvador de Bahia is famed. Whether you're in a private room or a dorm, you can rest assured that everything is authentic—even the wooden beds, which are locally crafted. All the rooms have en-suite showers, hardwood floors and either an air conditioner or fans. The walls will likely be painted in a bright blue that matches the hostel's reception area, but otherwise, the rooms are minimally decorated, which is fine because this place really doesn't need anymore character than it already has. Of course, like any hostel, you either get a room full of bunk beds and strangers, or if you splurge ($70 a night is hardly a splurge, and that's during high season), a big bed and spacious room all to yourself. If you're lucky you'll get a hammock and a view of the colorful block on which you temporarily live but will never want to leave. Unlike situations at other hostels, the rooms are taken care of and cleaned daily. Basically, you won't mind coming back to these rooms after a long day of exploring, which, if you've ever stayed in a hostel, you know isn't always the case.
What Pops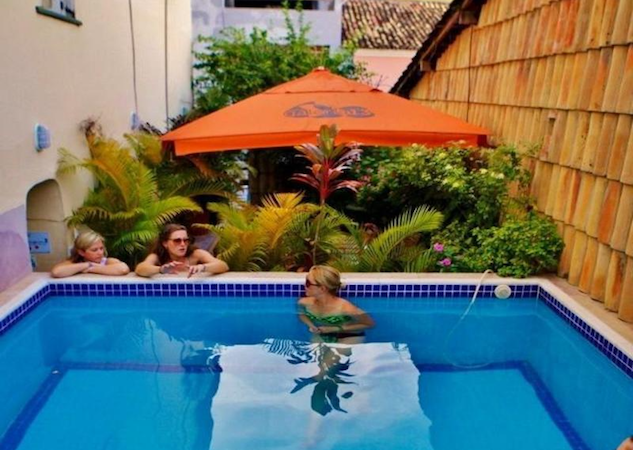 Hostel Galeria 13's amenities are unbelievable. Really. It's rare that a backpacker lodge in the middle of a historical city comes with an outdoor pool (albeit tiny), a plant-filled patio, or a free daily happy hour—and this one has all three. The pool is a small square, ideal for cooling off, and space on the patio is limited, but after making the most of the caipirinha happy hour, you won't even notice how packed the patio has become, as you'll be too busy happily swaying with your new friends.
The Locale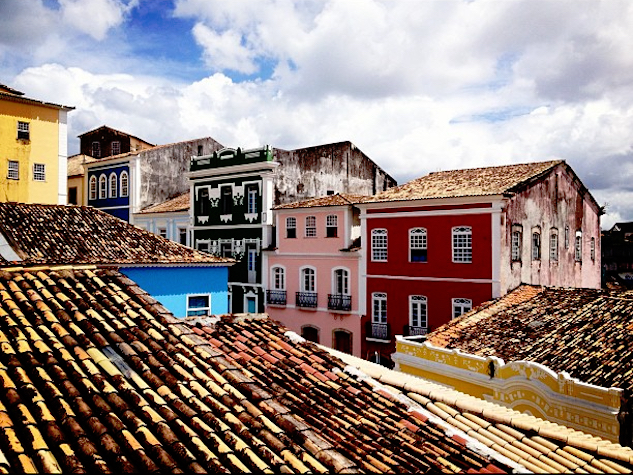 Most likely, the reason you are visiting Salvador de Bahia is because you've seen Instagram pics in the colorful colonial buildings of the city's historical center, Pelourinho. Luckily, Hostel Galeria 13 is situated right in the middle of Pelourinho, so not only do you get to snap pics of the cute traditional Brazilian homes, you also get to stay in one. Pelourinho is a UNESCO World Heritage Site and the hostel is located steps away from the area's main squares, which offer tons of shopping and dining during the day and come alive at night with live music and dancers.
Maggie Parker is Paste Magazine's assistant travel editor.