Jet-Set Bohemian: Countryside Hideaways
Photo courtesy of Miguel Virkkunen Carvalho via Flickr
Travel
Features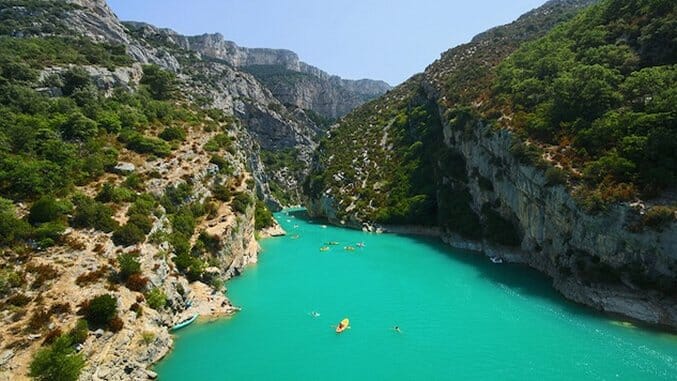 A jetset lifestyle doesn't have to be all private planes and decadent digs. In Paste Travel's Jet-Set Bohemian series, we blend the best of high and low for just the right balance … enticing everyone from backpackers to luxury boutique hotel lovers to come along for the ride.

Spring break usually goes in one of two directions: snow or sand. Growing up in Miami, I had year-round beach weather (and never quite mastered the art of skiing) so my version of a spring escape was anywhere away from the throngs of neon invading South Beach where I could cozy up without crowds, preferably in a quiet mountainside chalet. Now that I'm living in Nice, France, an escape is as easy as a quick hike up to one of the medieval villages like Eze, where city noise starts fading 15 minutes in.
When I want to get away a bit farther, one of my not-so-secret hideaways is the Gorges du Verdon, an hour-and-a-half drive away from Nice in the rolling hills of Provence that's as fairytale gorgeous as a scene from "Peter Pan." The highlight of the 15-mile-long river canyon is the Sainte Croix Lake, with its mermaid lagoon-colored water, an unreal shade that fades from turquoise to jade. Here, you can hire a pedal-boat and cruise through the canyon, stopping to take a swim along the way. But if you keep on driving, the valleys are full of hidden hikes and tucked-away camping spots that you won't find marked on a map. Start in the village of Castellane, the gateway to the Gorges du Verdon, where you can decide which route you're up for: north to the lakes or east to take in the 2,300-foot-deep valley from above.
The new Domaine de Manville near Avignon is another spot to escape city life and post up in Provence in the sleekest of countryside digs. The 250-acre former farm in Alpilles Park sits on the rocky plateau of Les Baux, surrounded by wine estates and olive oil mills. Apéro, the French tradition of pre-dinner drinks and small plates, is served in the glass atrium that looks out to the garden. Dinner, meanwhile, is taken out on the lamp-lit terrace, with a gastronomic menu that pulls from nearby farms and foraged ingredients for dishes like smoked Camargue oysters and rabbit and foie gras with blood orange. Suites and villas are built to feel more like a home than a hotel, designed with natural materials like stone and wood, and outfitted with antiques sourced from the nearby town of L'Isle sur la Sorgue.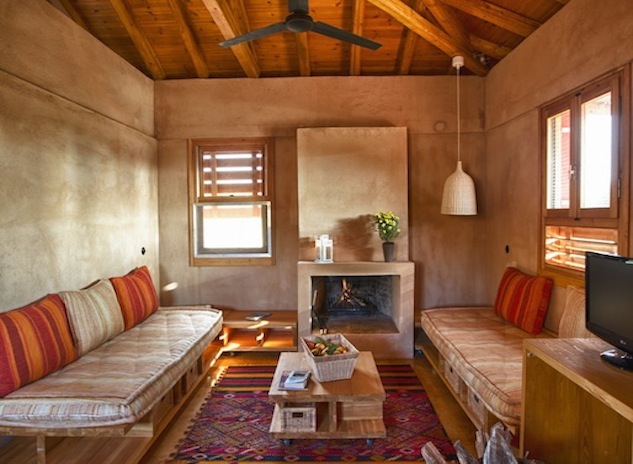 Photo courtesy of Eumelia
With a name that means "harmony" in ancient Greek, you know you're in the right place for a city escape at Eumelia. The property's five guesthouses sit on a 50-acre organic farm tucked between the mountains of Taygetos and Paronas in Laconia, Greece that has been run by the Karelas family since the 1890s. The eco escape still has modern amenities like Wi-Fi and satellite TV, but the point of this trip isn't to binge on Netflix. Join the chef foraging for wild herbs and vegetables followed by farm-to-table cooking classes or try your hand as a beekeeper for the day working with the hives. The rustic chic cottages with names like sunflower and vineyard house are also great home bases to map out your Grecian adventure while sitting on your private terrace taking in views of the mountains. Hike up Mount Taygetos for a panoramic shot over the region or take a day trip to the Zarakas mountain villages, cycling through chestnut forests and sea kayaking in the Fokianos Bay.

Sometimes what makes an escape a great one is not so much where you're at, but what you're drinking. When the destination just happens to be wine country, even better. At The Vines in Mendoza, Argentina, you're sitting in the midst of 1,500 acres of private vineyard in the Uco Valley winemaking region at the foot of the Andes. Not only can you sip the region's renowned wines, you can also make your own. Learn the ropes with winemaker Santiago Achaval, creating a custom small-batch wine that's yours for the naming. If you're more into tasting than farming, take a seat at Siete Fuegos, or seven fires, Francis Mallmann's restaurant that goes heavy on the grilling with open flame techniques derived from Argentine gauchos. Sample boutique wines while making your way through a meat-heavy meal of Malbec-glazed pork, nine-hour grilled rib-eye with chimichurri and clay-oven cooked salmon. Gauchos also serve as guides through the vineyards for expeditions on horseback to the mountains of Manzano Historico, if you're up for an adventure. Of course there's also the option to do nothing at all, which isn't such a bad one if you're spread out in a cabana by the pool, sipping a cocktail and admiring views of the Andes as the sun sets.
Lane Nieset is Paste's Jet-Set Bohemian columnist and a freelance writer covering all things travel from her home base in Nice, France