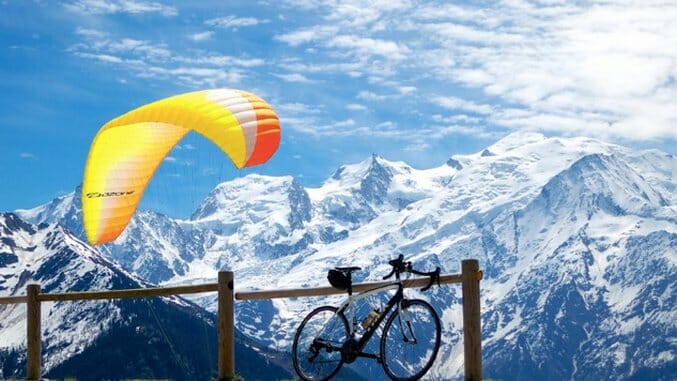 After hiking 85 miles around Mont Blanc, the tallest mountain in the Alps, I finally understand why backpacking Europe matters. Unlike other multi-day hikes which usually require tent camping and BYOE ("bring your own everything"), the popular Tour De Mont Blanc links the great outdoors with pockets of charming civilization and contemporary conveniences. Think steep, jagged mountains that feel twice as tall as The Rockies, due to superior prominence, warm beds, hot meals, world-class cheese, high-altitude livestock, the continent's friendliest locals and picturesque villages.
In fact, the trek is like a series of half- or full-day hikes that kick your ass and then reward you with a lounge chair, a stimulating drink and a giant view of Europe's greatest mountain range. Not only is Mont Blanc the birthplace of modern mountaineering, it's the second greatest massif for hiking, according to Britannica.
Personally, because I'm a social butterfly, it might be my favorite. Having completed a 10-day
guided tour with G Adventures, I easily consider the Mont Blanc loop an adventure of a lifetime. Here's why you might feel the same.
Getting There
For most people, flying into Geneva is the easiest way to get started. From there I booked a roundtrip and well-organized transfer from Cham Van into the
mostly pedestrian mountain town of Chamonix, France—one of only two small cities along the Tour De Mont Blanc. In addition to hosting the first Winter Olympics, it's a cute place with an abundance of outfitters and restaurants.
Once on the trail, circumventing Mont Blanc will take you through three countries: France, Italy and Switzerland in that order if you take the more thoughtful counter-clockwise approach. Of course, all three sections have a distinct feel. The Swiss are the most subdued but make the best cheese, especially raclette. The Italians are the most fun to interact with—people as well as architecture. And the rural French are the friendliest in terms of greeting each other.
Through it all you'll cross dozens of streams, summit every saddle, traverse fields of wildflowers, navigate slushy snow (in June at least), wonder if the ominous glaciers will hold and gaze into green-faced vertical mountains cut at every turn by white run off.
Room And Board
For many Americans, food is fuel. For most Europeans, food is a matter of pride—something
that's best when slowly savored. Because of this, you'll eat very well along the Tour De Mont
Blanc, even at communal refuges (or "huts") above 7,000 feet that have weekly supplies
helicoptered in. And thanks to over two dozen huts along the way, you have a handful of food and sleep options on any given leg of your hike.
Truth be told, the food here is better than the communal sleeping arrangements, which at times pack up as many as 16 people per room, some (or all) of which might fall outside of your traveling party. That said, of the six refuges I stayed in, all but one had clean sheets. All of them had phenomenal views.
By the way everything was planned, it was obvious our guiding overlords had fine-tuned this trek over a long period of time. They booked all the overnights and transfers. They considerately planned a full day of rest in beautiful Courmayeur, Italy, which other parties I spoke to regretted not doing. But most importantly, they hired an expert guide to lead and keep us out of harm's way, especially on a particularly foggy and treacherous day through the Italian-Swiss border when visibility was reduced to little more than two dozen feet.
All told, it will be a long time before I forget the copious amounts of cheese and bread, remarkable French broth and sausage, raspberry panna cotta, Italian polenta and veal,
homemade ravioli, fresh milk in La Poule, goat cheese bruschetta topped with bacon and
spinach ricotta crepes I devoured. Auberge De La Maison served my favorite meal of the trip, followed by Chalet Plan Gorret.
Community
If you're an isolationist or like "going it alone," the Tour De Mont Blanc probably isn't for you.
Although nowhere near as crowded as Machu Picchu, you will encounter other travelers every few hours in the highlands and every few minutes in the lowlands. When traveling in a group as I did, you will be surrounded by up to 11 people.
Each were hard to forget. There was Dave our British guide now living in France. Wesley the
amiable general contractor. Elizabeth the New England scientist. Greg the California real estate agent. Tom the English banker. Eliane the Swiss surgeon. Sabrina the Canadian pharmacist.
John the Kiwi computer architect. Dwight the Brooklyn graduate student. Matt the one-liner
quiet guy from North Carolina. Lori the Army brat stationed in Germany.
G Adventures prides itself on facilitating friendships as much as adventure. On this point they
deliver. Although I'm sure I'll never see most of the above again, everyone willingly exchanged numbers, and I already have plans to meet at least two at a future date. All because of a single shared adventure.
Achievement
On this trip, I lost more stuff than I ever have before. Expensive sun glasses. A much needed
spare hiking shirt. My pack for a few tense moments. And nearly my wallet. But I still had a
blast. After all, I spontaneously swam in a crystal clear Italian lake. I navigated one of the world's most prominent mountain ranges. And I gained newfound appreciation for this rugged but accessible part of the world.
After completing the penultimate hike, this is what I wrote in my journal: "Nearly there—I feel
tired but blessed. Homesick but thankful. I'm in awe of how beautiful this planet is." Backpacking Europe may be cliche. But whatever your fitness level and stage in life, it's entirely worth it.
Photo: will_cyclist, CC-BY
Off the Grid columnist Blake Snow writes epic stories for fancy publications and Fortune 500 companies. Follow him on Twitter.