Festival Outsider: South by Southwest, Austin
Your guide to the live music capital of the world during their famed festival.
Photo below by Tye Truitt
Travel
Features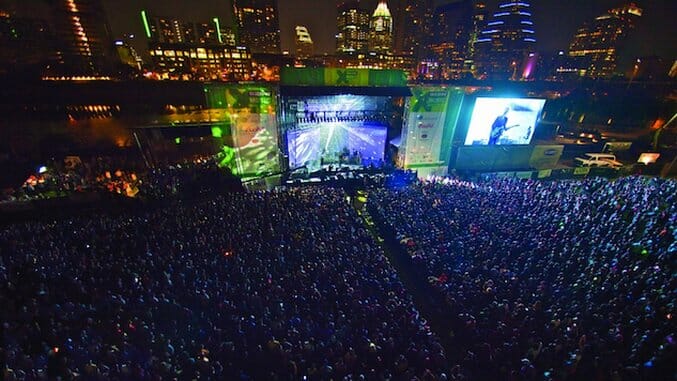 Every March, tens of thousands of people flock to Austin, Texas for South by Southwest. In its 30th year, the 2016 lineup includes Loretta Lynn, a new Pee Wee movie, and keynote speeches from not one, but two(!) Obamas. And while there's no way to know where the President and First Lady will be hanging out while they're in town, we have a few suggestions for things you shouldn't miss during your visit.
The Main Event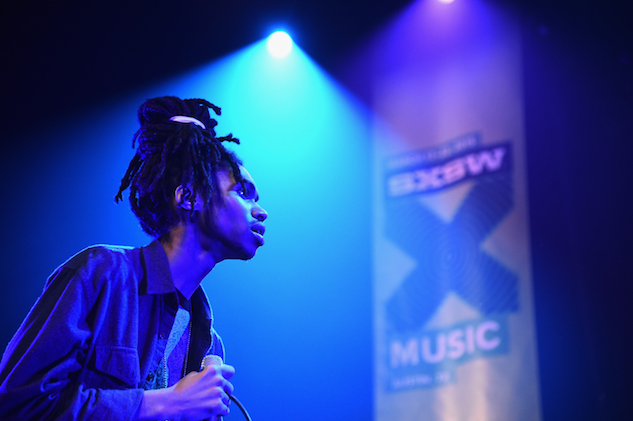 Photo by Michael Loccisano/Getty
The Interactive and Film Festivals kick off March 11th and run through the 15th (Interactive) and the 19th (Film), while the Music Festival starts March 15th and wraps the 20th. If you haven't got your tickets yet, fret not! Unlike many of the other festivals that will captivate crowds throughout the year, SXSW offers walk-up badges for last-minute decision makers. Better still, through its website, the festival will also help you find an available hotel room in town. Its housing department offers group rates at over 60 hotels in the area. Prices range, and this late in the game, you can expect to pay a few hundred dollars a night. Slightly cheaper options can be found a little further away from town, and on sites like Airbnb.
Since festival badges can cost anywhere from a few hundred bucks to $1745, you might be interested in knowing that there are hundreds of free events and parties (both official and unofficial) that don't require them. In addition, there are star-studded spectacles hosted by the likes of Willie Nelson and Illroots. And while those parties aren't free and require purchasing tickets separate from the fest, they're basically guaranteed to be worth every penny you spend to attend.
Eat It
Whether it's breakfast tacos or barbecue, or breakfast tacos filled with barbecue, be prepared to eat. A lot. Sure, Austin is known as the Live Music Capital of the World, but musicians—and their fans—have to eat, and this town won't let you down.
Tacos
They're everywhere. And you'll probably eat them on a daily basis. Torchy's Tacos is popular for inventive eats like the ahi-tuna-filled Mr. Pink, but Papalote doesn't disappoint either. Try the tacos with scrambled eggs inside for breakfast.
Texas Barbecue
The two words roll off your tongue like the sauce that'll drip from your chin. Where to find it depends on your situation. Franklin is famous and requires you get in line around sunrise even though they don't open until 11 a.m. If you've got time to wait, this is the perfect opportunity to make new friends and get to know them better while you're all waiting to stuff your faces with award-winning brisket. Who knows, one of them could be your favorite band's manager and have VIP passes to their gig. Another infamous spot, Salt Lick requires either a car to visit the legendary pit, or a little extra time at the airport on your way home.
Dessert
Something a little easier to explain is Amy's Ice Creams. The homemade treat has been delighting both locals and tourists for decades. Helpful hint: the Mexican Vanilla is world famous.
Everything Else
More barbecue or any other food can be found at Whole Foods, an attraction on its own. The giant (80,000 square feet) flagship store features bars, in-store restaurants, and anything else you could ever imagine needing. You might think it's weird for a grocery store to make an appearance on so many to-do lists, but when you see it, you'll get it.
Basically, eat and drink all the things in Austin. Maybe not all, but most. Queso? Fried pickles? Meat when you're a vegetarian? Yes. Yes. Yes.
Just kidding—if you're looking for meat-free eats, Bouldin Creek Cafe has you covered.
Poison and Wine
/>
Photo courtesy of The Blackheart
It's SXSW and Austin, you can bet it's easy to find a bar and good drinks. But maybe you're looking for something other than the so-called "Dirty Sixth" street scene (if not, no judgment, just options). Rainey Street is a collection of old homes that have been converted into bars and restaurants, like The Blackheart (pictured above). It's fun, funky and a walk or pedicab ride away from the center of the action. On the East Side, you'll find a cluster of dive bars like The Liberty in addition to the original "East Side King (it's a food trailer owned by celebrity chef Paul Qui serving up Asian Fusion delights like beets as fries). The other side of Highway 35 is home to Violet Crown Social Club.
If craft beer is your thing, the town features several breweries, including Hops and Grain on the East Side, Austin Beerworks, Rogness, and Jester King
Other options abound near downtown including Donn's Depot, a historic piano bar made of an old train depot and rail cars, and a little wine spot/respite from the madness called The Red Room Lounge.
If you want more wine, head for the hills. Texas Hill Country features several wineries, and amazing views and hikes.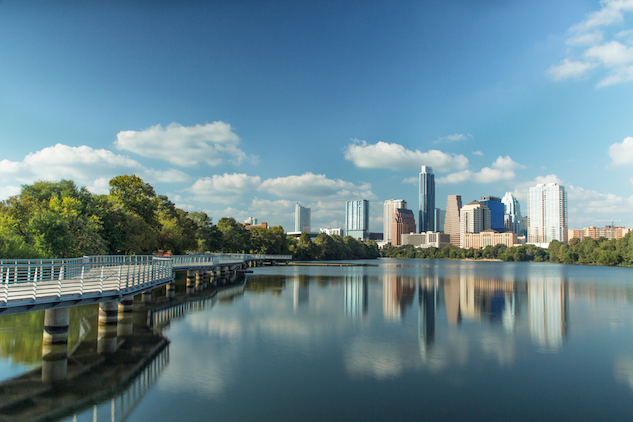 Photo courtesy of Austin Convention & Visitors Bureau
Forget the Fest
Outdoors
You don't have to travel far to get a taste of nature or take in gorgeous sights. Ladybird Lake is steps away from the Austin Convention Center, and offers options for hiking, running, and biking. The lake's Boardwalk Trail (pictured above) has a great view of the city skyline. Kayaking and paddle boating are also available. And if you happen to be on the water as the sun begins to set and find yourself near the Congress Avenue bridge, you might catch sight of some of downtown Austin's more notorious residents … the bats … as they leave the bridge for their nightly hunt. To see the lake from above, head to the pool deck of the Hotel Van Zandt (on the list of SXSW housing options) and catch the sunset.
Graffiti-Peeping
From "Greetings from Austin" to "I love you so much" to Daniel Johnston's infamous "Hi, How Are You," street art is a sight to behold in this town. Venture around and search out the individual murals, or head to the HOPE Outdoor Gallery for four tiers of ever-changing art. It's a collaborative display, with paint for sale should you be so inspired as to leave your mark.
You Can Take it With You…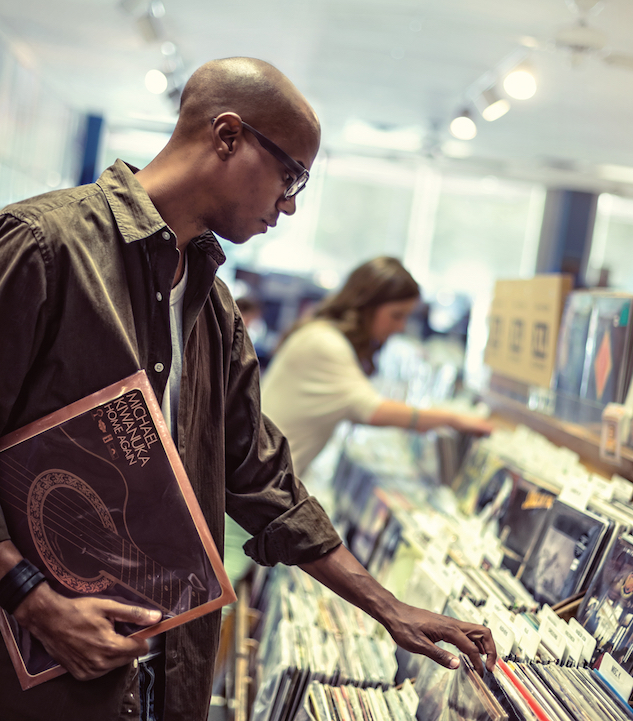 Photo by Andy Mahr (courtesy of Austin Convention & Visitors Bureau)
If the eats, drinks, sights and sounds of Austin aren't enough, there's plenty of shopping to be found around town as well. South Congress is an easy go-to strip of options with Uncommon Objects and Lucy in Disguise with Diamonds there to satiate any antique, vintage costuming and/or collectible desires you might have.
If you've discovered a new artist at the fest and feel the need to enhance your music library, Waterloo Records (pictured above) or End of an Ear should be stops on your tour. Book people will find like-minded individuals at Book People, and then there's Toy Joy, which kind of needs to be seen to be believed.
But Leave Something Behind
If you find yourself with a bit of extra time, and want to pay Austin back for all the fun you've had, there are drop-in volunteer opportunities at a few really cool places. Agua Dulce is an aquaponic farm providing fish and organic vegetables to restaurants and markets all over town.
If animals are more your thing, Austin Animal Center, one of the largest no-kill animal shelter in the U.S., is happy to let you drop by to walk a dog or play with kittens waiting to be adopted.
Finally, it might be too late for this year, but if you have a blast and decide you want to come back for SXSW 2017, you can sign up to volunteer for the festival itself. Volunteers earn free badges, and there will be plenty for you to do and see and do next year, too.
Mary Anne Bargen is a freelance writer based in Nashville. She likes to choose her own adventure.