It's hard to believe that Richmond's new 60,000-square-foot boutique hotel started out as a humble two-room art gallery. The Quirk Hotel, which opened its doors in September, is impressive in its scale—75 sleek, chic guest rooms are spread across seven stories in an Italian Renaissance building that once housed an upscale department store.
How does one make the leap from a small gallery to a major hotel? The transition seems logical when you look at the central role that art plays at Quirk. It's everywhere from a massive, minimalist piece made from discarded coffee lids in the lobby and whimsical pet portraits in the hallways to abstract paintings in the guest rooms. The gallery is still there, too, relocated to an attached building next door—but in a way, the whole hotel feels like an art gallery. Highlighting mostly works by Virginia artists, owners Ted and Katie Ukrop have positioned themselves as true ambassadors of the local art scene, extending their reach far beyond what the original gallery ever could have hoped for.
Upon Arrival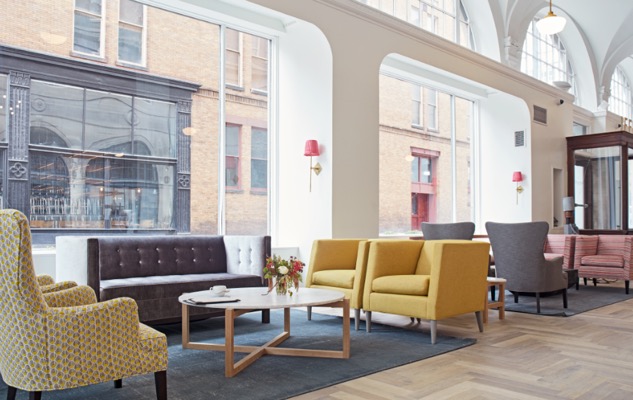 From the outside, the Quirk Hotel looks a lot like the other century-old buildings that line Broad Street, but a modern marquee sign sets it apart and hints at its thoroughly updated interior. Inside, the space is bright and expansive, with a wide brass reception desk, a sleek white coffee bar, stylish seating areas, a sprawling dining area and a bar, all visible from the front door. A mixture of original and modern light fixtures hang from the soaring groin vault ceilings, while floor-to-ceiling windows bring in plenty of natural light. A palette of pink, gray, black, and gold extends from the common areas on the main floor upstairs to the hallways and guest rooms.
Home Away from Home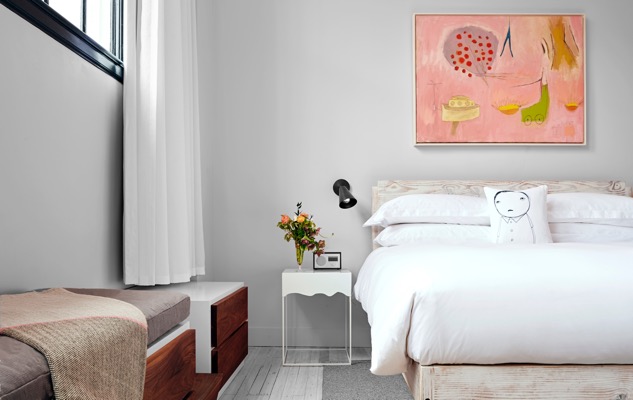 Quirk's guest rooms really spotlight the hotel's meticulous attention to detail, from a custom pink ice bucket and pink white noise machine to typically pink-hued artwork. There's a snack tray and cleverly hidden refrigerator stocked with local food and beer, and the bathroom boasts a spacious walk-in shower and Nest toiletries. The custom beds were built using reclaimed wood from the building next door (which now houses the gallery and meeting spaces). Even the faceted light bulbs and "Do Not Disturb" signs are cute. Upper floor rooms offer a nice view of the surrounding city, and pets are welcome for a flat fee (with some restrictions).
Details Matter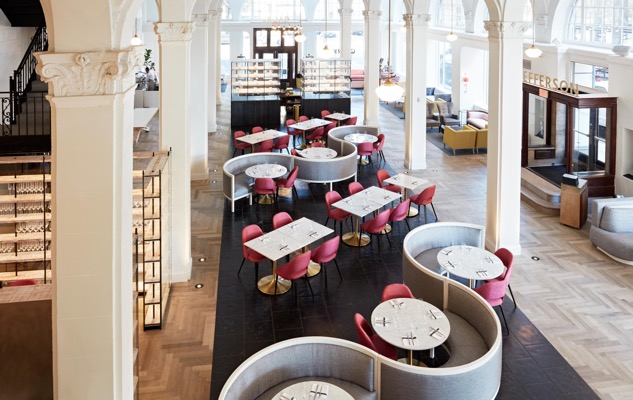 Besides the aforementioned art focus, the Quirk Hotel puts a significant emphasis on its food program. Chef David Dunlap heads up the kitchen at Maple & Pine, turning the notion of boring hotel food on its head with three distinct menus inspired by the micro-seasons. Breakfast might be brioche French toast with stewed apples and hickory syrup, while lunch could be a lamb gyro with lavender hummus and piquillo ketchup. Dinner is especially ambitious, with dishes like grilled quail with pickled peaches and foie gras dirty rice finished off with apple crisp served with cheddar cheese ice cream. The dining room itself is furnished with long, dramatically curved benches that give the feeling of communal dining while still maintaining a level of privacy between tables. The restaurant and bar attract a heavy local clientele along with hotel guests, while the soon-to-open rooftop bar should solidify Quirk as a hub for residents and visitors alike.
The Big Picture
The urban area surrounding the Quirk Hotel has had its ups and downs over the years, but in 2012 it was officially designated as Richmond's Arts and Cultural Corridor. Various galleries and locally owned shops line Broad Street, drawing crowds of browsers for openings and events on the first Friday of every month. The area also boasts some of the city's best restaurants, with Perly's (Jewish deli), Comfort (Southern), Graffiato (Italian), and Saison (new Southern) just a few steps away. The corridor is still developing, but the opening of Quirk has added an unmistakable dose of energy to the area.
Erica Jackson Curran is a former alt-weekly editor turned moonlight freelancer based in Richmond, Virginia.