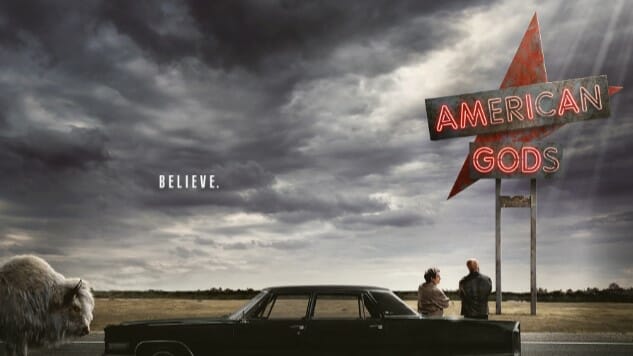 Starz announced today that their highly anticipated new series from showrunners Michael Green and Bryan Fuller, American Gods, finally has a release date. Starring Ian McShane, Ricky Whittle, Gillian Anderson, Kristin Chenoweth, Cloris Leachman, Peter Stormare and more, American Gods is adapted from the award-winning novel by Neil Gaiman, and is set to premiere on April 30. The series' U.S. key art also debuted today.
In a press release, Starz provided a description of the plot, saying:
American Gods posits a different kind of war brewing—one between Old Gods and New. The traditional Old Gods, with mythological roots from around the world, fear irrelevance as their believers die off or are seduced by the money, technology, and celebrity offered by the New Gods. Shadow Moon (Whittle) is an ex-con who, left adrift by the recent death of his wife, becomes bodyguard and traveling partner to conman Mr. Wednesday (McShane). But in truth, Mr. Wednesday is a powerful old deity, on a cross-country mission to build an army and reclaim his lost glory.
American Gods marks the first series premiere for Fuller since Hannibal was canceled by NBC in 2015. Fans of Hannibal should be excited to see Fuller working again, as he was the creative mind behind a lot of Hannibal's arresting visuals and set design. Everything we've seen from American Gods so far promises the same. And who wouldn't love to see Ian McShane as an evil deity?
American Gods premieres on Starz on April 30 at 9 p.m. EST. Check out the trailer embedded below, debuted at last year's Comic-Con, and beneath that, find the show's official key art.