Each year, it becomes more difficult to sum up the last 12 months in this fast-changing medium. What's the story our list of the best TV shows of 2018 is trying to tell? It might be that streaming services, even social media platforms, are encroaching further on linear television: Netflix alone has as many titles on our list as the five broadcast networks combined, and Facebook lands here for the first time. It might be the ongoing—and often frustrating—fight, from the grassroots up, to secure more opportunities in TV for women, LGBTQ people, and people of color, who together created or co-created half of the series below. It might be the attempt to find political resonance in pop culture during these troubled times: From #MeToo (GLOW, The Good Fight) and LGBTQ rights (Pose, The Assassination of Gianni Versace to immigration (Jane the Virgin, One Day at a Time) and race (Atlanta, Random Acts of Flyness), there is no disengaging from the zeitgeist in evidence here. Perhaps it's this very array of stories that defines a successful list, though, just as it defines the art form itself: It is by telling stories of all stripes that TV exercises its formidable power to reflect the world we live in, and thence to imagine the many worlds that could be. —Matt Brennan
Here are the 25 best TV shows of 2018:
25. Sorry For Your Loss
Network: Facebook Watch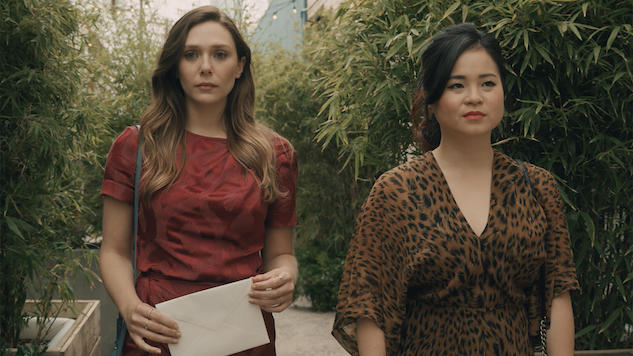 Grief is not usually a central theme in scripted television series, a medium better known as a form of escapism. As backdrop to other issues on HBO's Six Feet Under? Sure. That one time Archie Bunker breaks down after Edith's death, or Ally McBeal barely holding it together when she tells the staff of Cage, Fish & Associates that Billy died on the courtroom floor? Certainly memorable.
But creator Kit Steinkellner's half-hour drama allows survivors a chance to wallow in the pain of a beloved one's unfortunate and surprising demise. Here, it's not just star Elizabeth Olsen's newly widowed Leigh—if ever there were a character in need of a hug, followed by a few stiff drinks and some moments of silent companionship—but everyone working their way through the Kübler-Ross diagram after the death of her husband, Matt (Mamoudou Athie). That this process does not allow for martyrdom is not inconsequential.
Also not to be overlooked: The show's broadening definition of the word "loss" so that it doesn't just concentrate on mortality. If the series gets a second season, I hope it continues to dive into Leigh's adopted sister Jules' (Kelly Marie Tran) issues of abandonment and curiosity about her lineage. I also hope Facebook Watch makes it easier to find this and its other original programs… or that a less scandalous platform picks up Sorry For Your Loss, and does a better job of promoting it. —Whitney Friedlander (Photo: Facebook Watch)
24. Random Acts of Flyness
Network: HBO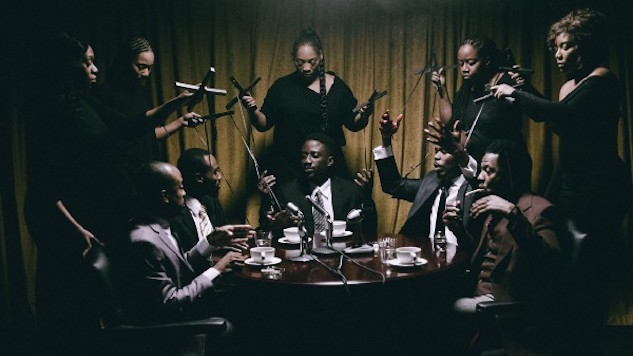 Every episode of Terence Nance's debut series for HBO is dense, thick with imagery, ideas, sociopolitical commentary and diversions that can be wildly funny or intensely unsettling. There are almost no corollaries to what Nance and his team have achieved in a short run of six episodes. Even a shorthand idea like "Atlanta if the showrunners were Tim & Eric" doesn't come close to capturing the essence of this visually thrilling and deeply challenging work of televisual art. The sheer volume of themes that they touch on, from police brutality to trans rights to the trope of the angry white vigilante, is impressive enough, but that they make every point stick and every image sear into the consciousness of the viewer is what has rendered Random Acts of Flyness an instant classic. —Robert Ham (Photo: HBO)
23. Crazy Ex-Girlfriend
Network: The CW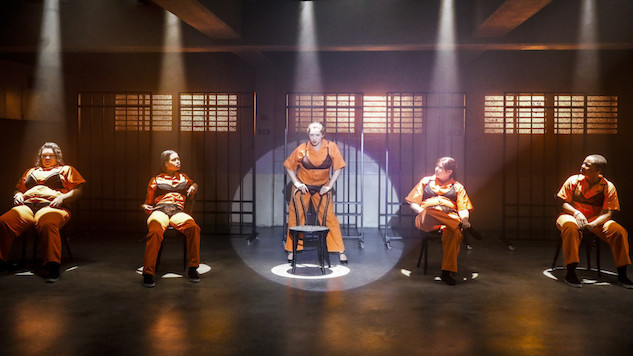 It seems unfair that Glee lasted for seemingly 50 seasons—actually, my research is telling me it was just six seasons, so I'll move on—and Crazy Ex-Girlfriend has a definitive, hard cut-off at just four. But just like Rachel Bloom's Rebecca Bunch, Crazy Ex-Girlfriend is a show that knows when it has to face its fears (and finish up its story, instead of dragging it out and making the series any less than, in terms of quality). In a season of television in which The CW was pretty obsessed with prison narratives (see Supermax Ollie on Arrow and Prison Archie on Riverdale), Crazy Ex-Girlfriend made even that work. Seriously, how can a show with songs like "Feeling Kinda Naughty" and "Ping Pong Girl" actually get things so right? Oh—because it also has songs like "You Stupid Bitch" and "(Tell Me I'm Okay) Patrick." I'm really going to miss this show. —LaToya Ferguson (Photo: Robert Voets/The CW)
22. Big Mouth
Network: Netflix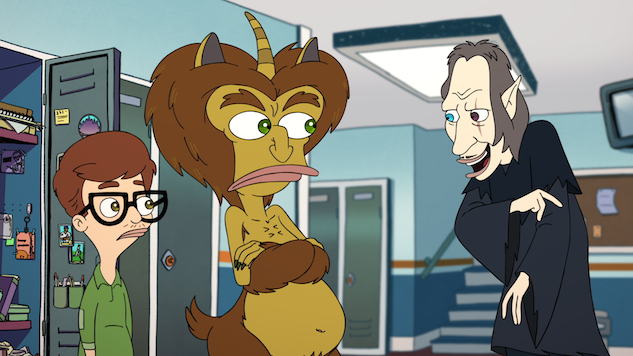 A cartoon comedy about puberty in which puberty is a literal monster—like, a big, hairy, yellow, horned and horny thing that keeps egging you and your hormones on to do super impulsive things. Surprisingly enough, it works, thanks in no small part to the ever-hilarious union of Nick Kroll (one of a group of creators, including Kroll's childhood best friend and former Family Guy writer Andrew Goldberg) and John Mulaney, who lead a tremendous cast that includes Jessi Klein, Jason Mantzoukas, Jenny Slate, Fred Armisen, Maya Rudolph, and Jordan Peele as, for some reason, the ghost of Duke Ellington. But Big Mouth's biggest coup is its refusal to shy away from issues surrounding the way we discuss gender and sexuality in our culture. Its finest moment in that endeavor? This season featured an entire variety show-style episode about Planned Parenthood and all the services it provides outside of abortion. It was informative. It was lewd. It was hilarious. Now that's entertainment. —John Maher (Photo: Netflix)
21. Pose
Network: FX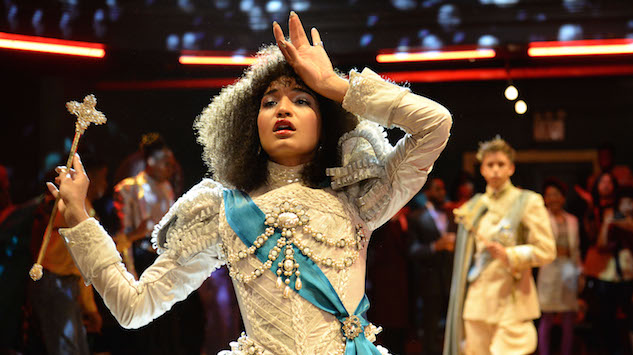 Pose, from Ryan Murphy, Brad Falchuk, and Steven Canals, is an exuberant portrait of ball culture in the 1980s, a sort of soapy, fictionalized, mad hot rendition of Jennie Livingston's classic Paris Is Burning, reinterpreted by trans women creatives Janet Mock and Our Lady J. The ensemble cast—featuring the sensational Billy Porter as the silver-tongued emcee, Pray Tell—is full of shape shifters, fierce queens, underdogs, wits, such that its stories of the AIDS epidemic, transphobia (especially among gay men), racism, and poverty in the decade's gilded New York become an object lesson in the ongoing nature of struggle: a political parable in floral pastels (Mother's Day) and pearl-hued brocade (royalty), or an ecstatic dance musical of Reagan's America. "Pull up. Work harder. Triumph!" Pray says near the start of the season, stating the series' own credo in the process. "If not today, maybe tomorrow." —Matt Brennan (Photo: JoJo Whilden/FX)
20. High Maintenance
Network: HBO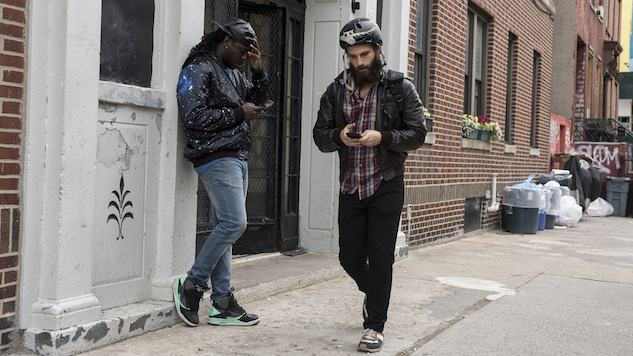 Finding bliss in a show about drugs is harder than it sounds, especially if you want to keep the show light, funny, and delightfully unpredictable well into its sixth year of existence. The charm and humanity in every single episode of High Maintenance, the Seinfeld-esque bumblings of a weed delivery guy in New York City, create delicious edibles dosed for a good time but not a long time. They're the perfect pick-me-up, healthy mind-alteration gauged precisely to give its audience a deeper appreciation for everyone around them by allowing their empathy to breathe in a welcoming place on screen. —Jacob Oller (Photo: David Giesbrecht/HBO)
19. The Expanse
Network: Syfy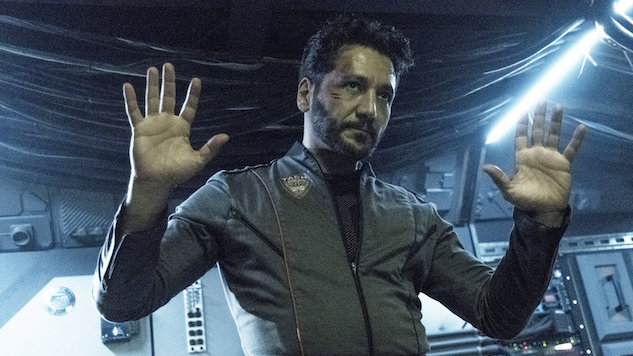 Syfy never managed to get The Expanse to break as big as Battlestar Galactica, but that failure was never for lack of quality. This hard space epic, based on the series of novels by James S.A. Corey (pen name of show writers Daniel Abraham and Ty Franck), started out with a strong aesthetic and even stronger ensemble cast in its first two seasons, but it hit its narrative stride this year, as all the pieces from the first two seasons' many narrative threads—the too-familiar wardrum tensions between Earth and Mars, the power-chasing conspiracy behind setting an alien protomolecule loose in our solar system, the psychocultural anxiety pressing the Belters into taking on fights too big for them—at last came together to form a cohesive whole. If there was one weakness, it was the formidable Chrisjen Avasarala (Shohreh Aghdashloo) fading from the story in the season's back half, but for all the ground James Holden (Steven Strait) and the crew of the Roci covered figuratively, physically and psychologically to get the human race to the breaking point where the season left off, she needed to take a back seat. Thankfully, while Syfy had to give up its big-budget experiment in serious epic space drama, Amazon Prime will be picking up right where they left off. —Alexis Gunderson (Photo: Rafy/Syfy)
18. One Day at a Time
Network: Netflix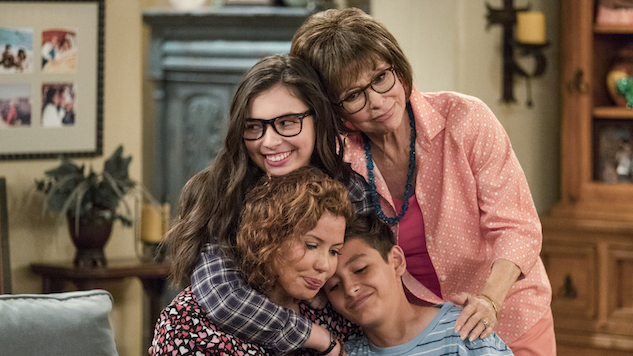 We'll admit, we were nervous about the second season of One Day at a Time. The show was such a surprise sleeper hit in its first season. How would it do now that it had buzz? The answer is: Even better. The warm-hearted, full-throated update of Norman Lear's classic sitcom, which follows a Cuban American family in Los Angeles, grew more confident, more nuanced, more thought-provoking, more sexy. Its combination of the topical and the timeless, the silly and the sincere, has become the leading engine of the form's revival. The comedy has the unique ability to make filming with four cameras in front of a live audience seem simultaneously a throwback to the TV of yesteryear and a fresh new way of bringing stories to life. Covering everything from LGBTQ rights and immigration to dating and depression, the series is anchored by the two extraordinary women at its center: Rita Moreno and Justina Machado, whose chemistry as mother and daughter find fullest in expression in two wrenching late-season entries. These women are so vibrant and authentic that while watching them you have to remind yourself that they are just characters on TV. —Amy Amatangelo and Matt Brennan (Photo: Courtesy of Netflix)
17. Lodge 49
Network: AMC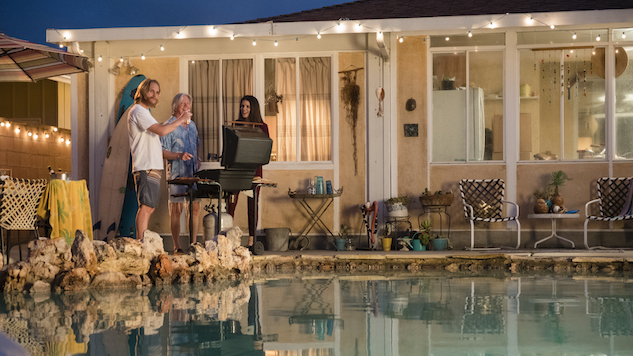 If Jim Gavin and Peter Ocko's quietly extraordinary fable recalls the blissed-out Southern California of the 1970s—shag carpet and stained wood; surf shops and lodges; the rakish disrepair of once-booming Long Beach—that's because its subject is the disappearance of a way of life. Though its plot is set in motion when Dud (Wyatt Russell), a down-and-out beach rat reeling from the death of his father, joins a fraternal order in search of new purpose, Lodge 49 expands its warm, gentle embrace from there until its simple pleasures become almost mystical: An out-of-work newspaper reporter begins having visions; the laid-off employees of an aerospace manufacturer come together for a midnight project; a plumbing salesman chases his holy grail; Dud's sister, Liz (the wickedly funny Sonya Cassidy), abandons ship (literally) when a dalliance with corporate culture becomes too much to handle. Far from uncomplicatedly nostalgic, Lodge 49 is, rather, a humane, tenderhearted examination of the communities that emerge where others have withered, and perhaps the finest treatment of the Great Recession and its aftermath yet to appear on TV. —Matt Brennan (Photo: Jackson Lee Davis/AMC)
16. Steven Universe
Network: Cartoon Network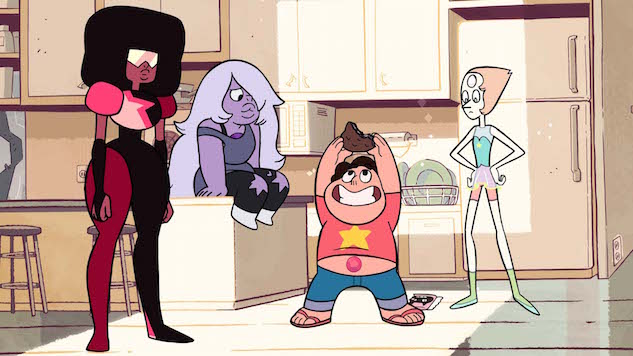 There may be no TV show more pure-hearted than Steven Universe. Yet it's a show that refuses to allow its gentleness of spirit and dedication to the universal worth of caring for other people distract from the complexity of the world around those doing that caring. Its titular hero and his ever-widening group of friends and family—some human, some sentient crystal alien refugees called the Crystal Gems—are stuck in an intergalactic war, after all. And, following events that aired in one of the show's signature "StevenBomb" episode clusters earlier this year, things only become more complicated for Steven and the crew, especially with another Bomb due to hit on December 17. Fans of Steven Universe tend to celebrate its remarkable diversity and affirmation of love in all its forms, across boundaries and binaries, most loudly—and rightly so. Add that to a nail-biting post-apocalyptic space adventure for all ages, a stunning pastel Nintendo-influenced aesthetic, and a killer soundtrack filled with musical numbers showrunner Rebecca Sugar writes herself, and there's something for pretty much everyone here. It'll make you feel better about being yourself, too. —John Maher (Photo: Cartoon Network)
15. The Handmaid's Tale
Network: Hulu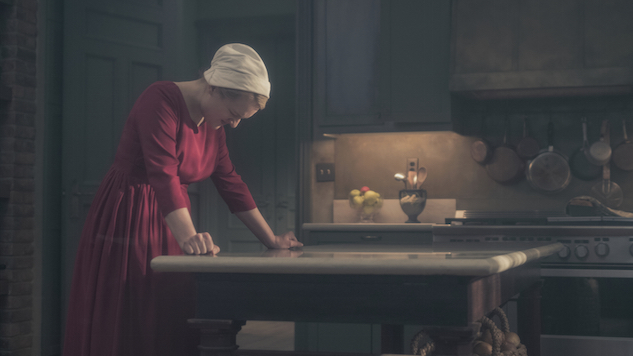 It was the "Sophie's Choice" heard round the internet. In the final moments of the second season finale, in a surprise (and rather nonsensical) twist, June (Elisabeth Moss) gives her baby to a mentally unstable Emily (Alexis Bledel) so that they can escape to Canada. She then raises her iconic red hood, glowers at the camera and defiantly returns to Gilead to the tune of "Burning Down the House." Say what now? But we can't let a rushed, ill-conceived conclusion color our feelings about a strong season too much, especially when it at times so closely matched current events it was downright eerie. The season's tenth episode, which saw June forcibly separated from her daughter, Hannah (Jordana Blake), after a too-brief reunion, aired at the same time as news stories of children being separated from their parents at the border were breaking. It was almost as if The Handmaid's Tale had some sort of portal into the future. Indeed, the season was harrowing throughout: Nick's (Max Minghella) young wife, Eden (Sydney Sweeney), was forced to jump to her death. Emily (Alexis Bledel) worked in the brutal conditions of the Colonies. June was violently raped while pregnant. The horror of life in Gilead was unrelenting. The two bright spots were a brief vocal cameo from Oprah ("Stars and Stripes forever, baby") and Yvonne Strahovski's stunning performance as the Commander's wife. Serena is now the series' biggest mystery. What will she do in Season Three? Whose side will she be on? I can't wait to find out. —Amy Amatangelo (Photo: George Kraychyk/Hulu)
14. Brooklyn Nine-Nine
Network: FOX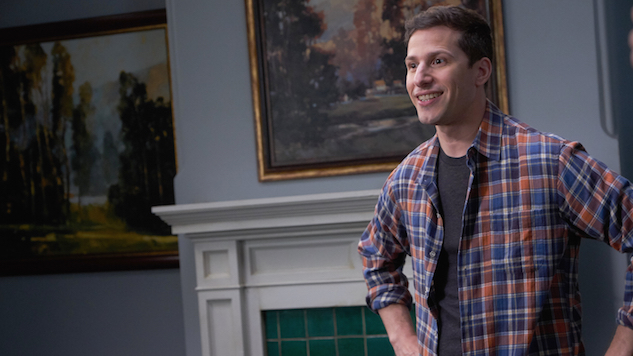 When the creatively iterative, fundamentally kind Brooklyn Nine-Nine finally sent detectives Jake Peralta (Andy Samberg) and Amy Santiago (Melissa Fumero) down the aisle in last spring's Season Five finale, fans got to watch the long-awaited (and bomb-threatened) nuptials safe in the knowledge that the detective couple's I dos weren't doors closing on a strong series canceled in its prime, but rather ones opening for a series with comedic heights still to reach. After five long years of the spectre hovering over the series' shoulder, FOX dropped the axe several weeks before the season's end, after which fans across the world made such a digital racket that NBC stepped up to save the precinct, and with it the vein of fierce and tender goodness the 9-9 puts into a world that pretty desperately needs all the tenderness it can get. It's hard to believe that there might be a single person we would have to convince of this outcome's universal good, but to those theoretical people, I say, watch Season Five episodes "The Box," "Show Me Going," and "Jake & Amy" (guest-starring Gina Rodriguez as Rosa's potential love interest!) and just tell me you don't believe in the 9-9's ability to build on their own excellence for another five seasons on NBC. It's impossible. They're all just too good. —Alexis Gunderson (Photo: Photo: John P Fleenor/FOX)
13. Better Call Saul
Network: AMC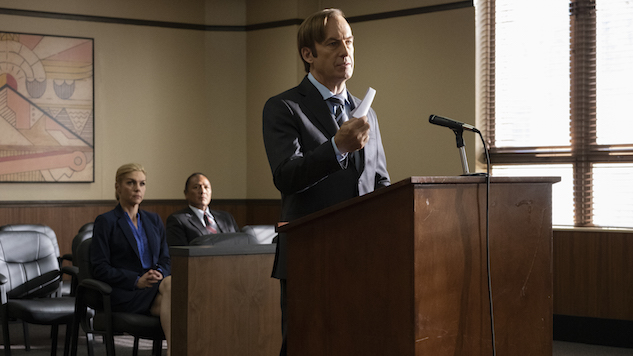 The previous three seasons of Better Call Saul gave us the conscience of Jimmy McGill, the soft center at his core that saw him sacrifice for others, even as he tried to game the system. Those days are over. Through Bob Odenkirk's masterful performance, we see Jimmy ready to make the final transition into Saul Goodman, the colorful lawyer we first met in Breaking Bad, and we got a glimpse of what he's willing to sacrifice—namely, his relationship with Kim (the equally amazing Rhea Seehorn get there. But there was so much more in and around that storyline, including the heartbreaking fate of a troubled German contractor building out Fring's (Giancarlo Esposito) future meth lab and the noose slowly tightening around Nacho's (Michael Mando) neck. We know where all these roads lead, but the journey of Better Call Saul has been full of twists and detours that we could never have imagined. —Robert Ham (Photo: Nicole Wilder/AMC/Sony Pictures)
12. Adventure Time
Network: Cartoon Network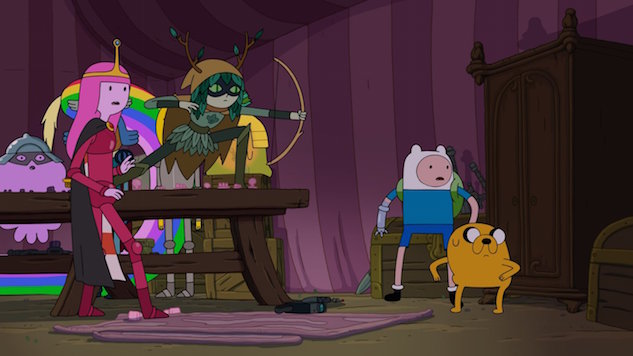 As far as series finales go, "Come Along With Me" was probably the only title that made sense for Adventure Time after its 10 seasons and 283 episodes. The wildly influential show ended its run with a four-episode arc set 1,000 years in the future, retelling the final days of Finn and Jake in the Land of Ooo and their fight against an evil chaos god named GOLB. If you've never watched the show, that may sound ridiculous, but Adventure Time isn't one of the greatest cartoons ever made because it avoided contradictions. The message of the final season—filled with some of the show's trippiest animation, most heartbreaking sacrifices, and an (all-too-rare in cartoons) on-screen kiss between two powerful women—was that life is far richer when we embrace those contradictions with friends you trust. Just bring tissues for when the songs kick in. —Eric Vilas-Boas (Photo: Cartoon Network)
11. The Haunting of Hill House
Network: Netflix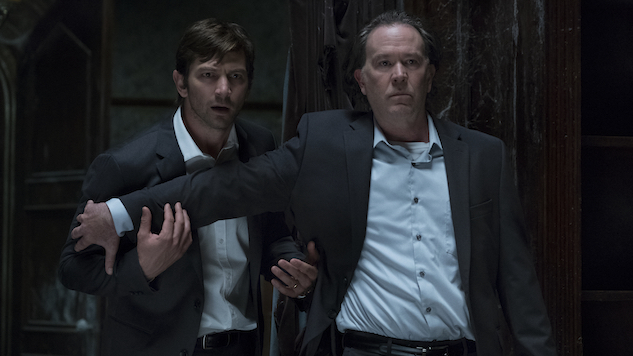 Adapting one of the most treasured horror novels ever written is a task so controversial that it divided this very site down the middle, but what's harder to debate is the quality of the show that Mike Flanagan and Meredith Averill spun from Shirley Jackson's yarn. The Haunting of Hill House is a dramatic gut-punch, a riveting tale of familial trauma and betrayal, and a scary-as-hell ghost story. The sheer craft going into every unsettling episode makes it one of the best Netflix originals, and the zeitgeist's love of trendy horror was augmented by the show's clever connection between ghosts and grief. —Jacob Oller (Photo: Steve Dietl/Netflix)
10. BoJack Horseman
Network: Netflix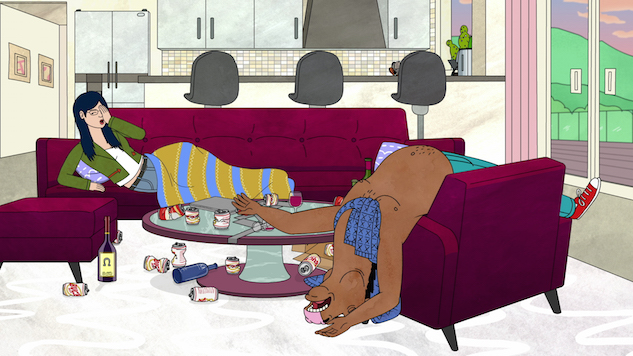 Every few years, a new adult cartoon is declared proof of a "golden age of animation" and is crowned king by TV critics: Rick and Morty succeeded Archer, which succeeded Bob's Burgers, and so on. The narrative is nonsense—animation has been great since the early 1990s, and has stayed great—but BoJack Horseman merits the hype. Somehow, an animated tragicomedy about a selfish, egotistical actor battling addiction and mental illness who also happens to be an anthropomorphic horse has become a uniquely compelling meditation on fame, pain, relationships, and our cultural moment. It's also proven itself one of television's most ambitious shows in terms of narrative complexity, with this most recent season experimenting with, among other things, an entire episode told via a single monologue. Oh, and the animal gags are to die for. —John Maher (Photo: Netflix)
9. Jane the Virgin
Network: The CW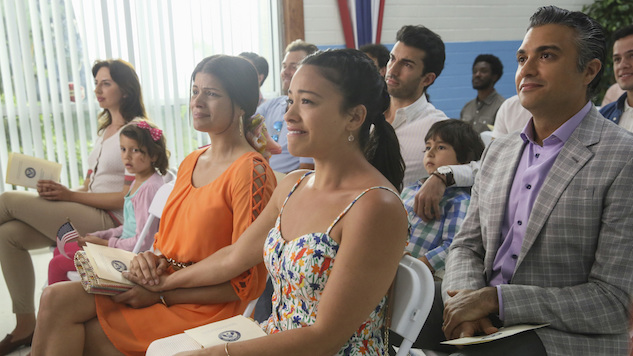 Jennie Snyder Urman's Jane the Virgin has been a cornerstone of colorful decency on The CW for long enough now that it's nearly impossible to remember a time in which the show's indomitable warmth and humor and the Villanueva women's fierce intergenerational love weren't things we could all turn to to say, oh, yes—this is how to weather life's wildest punches. That said, the back half of the telenovela's fourth (and penultimate!) season made an art form of its own design, not just strengthening each thread in the show's family web by complicating some of the relationships outside the Villanueva trio—Rafael (Justin Baldoni) and Alba's (Ivonne Coll) easy friendship hitting a substantive impasse over discipline philosophies; Jane (Gina Rodriguez) and Petra (Yael Grobglas) declaring their love for one another; Rogelio (Jaime Camil) and Petra sharing a single moment of time alone together—but also by landing wilder and more impressively real punches in each of the characters' lives than the first three seasons combined: Raf being dispossessed of both wealth and identity by his betrayed adoptive sister, Petra fumbling into a new facet of her her sexuality and her emotional vulnerability with the introduction of Rosario Dawson's Jane Ramos, Xo (Andrea Navedo) facing breast cancer, Rogelio facing new fatherhood, Alba facing naturalization as an American citizen, and Jane, finally, facing life—and love—after Michael.
On top of all that, of course, there is the fact of the season finale's big telenovela twist of a [SPOILER], which on a less confident show might have read as a threat to turn the whole series inside out just in time for its final season (and/or jumping the shark), but which here, in Urman's capable hands, just promises deeper and more heartfelt storytelling as Jane Villanueva's epic comes to a close. I am grateful for this show, every day. —Alexis Gunderson (Photo: Patrick Wymore/The CW)
8. Barry
Network: HBO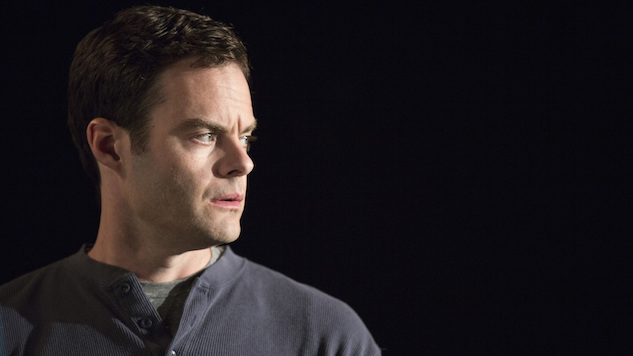 The year in TV was filled with depressing, yearning, half-comedy comedies. But not Barry. Thanks to its nuanced lead performance by Bill Hader, impeccable direction by Hader and Atlanta mainstay Hiro Murai, and constant entertainment provided by Henry Winkler, the hitman-turned-actor comedy actually worked, and then some. It showed a man that was perfectly competent and perfectly depressed, whose escape from that depression was a rocky one filled with loss, violence, and pain—all in the pursuit of one goddamn good thing in this world. And it was hilarious from top to bottom. —Jacob Oller (Photo: Michele K. Short/HBO)
7. The Good Fight
Network: CBS All Access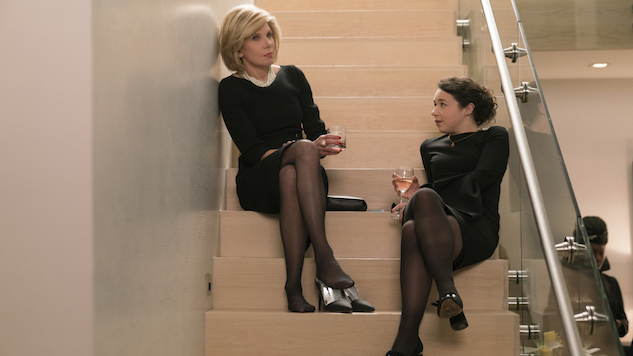 There's not a show I wholeheartedly loved more in 2018. The second season of The Good Fight made me downright giddy. While its predecessor The Good Wife lived in a politics-adjacent world, The Good Fight confronts the fact we are all now living in Trump's America head-on. Understanding that so many of us feel held hostage by the current administration, each episode title corresponded to the number of days in the Trump presidency to that point. There were episodes devoted to immigration, #MeToo and, yes, the pee tape. I adored the subversive hilarity of the crazy-but-not-so-crazy-given-the-world-we-live-in news reports Diane (Christine Baranski) was always tuned into. By jettisoning what was left of Maia's (Rose Leslie) case early on, the show was free to take on everything and anyone. Lucca (Cush Jumbo) had a baby. Marissa (Sarah Steele) became a full-fledged investigator. Diane tried micro-dosing. (Sidebar: Can someone make a Diane's laugh a ringtone? Thanks.) There was even a terrific spoof of Schoolhouse Rock! explaining how a president can be impeached. The freedom of being on a streaming platform and only having 13 episodes per season gave the show a vibrant undercurrent of taking no prisoners. It may seem blasphemous to say this, but I'm going to: The Good Fight may even be a better show than The Good Wife. Gasp! No show is funnier. No show is more biting. No show has a deeper bench of terrific recurring characters. And no show is more poised to take on the absurdity of today's political climate. Since the show can now swear, I will too. The Good Fight is out of fucks to give, and it is glorious. —Amy Amatangelo (Photo: Patrick Harbron/CBS)
6. The Assassination of Gianni Versace: American Crime Story
Network: FX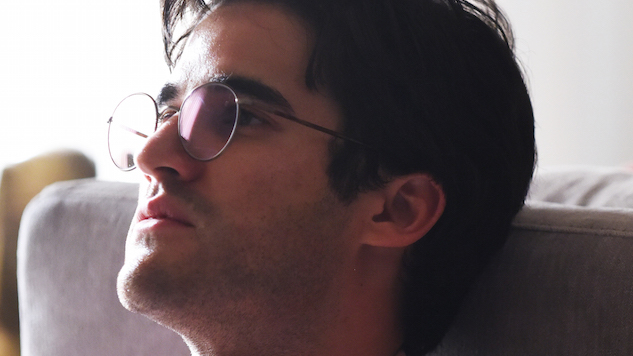 Underappreciated by critics, under-watched by audiences, and misunderstood by those expecting the focus to remain squarely on House Versace (ably handled by Edgar Ramirez as the late fashion designer and Penelope Cruz as his sister, Donatella), the second installment of Ryan Murphy's anthology series is an even pricklier treatment of "true crime" than the first. Anchored by Darren Criss' mesmerizing performance as spree killer Andrew Cunanan, the nine-episode season, penned by Tom Rob Smith, unspools backwards in time from the morning of the murder; its twinned narratives (Versace's rise, Cunanan's long unraveling) split open the scars left by a homophobic culture, from the AIDS crisis to Don't Ask Don't Tell, and reveal both how much, and how little, has changed. Along the way, Murphy, Smith, and directors Gwyneth Horder-Payton and Daniel Minahan flesh out the biographies of Cunanan's lesser-known victims, turning the lives of Jeff Trail (Finn Wittrock) and David Madson (Cody Fern) into profiles in courage, and thereby challenging their erasure in the popular imagination. What emerges, as I wrote at the start of the season, is an ambitious, unorthodox, potent, frankly astonishing reconsideration of what it means to be and be called a faggot, animated by one indelicate imperative: Queer lives matter, and not just their ends. —Matt Brennan (Photo: Ray Mickshaw/FX)
5. The Good Place
Network: NBC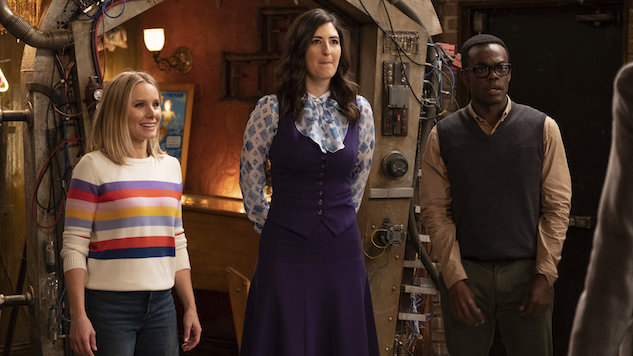 I recently saw a criticism of The Good Place that claimed it's the type of pleasant comedy that doesn't have any jokes. That criticism, of course, is absolutely inaccurate. (Maybe multi-camera sitcom was right all along to let the audience know when exactly to laugh.) Because not only does The Good Place continue to impress with its endless supply of jokes, ranging from next-level puns to its general understanding of Florida (which, as someone from Florida, is pretty on point), it does so while completely changing the game—including, at times, the very premise of the series—basically every other episode. And it does so with a cast that doesn't have a weak link: Audiences may have come to The Good Place because of Ted Danson and/or Kristen Bell, but you've got to stay because of D'Arcy Carden, Manny Jacinto, Jameela Jamil, and William Jackson Harper (and those are just the series regulars). And, again, the puns! —LaToya Ferguson (Photo: Colleen Hayes/NBC)
4. The Americans
Network: FX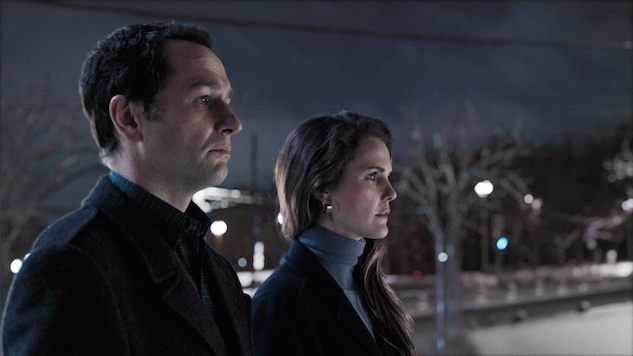 In its sixth and final season, The Americans combines the viselike grip of Breaking Bad's and the emotional depth of The Sopranos', completing its remarkable evolution by returning to its start (or "START") as a blisteringly suspenseful spy drama. Of course, by the time Joe Weisberg and Joel Fields' masterwork reaches its devastating conclusion, with deep-cover KGB agents Philip and Elizabeth Jennings (the magnificent Matthew Rhys and Keri Russell) returning to Russia and surveying what they've lost, and gained, in the process, The Americans is about so much more than safe houses and dead drops. At once a parable of family, faith, and nation; a pitch-dark examination of the Cold War's moral calculus; a coming-of-age tale (twice over); a wrenching depiction of friendships formed and betrayed; and one of the most indelible portraits of a marriage ever to air on American television, FX's pet project was worth every ounce of patience it demanded: We may well remember it as the last great series of the Golden Age of Television. —Matt Brennan (Photo: FX)
3. GLOW
Network: Netflix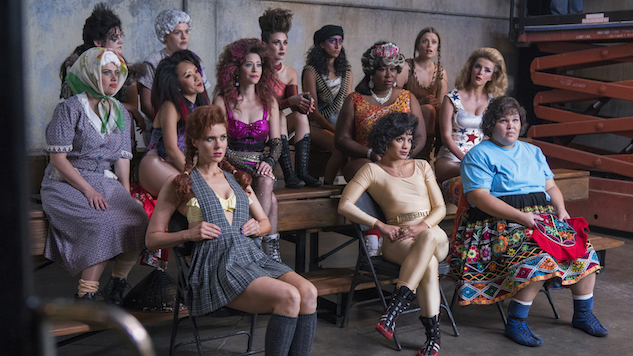 The second season of any TV show is when a series really proves itself. The characters and relationships have been established. Now, where you do take them? GLOW co-creators Carly Mensch and Liz Flahive and their talented writers ventured into deeper waters this year, taking aim at the contradictions at play in the show's backdrop: a women's pro wrestling league. It's a concept both empowering and misogynistic, as well as trucking in some outlandish stereotypes. The still-fragile friendship of Ruth (Alison Brie) and Debbie (Betty Gilpin), as well as consistently harried producer Sam (Marc Maron) provided the entertainment, but the heart of the show came out in moments like Tamme (Kia Stevens) struggling with her "Welfare Queen" character and what that represents, and the very Harvey Weinstein-like scene when a powerful producer of the show within a show tries to force himself on one of the wrestlers. Amid the teased up hair and Frank Stallone music cues, GLOW became one of this year's most subversive shows. —Robert Ham (Photo: Erica Parise/Netflix)
2. Killing Eve
Network: BBC America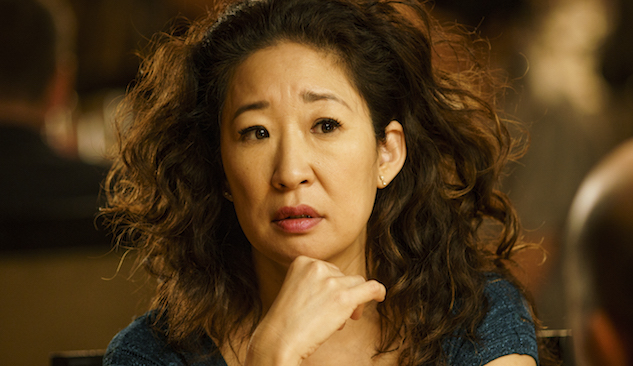 Back in June, I speculated that Killing Eve would still be the most buzzed-about new series of the year when all was said and done, namely because I would never shut up about it. That remains the case: Killing Eve—not only the best new series of the year, but one of the best series, period—made waves because, after all these years, women finally have a character (Jodie Comer's Villanelle) to learn absolutely the wrong lessons from Mad Men's Don Draper and Breaking Bad's Walter White. Equality! The cat-and-mouse game between Villanelle and Sandra Oh's Eve simply had no peers this year, and I'm already ready to start pestering people in 2019 about whether they've seen Killing Eve. —LaToya Ferguson (Photo: Nick Briggs/BBC America)
1. Atlanta
Network: FX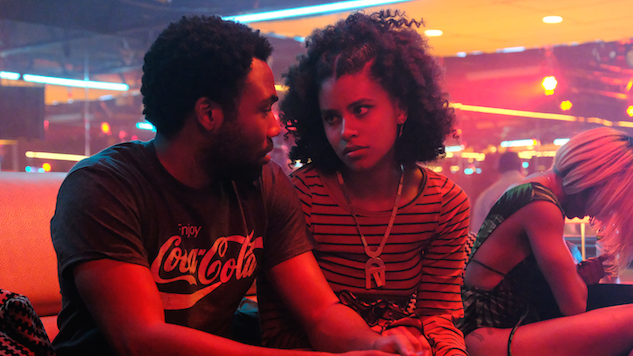 Though it had traces of an anarchic streak, most notably in the memorable departure, "B.A.N.," Atlanta's first season read, in the main, as a laconic slice of life, rendering the experience of Earn (series creator Donald Glover), Alfred (Brian Tyree Henry), Darius (Lakeith Stanfield), and Van (Zazie Beetz) in all its hilarious particulars. Its second (or robbin') season, by contrast, comes as close to understanding the uncanny as any series on television: As directed by Glover, Amy Seimetz, and Hiro Murai, the germ of Darius' "Florida Man" parable—an "alt-right Johnny Appleseed" forcing his chaotic, angry, even violent fantasies on an innocent populace—bears its strange fruit across 11 arresting, often unsettling episodes, woven from the same materials as fairy tales, folklore, fables, and myths. From the laughing wolf of "Helen" and the night-dark "Woods" to the terrifying title character of "Teddy Perkins" (played, in whiteface, by Glover himself), Atlanta becomes a wickedly funny, unspeakably beautiful anthology of American horror stories, one that reckons with the definition of both "blackness" and "whiteness," and treats the latter, rightly, as a malevolent force. Ultimately, the series' tremendous sophomore effort grabs hold of the genre's brass ring, confronting its audience with a simple, startling, profound proposition: If Atlanta doesn't scare the fuck out of you, you might be the monster. —Matt Brennan (Photo: Guy D'Alema/FX)