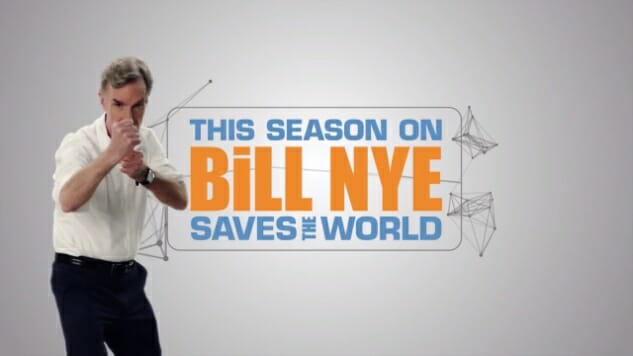 Netflix has released another trailer for their new talk show hosted by everyone's favorite scientist, Bill Nye Saves the World. The Nye-hosted streaming show will premiere on April 21.
Netflix's synopsis explains that each week, the show will "tackle a topic from a scientific point of view, dispel myths, and refute anti-scientific claims that may be espoused by politicians, religious leaders, or titans of industry." The program will feature field pieces by a team of correspondents, panel discussions and celebrity guests.
While he's made plenty of public and TV appearances since, this will be Nye's first return to hosting a television show since the 1998 end of PBS' (and your childhood's) Bill Nye the Science Guy. In other recent Nye news, the beloved science guy walked the runway last week at New York Fashion Week: Men's with astronaut Buzz Aldrin, which you can learn more about here.
Again, Bill Nye Saves the World premieres on Netflix on April 21. Go ahead and check out the new trailer above.