Netflix Reportedly Planning Choose-Your-Own-Adventure Black Mirror Episode in Forthcoming Season
Images via Netflix
TV
News
Black Mirror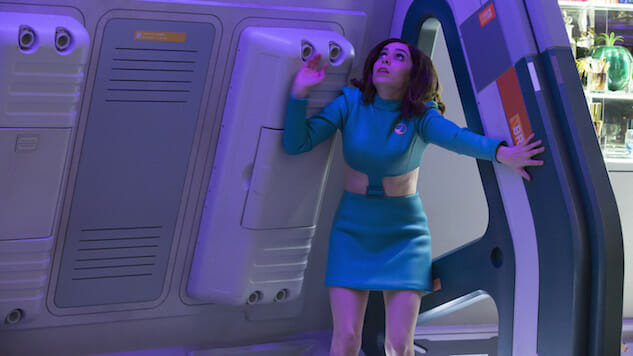 Viewers will soon be able to choose their own narratives in an episode from the forthcoming season of Black Mirror, according to a Bloomberg report.
It's no surprise that the Emmy-winning science-fiction anthology series will be on the forefront of this new mode of interactive storytelling. Centered around the social implications of technology, Black Mirror practically lends itself to high-tech experimentation.
The Black Mirror episode is reportedly expected to be the first of many live-action interactive programs for Netflix, and their first interactive show targeting adult viewers. The storylines that branch off the show's main narrative will be more complex than those offered in the streaming giant's preexisting interactive children's shows, like Puss in Boots and Stretch Armstrong: The Breakout.
Netflix's interest in choose-your-own-adventure programming is part of a larger push across the industry towards a new form of entertainment known as interactive TV. Blending videogames and traditional television, the formula might be able to find success in any number of series.
Netflix's rival HBO already released its first interactive TV show, Mosaic, earlier this year. The six-part Steven Soderbergh-directed mystery thriller originally aired on the network, but was accompanied by a separate app that featured customizable plot lines.
Black Mirror recently won four Emmys for season four's "USS Callister" (2017) episode, in addition to its two Emmys from series-standout episode "San Junipero" (2016).
The fifth season of the show is expected to be released in December.