Final Season of Game of Thrones Sets Record for Most Emmy Nominations in One Year
Images via HBO
TV
News
emmys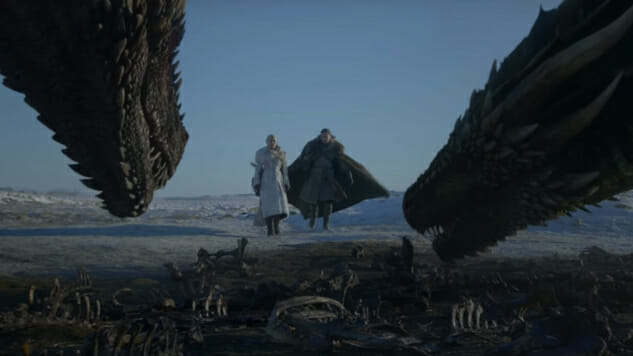 Though Game of Thrones ended with its eighth and final season in June, the HBO show is leaving its mark by breaking the record for most Emmy nominations in a single year, per THR.
Garnering a whopping 32 nominations overall, GoT has taken the quote-unquote nomination cake for the 71st Primetime Emmy Awards. The show broke the record of AMC's Breaking Bad, which garnered 29 nominations with its final season.
The HBO show received 10 acting awards, including Emilia Clarke and Kit Harington's first-ever lead actor noms, as well as a nod for Outstanding Drama Series. Otherwise notable, the show's creators David Benioff and D.B. Weiss received two shared nominations for their writing and directing work on the final season, and eight actors received nods in the supporting categories.
GoT is no stranger to receiving large amounts of Emmy nods, and this is its fourth time leading the pack in nominations. In 2014, the show received a 19 Emmy nods, followed by 24 in 2015, 23 in 2016 and 22 in 2018, after not being eligible in 2017.
The series also joins AMC's Mad Men and HBO's Veep for receiving a nomination in an Outstanding category for every one of its seasons. If GoT wins for Outstanding Drama Series this year, it would tie a record with Mad Men, The West Wing, Hill Street Blues and L.A. Law with four wins in the category.
Find the full list of Emmy nominations here, Paste's breakdown of all the snubs and surprises here, and the full list of Game of Thrones' 32 nominations below.
– Outstanding Drama Series
– Kit Harington, Lead Actor in a Drama Series
– Emilia Clarke, Lead Actress in a Drama Series
– Peter Dinklage, Supporting Actor in a Drama Series
– Nikolaj Coster-Waldau, Supporting Actor in a Drama Series
– Alfie Allen, Supporting Actor in a Drama Series
– Lena Headey, Supporting Actress in a Drama Series
– Maisie Williams, Supporting Actress in a Drama Series
– Sophie Turner, Supporting Actress in a Drama Series
– Gwendoline Christie, Supporting Actress in a Drama Series
– Carice van Houten, Outstanding Guest Actress in a Drama Series
– David Benioff and D.B. Weiss, Outstanding Directing for a Drama Series
– Miguel Sapochnik, Outstanding Directing for a Drama Series
– David Nutter, Outstanding Directing for a Drama Series
– David Benioff and D.B. Weiss, Outstanding Writing for a Drama Series
– Outstanding Production Design for a Narrative Period or Fantasy Program (One Hour or More)
– Outstanding Casting for a Drama Series
– Outstanding Cinematography for a Single-Camera Series (One Hour)
– Outstanding Fantasy/Sci-Fi Costumes
– Outstanding Single-Camera Picture Editing for a Drama Series
– Outstanding Single-Camera Picture Editing for a Drama Series
– Outstanding Single-Camera Picture Editing for a Drama Series
– Outstanding Hairstyling for a Single-Camera Series
– Outstanding Creative Achievement in Interactive Media within a Scripted Program
– Outstanding Main Title Design
– Outstanding Makeup for a Single-Camera Series (Non-Prosthetic)
– Outstanding Prosthetic Makeup for a Series, Limited Series, Movie or Special
– Outstanding Music Composition for a Series (Original Dramatic Score)
– Outstanding Sound Editing for a Comedy or Drama Series (One Hour)
– Outstanding Sound Mixing for a Comedy or Drama Series (One Hour)
– Outstanding Special Visual Effects
– Outstanding Stunt Coordination for a Drama Series, Limited Series or Movie