No More Mrs. Nice Girl: Liar's Joanne Froggatt Charts Her Post-Downton Career
Photo: Joss Barratt/Two Brothers Pictures/ITV/SundanceTV
TV
Features
Liar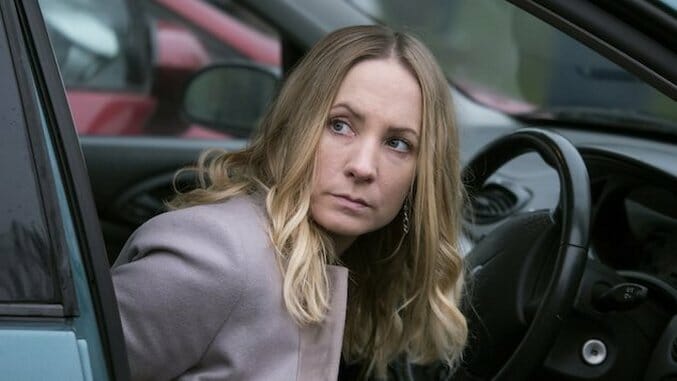 It's 5:30 p.m. in London as I reach Joanne Froggatt by phone. She's been doing a lot of promo for her new SundanceTV series, Liar. But if she's the least bit tired, she doesn't sound like it.
It's approaching two years since Downton Abbey, the critically lauded and award-winning PBS series, ended its six-season run. Some of the actors we remember have gone on to other projects—projects in which the actors play characters very different from the ones they played on the upstairs-downstairs drama, set in the early 20th century. Froggatt is no exception. Since exiting the role of Anna Bates, she's played a Victorian-era serial killer in Dark Angel, a social worker in A Street Cat Named Bob, the "horrible" stepmother of the main character in the soon-to-be released Mary Shelley, and a teacher who may or may not be telling the truth in Liar, written by brothers Harry and Jack Williams (The Missing).
Although not yet confirmed, some UK publications have reported that the series has already been renewed for a second season. Paste spoke to Froggatt about her new series' "taboo" subject matter, her post-Downton career, and trying not to be typecast as the "nice" girl.
Paste: Congratulations on the second season renewal for the show.
Joanne Froggatt: Thanks, although I haven't heard it. Yeah, it's been written in the press but I haven't had an official… but you know, fingers crossed. We'll see.
Paste: I thought that might be a little soon.
Froggatt: Yeah, it's had such great response. It's really great how people have invested in it.
Paste: You could have gotten slammed for this since it features challenging subject matter, including date rape. What made you take the risk?
Froggatt: I got this script sent through my agent and then I met with James Strong, our director, and he'd talk about me possibly coming on board. I loved the first episode and I know James because I've worked with him twice before and I trust him. He helped [me] through his idea for the look of the show. He showed me his [story] boards and all the intimate detail he put into it, how he wanted it to look and to feel, the colors he wanted to use. Jack and Harry's scripts are so good, and then his vision along with that really just sold me completely.
I did have some reservations because of the subject matter. I had approached very similar subject matter in Downton but then I thought, "Why am I having reservations about this? Because the rest of the job is a definite 'say yes' job."
I really felt from reading the script that it wasn't salacious. I thought it was interesting and that it was really important to see these two sides of what they each believe is the truth and how we all as human beings can judge somebody or a situation and how nobody really knows that somebody or situation except the two people involved.
So I ask myself, "Why does this still feel taboo as we accept thrillers around so many horrific events?" I thought, "Why is this taboo in our society?" And I thought, "That's a good reason why we should do this."
Paste: I suppose acting opposite Ioan Gruffudd didn't hurt. Did that play into it, the male character having to be this suave, handsome person?
Froggatt: You'd have to ask Jack or Harry that, but as I understand it, yes, he was written as the handsome surgeon. On paper, why wouldn't you go out with this person? He's handsome. He's got a great career. He's got a son but he's widowed, you know, he's got a nice house. He seems like a lovely person. No one would think any differently if you're single and someone like that asks you out.
Paste: What, if anything, made you like Laura enough to portray her?
Froggatt: I like the fact that she's incredibly strong. I liked that she's almost too single-minded. I liked that she was flawed, that she makes bad decisions.
Paste: It could have ended after one season. Can you hint at what would make it go to Season Two?
Froggatt: There is a completion to this season. Viewers will not be disappointed. Jack and Harry, cleverly, put in a sort off shoot at the end that means we can come back to these characters and they can continue.
Paste: Ok, on to Downton. Did you take a long rest or just dive back into roles?
Froggatt: I worked back to back—from finishing Downton to finishing Liar at the end of March. And then I had a little bit of time. I'm still sort of working. There's been some things coming up but I can't say yet.
Paste: What kind of roles were you offered?
Froggatt: Lots of nice characters, because Anna was such a nice person and I loved playing her. I read a lot of scripts with lovely girl-next-door roles, kind of maternal—which are lovely to play, but you want some variation. So I opted to play a murderer after Anna.
Paste: Does a long-running show with all the international fame and critical praise give an actor total financial freedom?
Froggatt: No, not on a UK show. On an American show, possibly, but no. The UK doesn't have anywhere near the budget that some American shows do. We all did very nice. We're all comfortable but… no. Maybe next time.
Paste: You are asked this all the time, but any update on Downton coming to the big screen?
Froggatt: I'm sorry, I'd love to be able to tell you something, but I still don't know anything. It's still in the ether somewhere, but goodness knows what's happening with it right now. I haven't got a clue, sorry.
Paste: Are you planning on working on any other projects with ex-cast members?
Froggatt: We definitely all keep in touch. We all had a dinner in January and we are going to have another one before Christmas. We keep up to date. Obviously we are all over the world, but we do keep in contact with whatever people are doing and support each other's' projects. It really was a lovely cast and group and crew. It was an amazing six years together. You can't help but become attached.
Paste: If you could have the kind of career you want from now on, what famous internationally known actor/actress would that career look like?
Froggatt: Cate Blanchett, Meryl Streep—Meryl, I mean Meryl, yes, please! I mean, how many Oscars has she got now?
Liar premieres Wednesday, Sept. 27 at 10 p.m. on SundanceTV.