The 5 New TV Shows You Can't Miss This Month
November 2017
Photo: Ursula Coyote/Netflix
TV
Lists
New Shows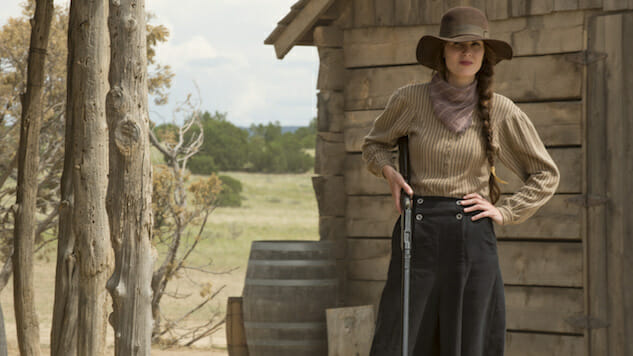 The TV shows keep coming. We here at Paste will be paying special attention to the new Netflix series Alias Grace (November 3) and the latest shows in the Marvel franchise, Marvel's The Punisher (Netflix on November 17) and Marvel's The Runaways (Hulu on November 20). We'll also be watching the new USA show Damnation (November 7), the NatGeo drama The Long Road Home (November 7), and the new Showtime series SMILF (November 5). And there's no way we'd miss Amy Sherman Palladino's The Marvelous Mrs. Maisel, which debuts on Amazon November 29. (Don't worry, we'll still keep you in the loop about all the holiday programming coming your way, too.)
But even with all that in the pipeline, there are still five other new shows we think you should check out this month:
1. S.W.A.T.
Executive Producers: Aaron Thomas, Shawn Ryan, Justin Lin, Neal Moritz, Marney Hochman, Danielle Woodrow and Pavun Shetty
Stars: Shemar Moore, Stephanie Sigman, Alex Russell, Jay Harrington, Lina Esco, Kenny Johnson and Peter Onorati
Premiere Date: November 2 at 10 p.m. on CBS

It's been a bleak fall as far as new network shows are concerned, and there's been a bevy of similarly themed law enforcement shows. Not to be confused with SEAL Team or Valor comes S.W.A.T., the best of the bunch. Shemar Moore returns to TV as Los Angeles S.W.A.T. sergeant Daniel "Hondo" Harrelson. Hondo wants to help his community while enforcing the law. He's got a great team (although some are jealous of his success) and a secret romance. The series comes from Shawn Ryan, who also executive produced The Shield, which should ensure that it's not your ordinary procedural drama.
2. No Activity
Executive Producers: Will Ferrell and Adam McKay
Stars:Patrick Brammall and Tim Meadows
Premiere Date: November 12 on CBS All Access

Did you sign up for CBS All Access when it premiered The Good Fight or Star Trek: Discovery? If not, the streaming platform is hoping its first comedy will do the trick. From Funny or Die comes a story of two police officers (Patrick Brammall, who co-created the series, and Tim Meadows) on the most boring stakeout ever. Busting a drug cartel isn't as exciting as the movies make it seem. The guest star list for the series definitely implies we will be laughing—keep an eye out for Will Ferrell, Jesse Plemons, Jason Mantzoukas, Amy Sedaris, J.K. Simmons, Jake Johnson and Michaela Watkins.
3. Ill Behaviour
Executive Producer: Sam Bain
Stars: Tom Riley, Chris Geere, Jessica Regan and Lizzy Caplan
Premiere Date: November 13 at 10:30 p.m. on Showtime

Your friend has cancer but has chosen to treat the insidious disease homeopathically. What choice do you have but to kidnap him and force him to undergo chemotherapy? That's the premise behind this new comedy, which aired in the U.K. over the summer. You're the Worst has not been having the best season, so I'm looking forward to seeing Chris Geere in a new project and with Lizzy Caplan as an alcoholic oncologist, how can this six-episode series go wrong?
4. Future Man
Executive Producers: Kyle Hunter, Ariel Shaffir, Seth Rogen and Evan Goldberg
Stars: Josh Hutcherson, Eliza Coupe, Derek Wilson, Haley Joel Osment, Keith David, Glenne Headley and Ed Begley, Jr.
Premiere Date: November 14 on Hulu

Hulu is now the home to the Emmy winner for best drama and is getting many of Netflix's castoffs (of note, How I Met Your Mother moves from Netflix to Hulu this month). Hoping to strike while the streaming platform iron is hot, they're adding a new series from Seth Rogen and Evan Goldberg, the same team that brought you This Is the End and AMC's Preacher. Josh Hutcherson stars as a janitor who is really good at video games—so good that he's recruited to travel through time to save the world.
5. Godless
Executive Producers: Steven Soderbergh, Scott Frank, and Casey Silver
Stars: Jeff Daniels, Michelle Dockery, Merritt Wever, Jeremy Bobb and Thomas Brodie-Sangster
Premiere Date: November 22 on Netflix

Michelle Dockery continues to leave Lady Mary behind as the star of this new Western limited series. Dockery is Alice Fletcher, a hardened women living in La Belle, New Mexico, an outlaw town governed by women. When the nefarious Frank Griffin (Jeff Daniels) comes to La Belle seeking revenge on a man Alice is harboring, the women band together to defend their town. Merritt Wever, so fantastic on Nurse Jackie, co-stars.
---
Amy Amatangelo, the TV Gal®, is a Boston-based freelance writer, a member of the Television Critics Association and the Assistant TV Editor for
Paste
. She wasn't allowed to watch much TV as a child and now her parents have to live with this as her career. You can follow her on Twitter (@AmyTVGal) or her blog .