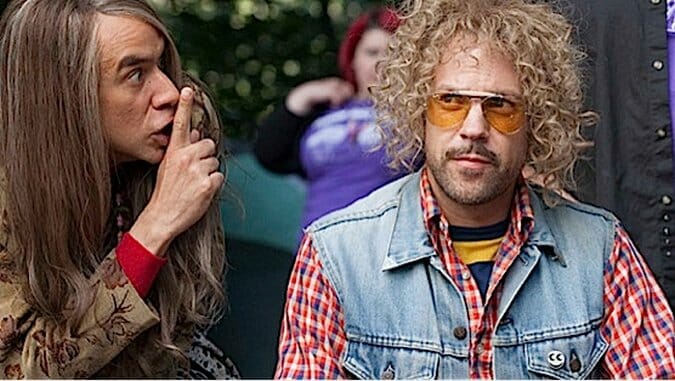 Just as we were ready to close the books on Portlandia's pretty unremarkable fourth season, Fred Armisen, Carrie Brownstein and longtime director Jonathan Krisel bring us a gem of an episode in "Getting Away." Filled with fun zingers and double-entendres—beavers and dams (and labia) oh my!—the season finale delivers a great mix of silly and sweet moments. Even feminist bookstore owners, Candace and Toni, who've been more annoying than entertaining in recent episodes, redeemed themselves in a big way.
Portlandia regulars (played by Brownstein and Armisen) decide to leave the hustle and bustle of the city behind. When the episode opens, Dave and Kath, the outdoorsy couple, are downright snippy with each other (very un-Oregonian) as they fail to inflate a raft for a river trip. A weekend away to do nothing might be in the cards: Kath says she's pumped to read every magazine in the house that hasn't been read, while Dave's priming to read "some crappy newspaper that has like four pages."
Also during the show's cold open, Toni (Brownstein) and Candace (Fred Armisen) are on a bus ready to lead a group of womyn—including singer k.d. Lang—into the woods of Beaverton, Ore., for a Feminist Moon Retreat. They all feel a little violated as driver "Kim" (Jason Sudeikis) gets on the bus. "It's short for Kimtopher," he says. Toni interjects, "We promised a male-free weekend … and it's already been penetrated."
And finally, Peter and Nance are checking out their room at the Beaverton Inn. Watching these two get frisky in the hallway is about as comfortable as walking in on your parents. When Peter asks the housekeeper—who does the classic Portlandia response of remaining absolutely silent—for a "do not disturb" sign, he's all about the TMI. Peter rambles on about rocking beds and headboards, then caps everything off with "It's gonna stink." Gross.
Now all this happens before the credits roll. There were more funny bits in those first three minutes than other episodes this season had in their entirety. ("Celery" we're looking at you.) And thankfully, the comedy doesn't stop.
The three storylines continue through the episode, with Kath and Dave and the feminist retreat turning in the strongest scenes. Sudeikis, especially, gives a winning performance as a non-jerk on the feminist camping trip. Though he plays a sensitive dude, he's still a dude, and openly flirts with k.d. Lang. Best part of it? k.d. flirts right back, and it's great watching the "sparks" fly between these two.
Meanwhile, Kath and Dave throw their quiet weekend overboard once they discover that Beaverton has outlets. They read off the names of the stores, proving that every outlet center in America features the same brands: Polo, Bass, Jockey, Hanes Her Way, Jones of New York. "Zales! Fantastic," Dave says. "Oh, I love Zales!" Kath adds. But the two are brought to their knees when they discover … the fleece outlet. Forget the fact that the clothes have broken zippers, holes or are otherwise slightly irregular; Kath and Dave are in their element.
Peter and Nance, who take home the most annoying characters of the episode award, manage to get lost in Beaverton when Peter thinks that the cartoon-like map is true-to-scale. They stumble across a huge beaver statue (pictured on the map, of course) that rights their bearings. Peter marks the occasion by carving their initials into the beaver. A "real" beaver spots him and destroys the dam in revenge, flooding Beaverton.
It's up to the Toni, Candace and their fellow feminists to ask mother moon to intercede. They run to the river to try and stop the flood, and like the waters, the one-liners never end. Candace orders them to lock arms and hold the rivers back. "Vaginas out!" is the battle cry. "We are a dam. Use your labia," she urges. "No flow has ever stopped a woman," Toni cries. As they chant in the river to mother moon, the waters begin to recede. (There's an insert of a full moon splitting in such a way that proves mother moon is indeed a woman.) Downriver, Dave and Kath, who've survived by floating on a raft of fleece, spot the women in line through binoculars. "Dave, it's a beaver dam."
The episode ends with the camera following the women as they begin to walk back to Portland. k.d. Lang sings and plays, "Down to the River to Pray" as the various couples return home. It's the perfect ending for "Getting Away"—an episode that emphasized intertwining (and interesting) storylines over loosely related, one-off skits. Portlandia's team also finally got back to the business of making fun of American pop culture through raucous and racy humor. Toni, Candace and crew not only saved Beaverton, but also Portlandia's season four as well.
Other favorite quotes of the episode:
—When Candace and Toni are stopped by hikers, who tell them they're walking into beaver territory and should respect the beaver, Toni replies, "We've been worshipping the beaver for decades."
—k.d. Lang explains her disappearance from the group: "Kim and I were in the forest. Exploring." Toni asks what they were exploring. "Wood. Things like that."
Christine N. Ziemba is a Los Angeles-based freelance pop culture writer and regular contributor to Paste. You can follow her on Twitter.