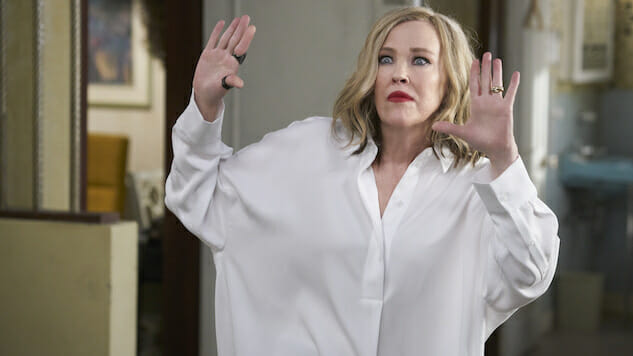 No one is likely to accuse me of being on trend—perils of watching TV all day, I suppose—so I asked my sister, a fashion copywriter, blogger, and our family's most chic member, to collaborate on this tribute to a style icon: Schitt's Creek's Moira Rose.
As I wrote in my column on the series back in January:
Catherine O'Hara's former soap star, with a wardrobe of whites, blacks, and slate grays in a woozy array of textures and patterns, sporting so much costume jewelry that one fears she's going to throw out her back, might be a walking Magic Eye image of Harry Winston's work bench. Or, for that matter, a Dr. Frankenstein voice coach's bungled experiment: Her accent skates uncertainly through American, Canadian, and British registers, and that's when she's not test-driving her Cockney to buy a used car. The narcissistic matriarch of the spoiled Rose clan, stripped of their fortune and plopped down in the rural burg of Schitt's Creek, Moira—as played by O'Hara, dressed by costume designer Debra Hanson, and written by Schitt's Creek co-creator Dan Levy and his team—is high camp catnip ("What is your favorite season?" "Awards.") with a wig collection that qualifies as the best drama on television.
With the series' superb fourth season now at an end—not to worry, Pop TV has renewed it for a fifth already—we thought it high time to look back on Moira's most memorable looks, listed here in chronological order. —Matt Brennan
1. "Our Cup Runneth Over" (Season One, Episode 1)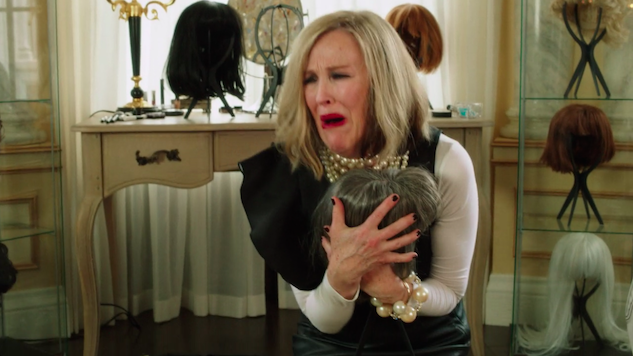 The outfit that started it all. The moment her life comes crumbling down, Moira dons a silk black dress with an architectural ruffle on the sleeve and lace-up heeled combat boots. If this outfit doesn't scream pre-bankruptcy confidence, we're not sure what does.
2. "Wine and Roses" (Season One, Episode 6)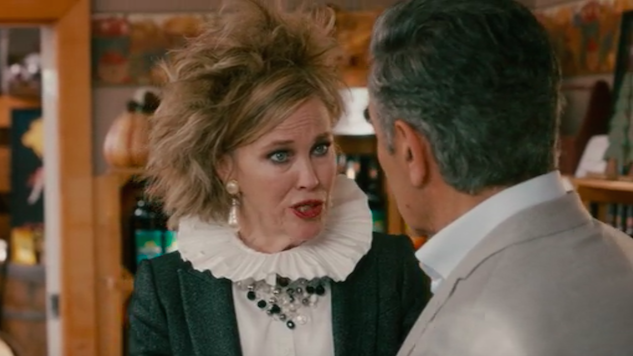 This look early on in the series sets the tone for Moira's wardrobe to come. It's the idea of "peacocking" personified. That collar looks like it could protect the wearer from nuclear warfare… or at least motel bedbugs. The oversized pearl-drop earrings fill the space between the planet that is Moira's wig and the launch pad that is her collar.
3. "Carl's Funeral" (Season One, Episode 9)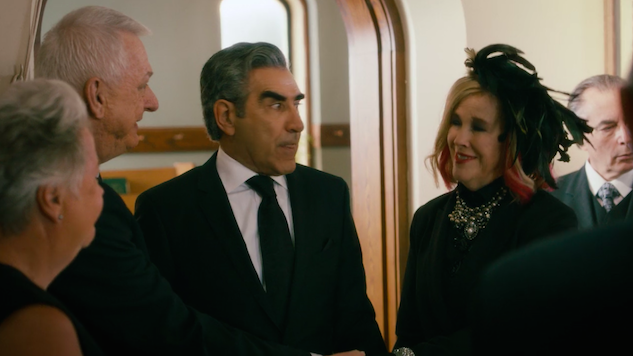 Moira's funeral look could totally earn her a cameo on AHS: Coven. She's stealing the show with her feathered headpiece… but we have to think even the deceased would respect it.
4. "Honeymoon" (Season One, Episode 10)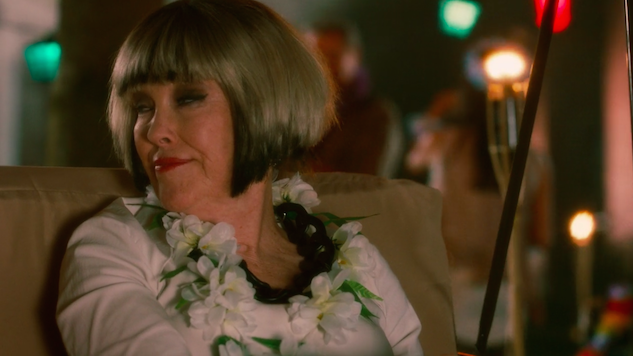 Another structured piece to offset the totally unstructured life Moira is living. This white number with an artful collar and chunky black necklace gives off some serious Cruella de Ville vibes when paired with her black-and-blonde angled bob.
5. "Town for Sale" (Season One, Episode 13)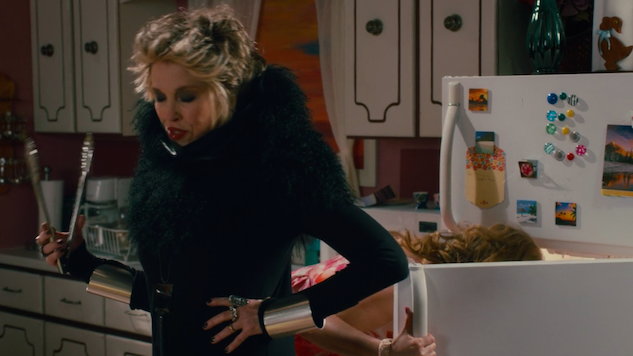 The fact that Moira can even breathe in this look—let alone use cooking utensils—deserves serious props. Between the over-the-top feathers and silver cuffs, she ended the first season with a bang.
6. "Estate Sale" (Season Two, Episode 4)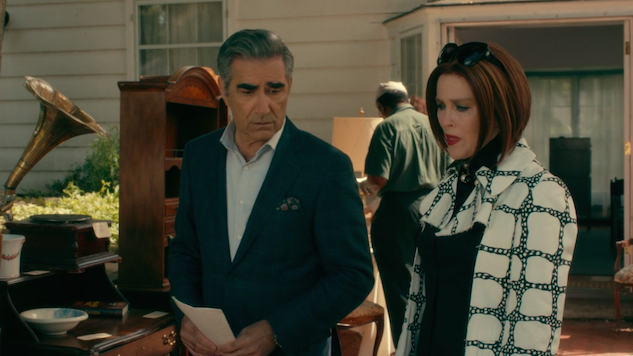 Moira's fierce ensemble seems to represent what the estate sale is reminding the Roses: They're in financial chains. OK, fine… maybe the wardrobe stylist just liked the outfit. Either way, this chain-link look is made perfect with a layered collar with unfinished hem, pin straight auburn hair and a bold red lip. Worn on pursed lips, of course.
7. "Moira vs. Town Council" (Season Two, Episode 6)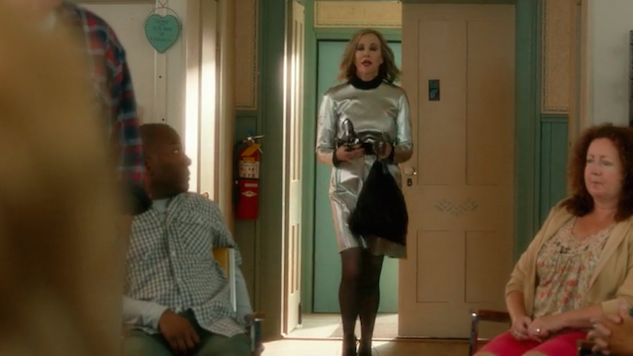 Out. Of. This. World. This long sleeve metallic number is giving us outer space vibes in the best way possible. Look out, Zenon. Moira's taking over more than just her first town council meeting.
8. "Milk Money" (Season Two, Episode 8)

If Michael Jackson and Lady Gaga had a lovechild, it would be this outfit. It's the perfect statement for the Candidate's Breakfast: bows say "I'm sweet and put together," metallic says "I'm fun and in-the-know," and fingerless gloves say "I'm not messing around." She's got our vote.
9. "Moira's Nudes" (Season Two, Episode 9)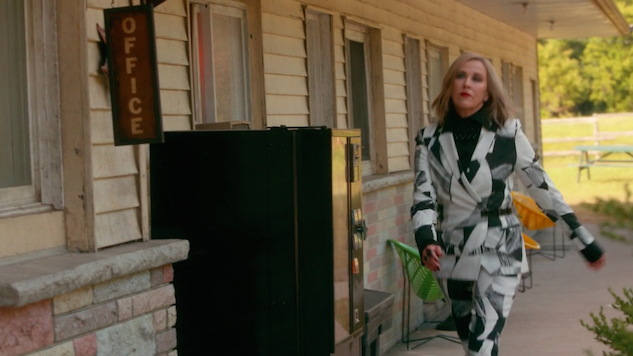 Moira is confronted by a nude photo scandal in this episode. But just as the nudes are a tasteful piece of art, Moira's choice of suit is tastefully artistic as well. The black and white jacket looks almost hand painted. And those baubles around her neck are to die for. Why take nudes when your outfits are this good?
10. "Ronnie's Party" (Season Two, Episode 10)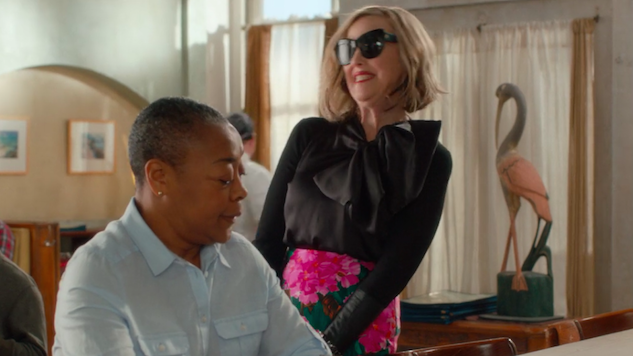 Finally! A POP OF COLOR! Yasss, Moira. Her hot pink floral pencil skirt symbolizes that she's finally feeling—dare we say it—at home in Schitt's Creek. But don't worry, a black high-neck blouse with oversized bow and dark sunglasses (worn indoors, obv) prove that Moira isn't forgetting her roots anytime soon.
11. "Opening Night" (Season Three, Episode 1)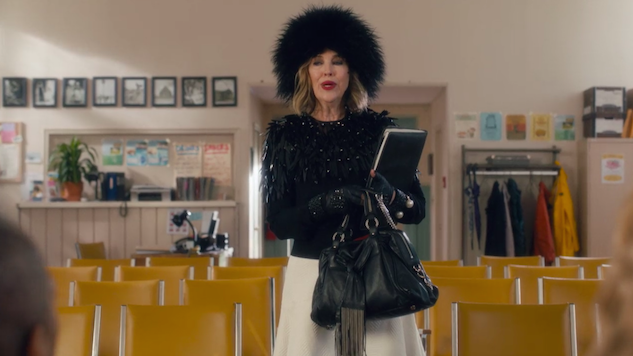 Russian czar chic! Is this Siberia or Moira's first council meeting? Either way, that fuzzy hat is making my heart feel just as fuzzy. There's no need to address the rest of the outfit. This hat situation is the outfit.
12. "The Throuple" (Season Three, Episode 2)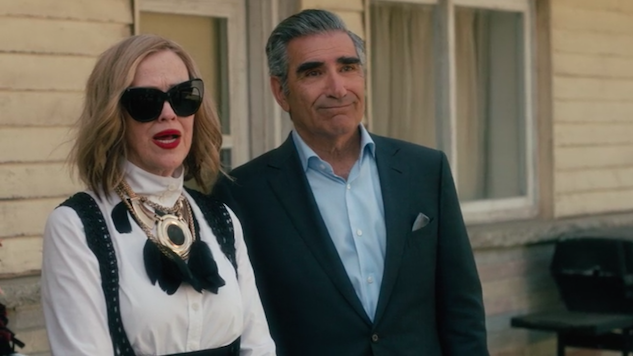 Diane Keaton, is that you? We're so obsessed with this look. An ascot and gold statement necklace over a turtleneck? ICONIC. Don't even get us started on the duster and cummerbund! We cannot.
13. "The Throuple" (Season Three, Episode 2)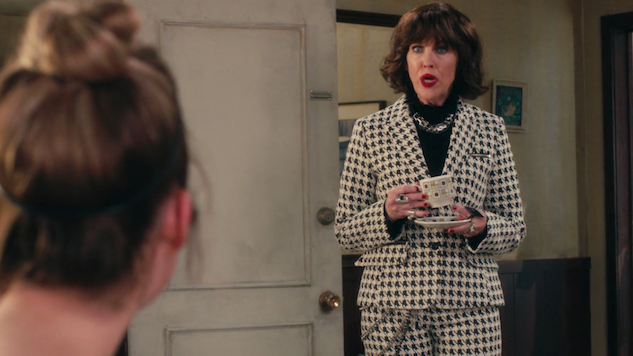 Holy houndstooth, check out this pantsuit! (See what we did there?) Even Sherlock Holmes wouldn't be able to crack the case on the best part of this outfit. Is it the suit itself? The 1950s housewife wig? Or the Marie Antoinette shoes?
14. "Rooms by the Hour" (Season Three, Episode 5)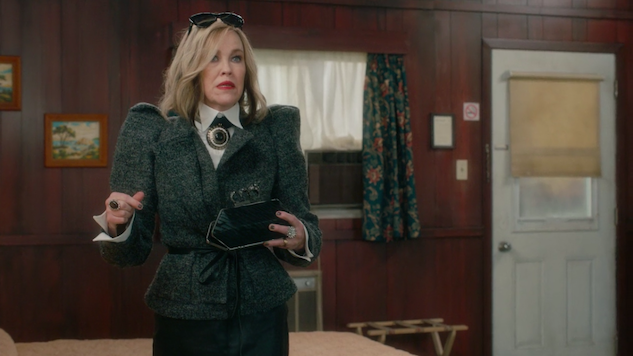 This one has us feeling as high as those ruched shoulders. SLAY, Moira! The Peter Pan collar and over-the-top medallion are both fabulous, but those structured shoulders really sell it.
15. "Grad Night" (Season Three, Episode 13)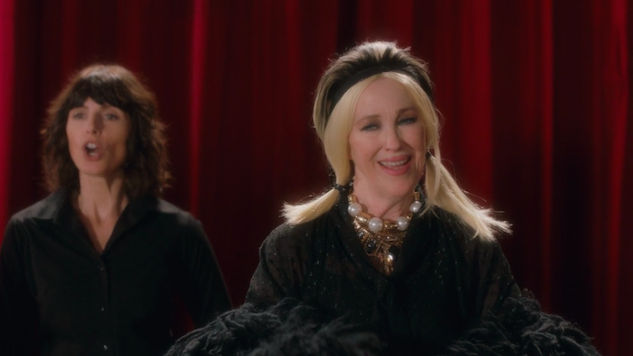 A child's high-school graduation is a big event for any mother. Moira is no exception… nor is her outfit. Bleach-blonde straight pigtails with a glorifed hairnet on top? YES. And that black cha-cha top? Hats off, Moira… uh, grads.
16. "Pregnancy Test" (Season Four, Episode 2)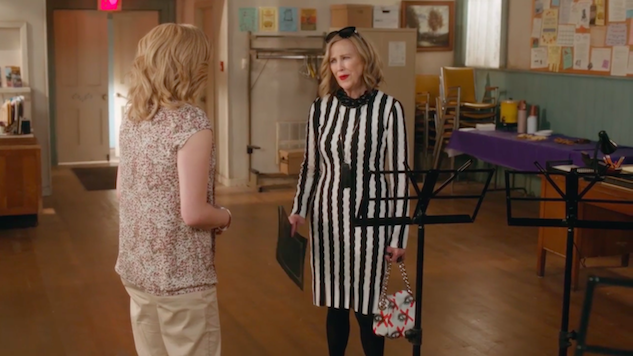 Beetlejuice! Beetlejuice! Beetlejuice! (If Beetlejuice were high fashion, of course.) The vertical, scalloped black-and-white stripes on this fitted midi-length dress are ultra-flattering, and there are teeny cutouts between each one. When you factor in that handbag with eyes all over it, you might mistake the Schitt's Creek councilmember for a London socialite.
17. "Asbestos Fest" (Season Four, Episode 3)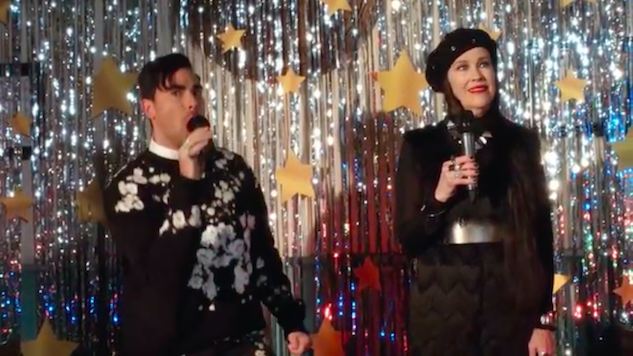 If we could turn back time… we'd have Moira wear this every day. The straight thigh-length black wig would have been cool enough on its own, but the flapper-esque pants, sheer top, ginormous waist belt and sparkly beret are giving Cher a run for her money.
18. "RIP Moira Rose" (Season Four, Episode 5)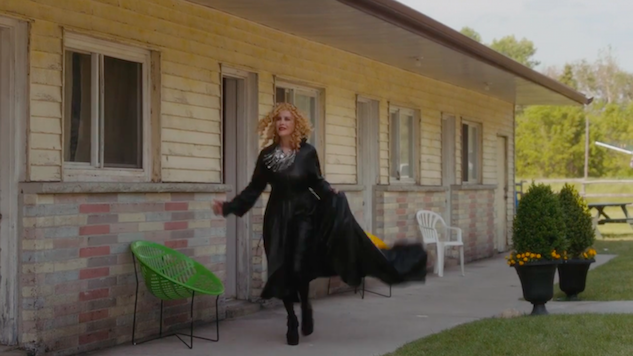 I don't even think we're cape-able of describing this look. Nothing announces that you are not, in fact, dead better than a floor-length cape. Except maybe said cape accessorized with six inch heeled booties.
19. "Open Mic" (Season Four, Episode 6)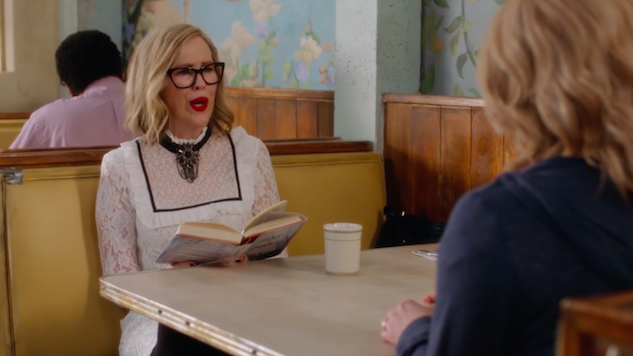 Moira is channeling her inner Victorian-era lady with this bib dress: lace sleeves and body, ruffled collar and bib, and an antique-looking necklace to top it all off. Off to the World's Fair or Café Tropical…who's to say?
20. "Open Mic" (Season Four, Episode 6)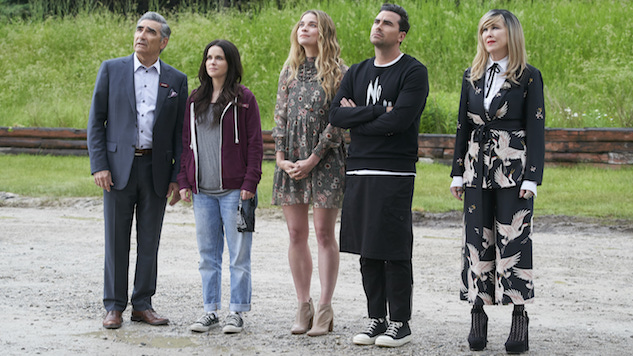 SO FLY. Yes, that's a bird joke. But seriously, this printed kimono-style suit is giving us all the feels. Gaucho pants, belted blazer and thin pussy bow is a combo that's giving Moira wings for real.
---
Matt Brennan is the TV editor of
Paste Magazine
. He tweets about what he's watching @thefilmgoer.
Haley Brennan writes about clothing for a living—and for fun. She talks too much, loves corny puns and has been described as "anything but subtle." Check out her blog at www.haleyslifeincolor.com.