SeriesFest Season 3 Proves It's Here To Stay
Photos by Mark Rabinowitz and Jason Bahr/Getty Images
TV
Features
SeriesFest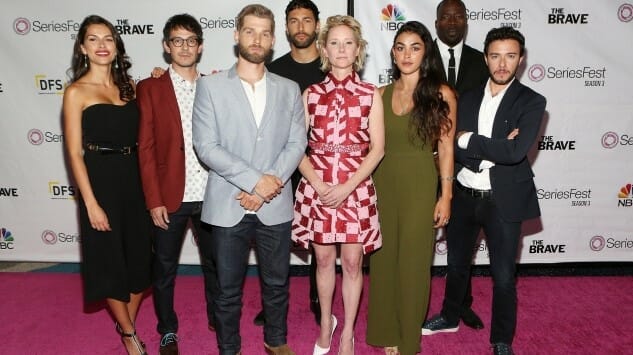 By now it's pretty obvious that we're in a true Golden Age of television. The quality up and down the dial (yes, I'm that old) is simply outstanding. Add to that the streaming services and there's simply too much exceptional content to watch in one lifetime. If you expand the field to films and books, a case can be made that we're in a Golden Age for storytelling. But I digress.
Back in the late 1980s/early '90s, mainstream America got a glimpse of the burgeoning indie film movement when (relatively) low budget films like Steven Soderbergh's Sex, Lies, and Videotape (1989) and Quentin Tarantino's Reservoir Dogs (1992) hit the screen and became cultural touchstones. Both screened at the then nascent Sundance Film Festival and both launched the careers of two of the most influential filmmakers of the last 30 years.
Flash forward a decade or three and the time is right for another leap forward in filmed content. From Breaking Bad and Mad Men HBO, Netflix and the Marvel Cinematic Universe, episodic storytelling is undergoing a sea change and like virtually any other massive shift (culturally, politically, environmentally) it will likely take us some time and distance to really see what we have wrought.
However one thing is clear: TV is no longer the 2nd class choice for talent. The days of being shocked at seeing a movie star like Sally Field or Glen Close doing TV are over and more and more, truly excellent, "cinematic" work is being done for the "small" screen. Along with the rise of quality content has been a slow but steady rise in creators making independent pilots. Once solely the domain of studios and major production companies, TV is slowly being democratized by the rise of TV sections in film festivals and, more importantly, the appearance of dedicated TV fests.
Having recently wrapped its third "season," SeriesFest is the brainchild of founder/CEO Randi Kleiner and founder/CCO Kaily Smith Westbrook. The event has grown rapidly but organically over that time and although it isn't the first TV festival to pop up, it seems to be doing everything right. From opening night at Red Rocks-this year featured En Vogue, Common and Ms. Lauryn Hill, and the world premiere of the music episode of CNN's The Nineties-to a well-curated independent pilot competition to exciting sneaks of upcoming cable and network series to a showcase of international offerings, SF packs a lot into five days. So much so that even with screener links I still wasn't able to see everything.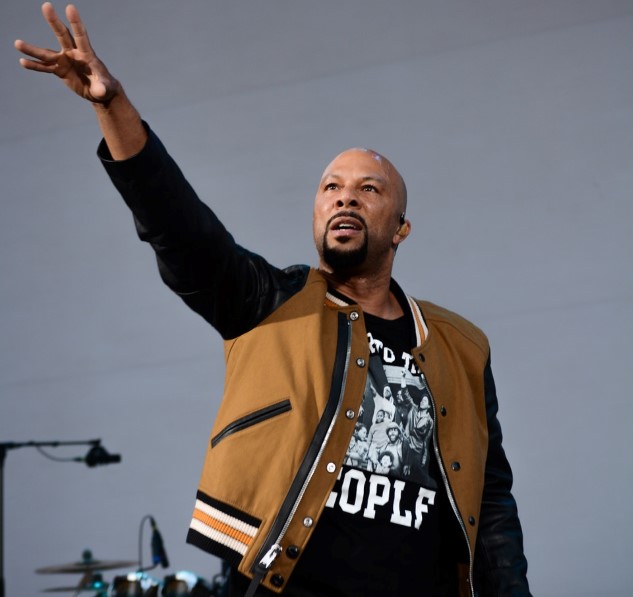 Photo by Mark Rabinowitz
One of the key elements to SeriesFest's artistic success is the Independent Pilot Competition, which once again offered up a collection of top-notch fare and contained several shows that I would consider "broadcast ready." Top of this list was the world premiere of Up North, created by Emil Pinnock and directed by Pinnock and Damaine Radcliff. Well-acted and impeccably directed, Up North looks at incarceration and inner city life from various points of view: from the wrongfully arrested straight-A student to the murderer about to be paroled to the street-level dealer whose choices affect everyone around him. Based on Pinnock's personal experiences as a wrongly arrested young man in the New York City correctional system, Up North is a fully realized look at New York's deeply-flawed and corrupt prison system and the violent life that feeds it. It's a powerful piece of work from an exciting new voice.
Up North picked up SeriesFest awards for Best Drama Pilot, Best Actor for Ian Duff and best director for Pinnock and Radcliffe.
Another entry in the "ready for prime time" category is Patrick Wimp, Angie Gaffney and Ted Reilly's Public Housing Unit, a 1980's set drama about a trio of Chicago cops tasked with policing the Windy City's infamous public housing projects. Based on the true stories of real life Chicago officers Eric Davis, Jimmy Martin and Charlie Toussas, Public Housing Unit is a gritty and occasionally humorous police drama more in the vein of Hill St. Blues than Law & Order. Well acted by Chris Boykin, Kamal Angelo Bolden and Ira Amyx as Davis, Martin and Toussas, the pilot packs a lot into 48 minutes, setting the scene and giving us back stories on all three leads with impeccable pacing and dialog. It's no surprise that it nabbed the jury award for best writer in a drama for co-creator Wimp. It also nabbed the Best Actress award for Destini Huston.
Haroula Rose's Lost & Found finds a group of 30-something friends gathering for, well, a divorce party. Stella (Melonie Diaz) and Ian (Wil Janowitz) are splitting up and rather than treat it as a sad and anxious occasion, they decide to have an "un-wedding," with an officiate (Rebecca, played by Jennifer Lafleur), guests and even a little balloon release. Of course no un-wedding is complete without the mother of the un-bride (Laura Lee Botsacos) adding even more drama to an already tense situation. It's an awkward premise that Rose manages to make less contrived that it might appear at first blush. The cast are all skilled performers and there's clearly material here to mine, but Rose's big hurdle is going to be crafting a world that is more than (mostly) white people going through a series of early-mid-life crises.
Last year's edition of SeriesFest contained quite a few interesting sci-fi offerings, and the 2017 edition has an excellent example of the drama in Van Alan's noir cop/robot cop buddy drama, Automata. Based on the popular web comic from publisher Penny Arcade, Automata is set in an alternate version of prohibition-era America where instead of liquor the prohibition is on further production of sentient machines, creating a subclass of mechanized servants and prostitutes and an atmosphere of increased bigotry and violence.
Starring Basil Harris (Grimm) as private eye Sam Regal and the voice of Doug Jones (Pan's Labyrinth) as his automaton partner, Carl Swangee, Automata introduces a richly layered and deeply compelling world, one which has some eerie parallels to both the rise of Oswald Mosley's WWII-era British Union of Fascists and current post-election America where hate and fear of "the other" are becoming more and more up-front in our everyday life. It's a testament to the source material as well as to Alan's writing and directing that in just a few short minutes Automata has us fully immersed in that world to the point where a moment of extreme violence against a machine is excruciating to watch.
On the comedy side, the standouts for me were Brian Jordan Alvarez's The Gay and Wondrous Life of Caleb Gallo and Owen Williams' Tiny House. The former is the rarest of animals, in that it's an overly absurdist sitcom that's genuinely funny and, contrary to every ounce of reason in the universe, realistic. Alvarez stars as Caleb, the lynchpin of a circle of increasingly ridiculous friends navigating careers and relationships in Los Angeles—but rather than treat them and their various idiosyncrasies as diversions or freak show attractions, Alvarez approaches them as if they're real people, and you know what? They are. After watching a couple of episodes, you might just realize that we're all a soupçon of restraint away from being studies in absurdity. It's also consistently hysterical.
Tiny House, on the other hand, is a family comedy-drama about Lou (Williams) and his dreams to build a tiny house for his growing family. The only problem is, due to the failure of his last business venture-all of his goats died-he's broke. As a result, Lou, wife Margee (Sherry Romito) and daughter set up camp in a van in his sister Lyn's driveway, much to her displeasure. Unbeknown to both of them, their brother Ernie is secretly camping on Lyn's lawn in a tent behind some bushes. Contrary to The Gay and Wondrous Life of Caleb Gallo, Tiny House treats this rather absurdist setup relatively straightly. We all have plans and goals, but we all know that sometimes, despite best efforts, life goes off the rails. It's a sweet and clever take on family issues and what happens when you have to reboot your life.
As evidence of SeriesFest's growing clout on the network side, NBC chose closing night for the world premiere of The Brave, which the network is programming behind The Voice this fall. Starring a diverse and talented cast of vets and newcomers (Anne Heche, Mike Vogel, Natacha Karam, Demetrius Grosse, Tate Ellington, Hadi Tabbal, Noah Mills and Sofia Pernas) The Brave focuses on a rapid-response Special Ops team who work under-cover and out of the limelight to respond to threats around the world. The cast is refreshingly diverse, Pernas having been born in Morocco and both Karam and Tabbal were raised in whole or in part in Lebanon. Another interesting element to the series is that it is scheduled to run, uninterrupted, for 13 episodes, which creates a little bit of a logistical nightmare for the production team but certainly ratchets up the dramatic potential.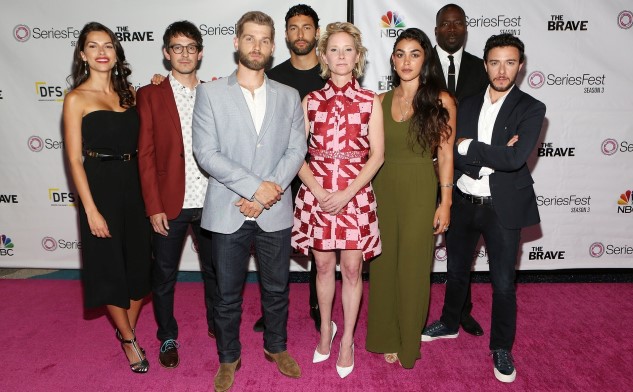 Although at first blush it seems like a "rah rah", anti-terrorist procedural, the reality is significantly different, as it's not set exclusively in the Middle East and won't necessarily focus on terrorism. Additionally, both the cast and creator Dean Georgaris repeatedly emphasized that because these Special Ops units actually exist and they work in complete anonymity that all involved with the project are concerned with portraying these men and women as fairly and as accurately as possible. Over lunch with some of the cast in Denver, Heche said that although she wouldn't necessarily use the word "realism," per se and that the show "isn't a documentary," she, along with Grosse and Karam reiterated that "it's about specificity because [these Special Ops teams] exist in the real world and risk their lives every day," and they want to honor that.
Although The Brave might not completely re-write the book on how network TV develops military dramas, there's enough new and interesting about it to make it an appealing choice in a landscape littered with superficially similar offerings, and the pilot ends with one hell of a cliffhanger.
Even with all the excellent programming, SeriesFest's most enduring and important aspect may be the support the pilot creators show for each other. Although they're certainly there to network and make a career for themselves, they are also as interested in the work of others as they are in promoting their own work and can be seen in large packs moving in and out of screenings. It's a supportive and nurturing atmosphere, and the world can never have too many of those!
---
Mark Rabinowitz is a Louisville-based freelance writer, film producer, (very) amateur handicapper and regular contributor to Paste. He is the co-founder of IndieWire.com and will fight you over the fact that Babylon 5 is superior to Star Trek: Deep Space 9. You can follow him on Twitter.