From The Vampire Diaries to HSMTMTS, Teen TV Had a Groundbreaking Decade
Teens have been at the vanguard of television's artistic growth since A dropped the first existential threat into the LiArs' pre-smartphone laps.
TV
Features
Teen TV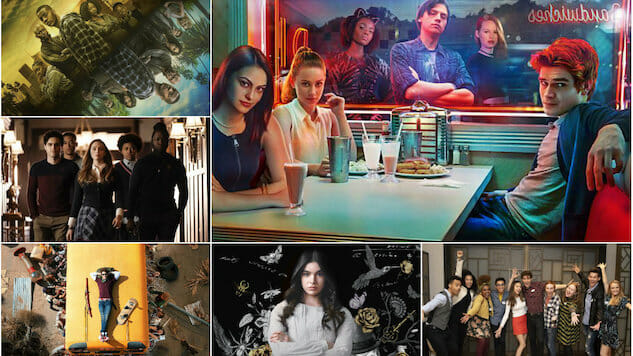 It would be easy to say that the 2010s was the decade of YA adaptations—from The Nine Lives of Chloe King and Shadowhunters to Deadly Class and Looking for Alaska, any network even half in the business of entertaining teens has drawn from the YA well at least once in the past ten years. But while it's true that cusp-series Gossip Girl (2007-2012) made adaptation a watchword for the decade that would follow, the greater truth is that, as with everything else in the TV space, the story of teen television in the 2010s was simply one of more. More adaptations, sure (The Secret Circle! The 100!) but also more originals (Reign, The Get Down), more remakes (Roswell, New Mexico, Are You Afraid of the Dark?) and more imports (Sex Education, anyone?) on more networks (Syfy, BET, HBO) and more platforms (hello, streaming boom) featuring more diversity (On My Block), more creativity (Dear White People), more envelope-pushing (Euphoria, and more out-of-the-box narratorial choices (Daybreak) than ever.
From Fresh Off the Boat to Speechless to One Day at a Time to No Good Nick, even the classic multicam sitcom space found itself stuffed with more (and more diverse) teen stories as the decade progressed. And don't even get me started on just how many teen wolves, witches, and Hot Archies ended up gracing our screens now compared to this same time ten years ago!
In fact, here, I have a gift for you—a copy of my working list of all the live-action teen series to premiere and/or air at least half of their original run between 2010 and now. At the time of publication, my count was up to 140, but I am all too aware that there are plenty I might have missed. Honestly, though, the raw total isn't the point. If you break the list down by premiere years, the most obvious point to emerge—more obvious, even, than the proof that original series have, ultimately, outnumbered remakes and adaptations—is the exponential increase, beginning in 2016, in the sheer volume of new teen shows to hit the air year over year.
Why 2016? Well, Netflix, of course (five teen series launched), but 2016 was also the year that saw ABC Family make its major brand transformation to Freeform (four new series launched, on top of the already-running Pretty Little Liars, Switched at Birth and The Fosters), and it was right in the middle of short-form digital teen network go90's (two new scripted series, at least) brief firecracker of a lifespan. Plus Hulu was getting in the game (Freakish), YouTube Premium was starting to gear up (Foursome), and even Disney was cottoning on to the value of more earnestly real dramatic teen content (Andi Mack).
At the same time as Teen TV's decade was being defined by this rapidly increasing more-ness, so, too, was the greater television landscape's. But as much as the basic fact of exponential growth tracks across category and genre, the teen space hasn't just been a microcosm of broader trends sweeping television as a whole. Not surprisingly (at least if you remember anything about the basic truths of teenagerdom), many of the changes that have washed over the broader landscape these last ten years have come from tidal waves borne of various teen series sneaking off to hidden coves and forbidden cliffs to cannonball into new storytelling waters. That ended up being a pretty labored metaphor, but my point is that while the small screen as a whole has seen an explosion in the number of platforms that new projects might live on, the size of the budgets showrunners can expect to be able to work with, and the public's appetite for ever more bingeable prestige content in general, the people who make teen television have (for the most part) been happy to stay tucked away in their quieter, non-prestige corners, taking risk after creative risk—even as the mainstream opinion of Teen TV has remained pretty solidly dismissive.
It would be too gargantuan a task, in one single online article, to work through every series and character and storytelling decision that drove Teen TV—and much of television in general—forward in the last ten years. (Not that I wouldn't be up for it; publishers, DM me!) But while we can't possibly hit every note, we can at least nail down the basic melody. To that end, here is our mostly chronological survey of the major moves made by Teen TV in the 2010s, starting with The CW's undead classic, The Vampire Diaries, and stretching all the way to Disney+'s uber-meta High School Musical: The Musical: The Series.
---
The New Old Guard
The Vampire Diaries (2009-2017), Pretty Little Liars (2010-2017), Switched at Birth (2011-2017), Teen Wolf (2011-2017) The Fosters (2013-2018)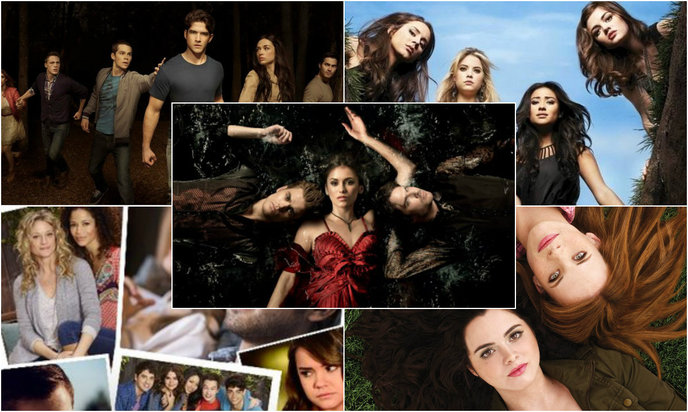 From some angles, teen television's trajectory these last ten years looks like a straight line that started at trope-y fun and ends in dark complexity. To wit, when the decade kicked off, Gossip Girl, 90210 and Glee were dominating the teen-oriented airwaves, while here at the end, it's all Euphoria, The Society and Chilling Adventures of Sabrina. As Paste's own Savannah Sicurella argued in response to Euphoria's buzzy HBO launch this past summer, "You'd have to be living under a rock to miss this […] sudden shift from campy, wonky shows centered around Laney Boggs-types embarrassing themselves in front of cute boys to Lynchian, hellish dramas about racy and sedated teenagers poisoning their parents, manipulating their peers and succumbing to biker gangs."
But while it's true that there's been a shift in small screen teen content, in general, from bubblegum-bright stories about the quotidian melodramas of clique-ish high school life to narratives that are pricklier, more challenging, and yes, both visually and thematically darker than the general public used to picture whenever the spectre of teen media was invoked, one look at the touchstone series of the first two-thirds of the decade belies both the idea that this shift has been a sudden one, and that the trajectory from Glee to Dare Me (out on USA December 29) has been a straight one.
I covered this era in detail in an end-of-year piece when four out the five wrapped their series runs back in 2017, but in brief, The Vampire Diaries was burning huge plot twists like flashpaper from Day 1, even though it had nothing to prove but that Paul Wesley and Ian Somerholder were very hot and very dangerous, Switched at Birth and The Fosters were incorporating delicate social issues (the foster system, date rape, Deaf culture) and revolutionary characters (Jude Foster, Aaron Baker) and stories (SAB's all-ASL episode, for one) even before ABC Family took its Freeform turn, and Pretty Little Liars and Teen Wolf were always taking on massive themes like the toxicity of the patriarchy and literal fascism, turning every teen television trope they could find on its head all the while. Like, PLL made a winkingly grotesque art of funereal fashion, and aired a noir fever-dream episode shot in full black and white. Teen Wolf, meanwhile, found time in between its regularly scheduled hot werewolf lacrosse matchups to do a carefully studied supernatural take on America's shameful history of Japanese internment camps, years before The Terror got around to its own impressive version. (Teen Wolf also, not for nothing, was so literally dark it was next to impossible to watch ages before Game of Thrones made its own name in that field.)
All this to say: The New Old Guard was building a solid foundation on which 2010s Teen TV could get ever wilder, weirder and bolder before Glee, Gossip Girl and Secret Life were even in the ground. Long live the legacy of the New OGs.
---
The Groundbreakers
The Lizzie Bennet Diaries (2012-2013), Faking It (2014-2016), East Los High (2013-2017), Sweet/Vicious (2017-2018), Andi Mack (2016-2019), Euphoria (2019-present)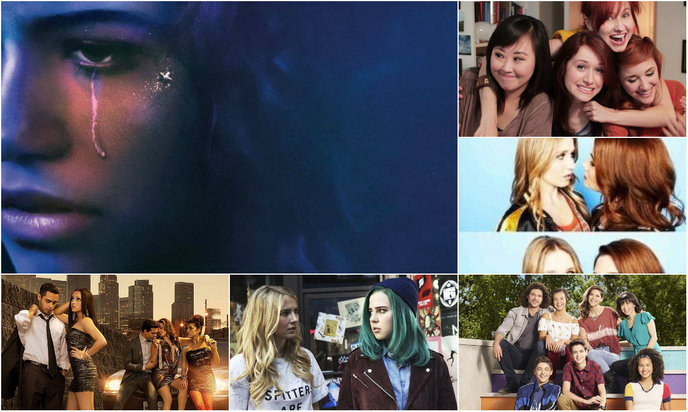 With the New OGs so solid on the ground and streaming platforms finally starting to pick up steam, the door was already open early in the decade for all kinds of new formats and stories to make a place for themselves under the Teen TV umbrella. HBO's appearance on the teen scene with Euphoria generated a ton of prestige TV buzz earlier this year, but the premium cable network's glittery, tripped-out Zendaya vehicle is just the latest in a long line of teen series launching themselves off the edge. On Hulu, Carlos Portugal and Kathleen Bedoya's East Lost High made waves all the way back in 2013 as the streamer's first and only series with an all-Latino cast and crew, bringing an experience to the small screen that, as former Paste TV editor Matt Brennan reported in 2017, is still rare in the medium as a whole.
For its part, MTV broke ground mid-decade on funny, un-try-hard nuanced queer storytelling with Dana Min Goodman and Julia Wolov's Faking It, which was often the butt of the joke for its ludicrous premise (two best friends pretend to be lesbians in order to become popular at their ultra-woke Austin high school) but which also featured trans, intersex and otherwise fluidly queer characters in prominent, complexly written roles that tackled the wobbliness of allyship and conservative belief systems (it was set in Texas, after all) alike with firm compassion. Landing at the end of MTV's mid-decade scripted golden age, meanwhile, Jenn Kaytin Robinson's campus assault feminist revenge comedy, Sweet/Vicious, broke open brutally hard conversations about one of modern American culture's worst-kept open secrets, which outside of the series would eventually explode in the #MeToo movement literal months after MTV aired what would end up being the show's spookily prescient finale.
It wasn't just content for older teens that saw extreme innovation this decade, though. Over on the Disney Channel, Terri Minsky's Andi Mack raised every Mouse House bar it could find, a process that started with the building of a meaningfully biracial family around Peyton Elizabeth Lee's thirteen-year-old Andi and ended with the network's first openly gay character (Cyrus Goodman) about to start the network's first gay relationship, but which included innumerable firsts in between. One payoff to that (still pretty recent!) breaking of ground? Every inch of Tim Federle's High School Musical: The Musical: The Series over on Disney+, in which one of the main characters has two moms, and another two just featured in a sweet, totally unremarked-upon high school crush storyline in the series' recent Homecoming episode.
Looking ahead to one of the buzzier digital platforms still looming in television audiences' future (i.e., the Jeffrey Katzenberg-backed short-form streamer, Quibi), one of the most interesting entries to the teen television canon in the last decade isn't technically television at all. Bernie Su and Hank Green's innovative multi-platform web series, The Lizzie Bennet Diaries, came and went on YouTube before Premium was even a thing, but considering the scripted (and unscripted) YouTube boom that followed, the brief, Wild West existence of go90, and the rise of mainstream networks incorporating interactive, multi-platform narrative elements across all kinds of properties, The Lizzie Bennet Diaries ended up being a real canary in a digital coal mine.
---
The New (Netflix) Normal
Stranger Things (2016-present), Fuller House (2016-2019), 13 Reasons Why (2017-present), Dear White People (2017-present), On My Block (2018-present)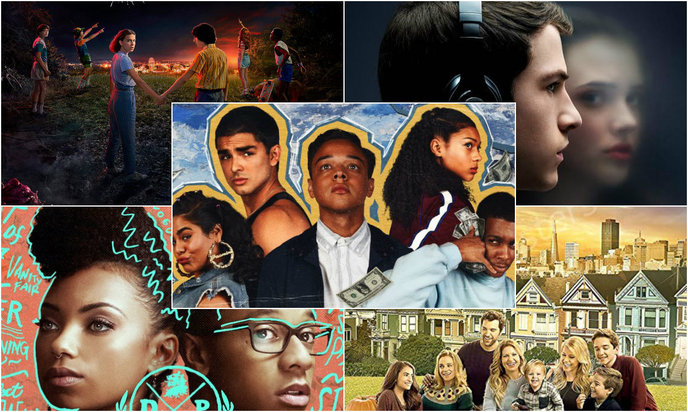 On the one hand, it's a bit disingenuous to take the whole of teen television's part in the streaming revolution and narrow the focus down to just Netflix, not least because (as the last section just laid out) The Lizzie Bennet Diaries and East Los High were making teen-sized waves on YouTube and Hulu years before Stranger Things came along. In terms of pure chronology, even Amazon Prime made moves in the Teen TV space before Netflix did, its own 80s-set comedy, Red Oaks, premiering in 2015.
But while teen television has flourished across the streaming landscape here in the back half of the decade, with YouTube Premium's Wayne and Step Up: High Water, Hulu's Marvel's Runaways and Looking for Alaska, Facebook Watch's Sacred Lies and SKAM Austin, and Disney+ and Apple TV+'s High School Musical: The Musical: The Series and Dickinson respectively shining especially bright, in terms of both mainstream reach and sheer volume, Netflix is just a juggernaut. My KINGDOM for Twitter-cooler chatter around the vicious and tender vulnerability driving Wayne's storytelling engine, or the utter luminosity of the dancing and singing talent on Step Up: High Water or High School Musical: The Musical: The Series—you want to gush about any of those, I'll be ready to join in. But between its seemingly endless budget, its ultra-engaged social media audiences and its intense dedication to diversity—not to mention its international reach—Netflix is too big a power player, both in the Teen TV space and beyond, to not be considered the market leader. Even Fuller House, which on its face might not seem like an obvious pick as representative of this trend, reflects the obsessive love today's teens have for classic sitcoms—Friends, The Office, etc.—available to binge on the streamer. As a critic, this can be frustrating. But as a fan, the fact that Netflix's boundless ambition has opened doors to the nichest of teen content (see: No Good Nick, but also see the final section below) is exhilarating. Teen television thrives in the weirdo broken, hidden places, and if Netflix is full of anything, it's exactly that.
---
The Internationals
My Mad Fat Diary (2013-2015), The End of the F*ing World (2017-present), Elite (2018-present), Derry Girls (2018-present)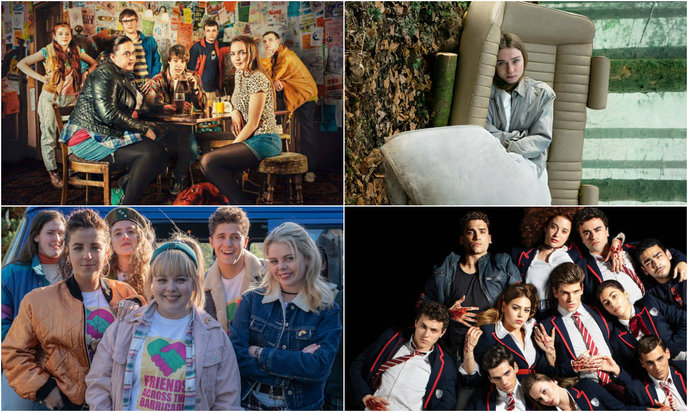 Imported from E4, My Mad Fat Diary was, like Misfits and Skins before it, an underground hit in the U.S. even before it made its way to Hulu (making it a kind of groundbreaker on its own), but the rise of streaming has made the idea of international series becoming underground favorites almost passé. Here at Paste, we are particularly fond of The End of the F*ing World and Derry Girls, but over on Tumblr's data-rich Fandom hub, Spain's murderously soapy Elite, which launched at #44 (five spots after Derry Girls) on 2019's Live Action TV Year in Review list, drives just as much passionate fan conversation. America's taste in television has long driven the international market, but with international series so easily imported back to us, the likelihood of a teen television future that looks a bit more diverse and a bit less American is right at the threshold.
---
The Internationals, Part Deux: The SKAM Universe
SKAM (2015-2017), Druck (2018-present), SKAM France (2018-present), SKAM Italia (2018-present), SKAM España (2018-present), SKAM NL (2018-present), wtFOCK (2018-present), SKAM Austin (2018-present)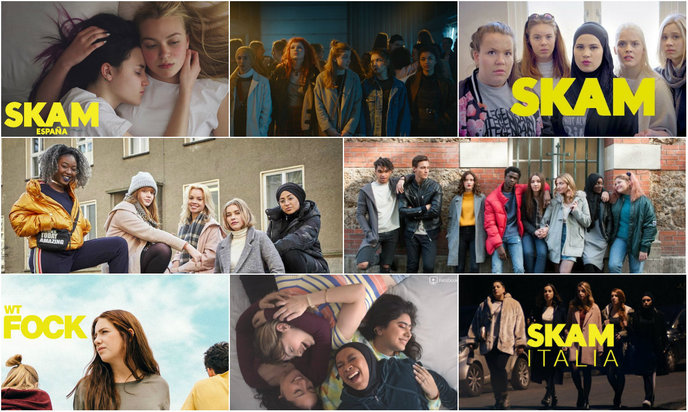 To be truly honest, the biggest story in Teen TV this decade is that of the still-expanding SKAM universe, which ballooned in its reach after clever, passionate fans of the un-exported, un-translated Norwegian public television original innovated dozens of ways to spread clandestine, amateurly subtitled streams of it to peers around the social internet. Following the same diverse but basic set of contemporary teen archetypes, SKAM is the ultimate—or at least, ultimately flexible—reflection of day-to-day modern Gen Z teenhood. It wears its heart and its progressive politics on its sleeve, thrives in digital spaces that offer multi-platform interactivity, and gives as much screentime to its core queer couples as it does to its heterosexual pairs, which latter fact has made the entire franchise collectively the most popular live-action property on notoriously queer-friendly Tumblr, all eight of the current international iterations landing in the top 30 of 2019's Top 50 Live Action Series, half of those eight landing in the top 12. Druck and SKAM France took home spots #2 and #4, respectively, each just barely edged out by Good Omens (#1) and Game of Thrones (#3). The SKAM Universe wiki (of course there's a wiki) suggests that at least ten more remakes are possible, but even if none of those end up panning out, SKAM is a top among the decade's clearest teen oracles.
---
The Next Generation
Riverdale (2017-present), All American (2018-present), Legacies (2018-present), Daybreak (2019-present), Dickinson (2019-present), High School Musical: The Musical: The Series (2019-present)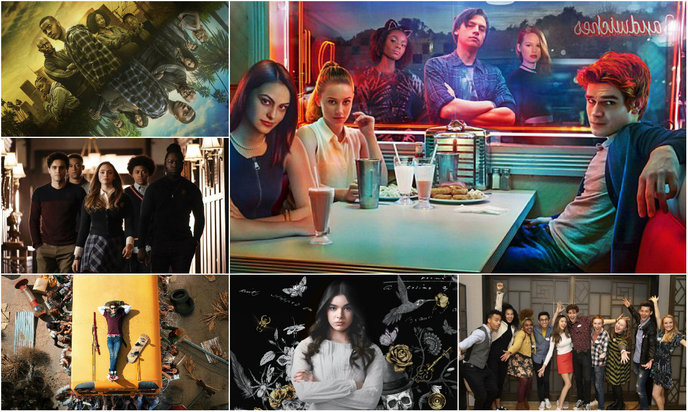 Not to unduly stress anyone out, but by my count, 29 new teen series will have premiered by the end of 2019, with USA Network's Dare Me just barely squeezing in at the last possible moment. Add to that the 25 new series that debuted in 2018, and the 15 from few years before that that also aired new seasons this year, and you've got… well, chaos. Welcome to the age of Too Much Television.
Within that too-muchness, though, it is still possible to pick out some patterns. Or rather, to pick out some non-patterns, because if this rambling survey has proven anything, hopefully it's that teen television has always been envelope-pushing and weird, and the expansive decade that was the 2010s only made it all bigger and weirder. That said, the teen television landscape in 2019 is less white, less upper-middle class, less ableist, and less straight that it's ever been, and often in such an unremarkable way that new and interesting stories are starting to be told that incorporate diverse experiences and characters more or less incidentally. The Society's sprawling cast includes Switched at Birth's Sean Berdy as the teen outpost's sole out gay kid, but while both his Deafness and the fact of his sexuality inform certain storylines and dictate how he engages with (or avoids) other characters, neither one is the central point of conflict for his character. See also: Daybreak's Wesley Fists (Austin Crute), KJ (Chelsea Zhang) and Victoria (Sandra Mae Frank), whose identities as people who are non-white, non-straight and/or non-hearing shape the ways in which they fight for survival after the apocalypse, but aren't the only things that define them.
That said, archetypes and tropes exist for a reason, and while there is so much more diversity in teen content across the board, many of the classic teen television elements that we kicked the decade off with are still alive and well. Riverdale may be all neon-glow murder mysteries, warring biker gangs/cults and possibly comic book witches, should a Chilling Adventures of Sabrina crossover ever transpire, but when it comes to heightened high school camp starring a bunch of fit-but-brooding twentysomethings, it's really not that far off from Teen Wolf. On the more grounded domestic drama front, The CW's All American (which, not incidentally, co-stars a Teen Wolf and PLL alum) is also keeping it real, picking up where The Fosters left off, but with a majority black cast telling a huge variety of stories. Julie Plec's Legacies, meanwhile, not only has hot teen vampires and werewolves, but literally is the in-universe legacy of The Vampire Diaries, the early-2010s pop culture behemoth, we started this entire journey off with.
The most interesting end-of-decade debuts, though, are the total oddballs like Apple TV+
s Dickinson and Disney+'s HSMTMTS, that are getting to muck around in the weird-as-fuck spaces that teen television has spent so much of its life in, just with bigger, more mainstream audiences finally paying attention. There's nothing that new about how funny and goofy and talented the teens at the center of these series are—as Dickinson creator and showrunner Alena Smith told MTV News, one of their main aesthetic inspirations for the series was a bunch of antique collages the set decorator found made by "essentially, bored women in the 1850s" who were basically doing a nineteenth-century version of things we'd find teen girls creating in magazines like Rookie or weirdo social media sites like Tumblr today—but thriving as they are in the buzzy corporate glow of Apple and Disney's respective streaming platform launches, they signal the kinds of big swings the next generation of teen shows might get to take, and where they might lead the rest of the TV tradition thereafter.
Teen television is available streaming everywhere—literally, everywhere—right now. May you end up both entertained and surprised by whatever you decide to spend time with.
---
Alexis Gunderson is a TV critic and audiobibliophile. She can be found @AlexisKG.
For all the latest TV news, reviews, lists and features, follow @Paste_TV.