Get a First Look at Tuca & Bertie, Netflix's New Animated Comedy Starring Tiffany Haddish and Ali Wong
Images via Netflix
TV
News
Tuca & Bertie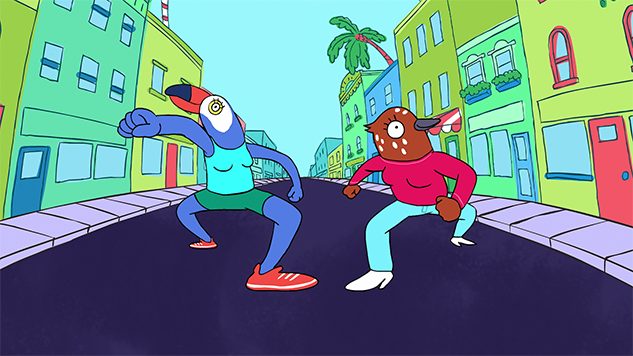 They may say that birds of a feather flock together, but the oddest pairings often produce the richest friendships. Case in point: Tuca & Bertie, the forthcoming Netflix animated series created by BoJack Horseman's Lisa Hanawalt. Tiffany Haddish (Girls Trip) and Ali Wong (best known for her Netflix comedy special Baby Cobra) star as the titular feathered friends who live in the same apartment building. Thursday, Netflix shared a behind-the-scenes video along with some first-look photos from the 10-episode series, which premieres on May 3.
Wong notes in the video that their vastly different characters, the outspoken Tuca (Haddish) and anxious Bertie (Wong), reflect their own personalities fairly well.
"In a lot of ways, it kind of does mirror us because Tiffany's, like, out there and about and is fun and is not repressed," Wong explains, "And I'm kind of a recluse and I'm a homebody. I'm, like, the boring person who's at home with my husband and my kids."
As for the series' animation, the first-look photos below and the clips in the video show a visual palette that is not far off from BoJack Horseman's, though it is decidedly trippier. Besides Haddish and Wong, Steven Yeun of Walking Dead fame is the only other regular on the forthcoming comedy. There's some stacked guest star talent though, including Nicole Byer (Nailed It!), Richard E. Grant (Can You Ever Forgive Me?), John Early (The Disaster Artist), Reggie Watts (The Late Late Show with James Corden), Tig Notaro (One Mississippi), Amber Ruffin (Late Night with Seth Meyers), Jermaine Fowler (Superior Donuts) and Tessa Thompson (queen of our hearts), to name a few.
Most importantly, though, Tuca & Bertie hinges on the central friendship, and Hanawalt (joined on the project by some of her fellow minds behind BoJack Horseman), says, "I want women in the real world to relate to it even though they're not bird people."
Watch the Tuca & Bertie first-look featurette and scroll through images from the show below.
First Look Images: