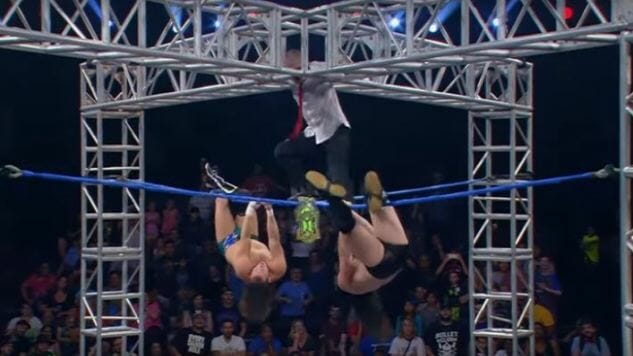 With its new ownership, Impact Wrestling has placed a renewed emphasis on the X Division. Originally conceived as TNA's equivalent to WCW's show-stealing cruiserweights, but without a weight limit, the X Division has provided Impact with many highlights throughout its history, even as the promotion often let it languish. With the new regime's increased focus, though, it's as good a time as any to talk up one of the company's shining spots and underline a few solid reasons why this group of risk-takers is truly worth being checked out by all fans new and old.
Returning Legends
Two legends of the division have recently made their return, with Sonjay Dutt and Low-Ki both making surprise appearances. Low-Ki eventually claimed not only the division's title but reasserted himself as the self-appointed king of what he calls "my X Division." The only props he gave were to his peer, Dutt, who is beyond talented, and has a long history with the X Division, but has never held the belt. Low-Ki and Dutt know something about putting their bodies on the line just to hold that piece of gold, and their experience is showing way more than their age. Dutt's unfortunate eye injury serves to show fans how brutal the matches can be and how hard each competitor is willing to fight, because there is a sense of glory and prestige that comes with the X Division title. A centerpiece during his many runs with TNA, Low-Ki easily established himself to new viewers as the no-nonsense legitimate threat that he is, and goes forward as a fighting champion, taking on all comers.
---
An Outside Star
Though his run as Evan Bourne in WWE was a disappointment for most, and recent troubles with the law in Japan have limited his options somewhat, Reborn Matt Sydal has revitalized his career with unforgettable performances in Ring of Honor, New Japan, Pro Wrestling Guerilla and other promotions. He's now signed with Impact, and has a fresh start and a chance to continue rebuilding his name as one of the most energetic and fluid workers out there. His recent matches with Impact have all been solid and he is being set up as a viable contender against a group of hungry young talent. Sydal has fought in a TNA ring before, but since that time is barely remembered by most fans, this gives him a chance to make a few new impressions. Sydal has improved his mic skills and can work as face or heel, and it won't take everyone long at all to see what he is capable of. In a world of high-flyers, this man soars just a bit higher, so keep an eye on him.
---
Young Blood
One of the advantages of wrestling is getting to see new stars brought in as some move up in the card and others leave for different territories. Impact Wrestling is rebuilding and there are a few new names to watch that are fresh injections of talent and potential new fan favorites in waiting. New faces like Marshe Rocket are being given opportunities to show off what they can do while stretching their legs on a bigger stage. Desmond Xavier is a recent arrival with a great look and skills to spare, as his matches in the company so far have kept the fans popping. Andrew Everett, though, might be the next wrestler being groomed for the top spot, as the young man has received some serious babyface attention after being kicked out of the Helms Dynasty. His promos constantly remind viewers of the struggle he has been through and push his passion every time he falls short of capturing the gold. Everett's recent performance in Ultimate X shows how much faith the office has in him, but it looks like he may still have a little bit further to go in his journey before claiming the top spot. Each of these three have the ability to be future champions and outright stars.
---
The Dethroned
Trevor Lee doesn't look like one of the best wrestlers in the world. Aside from the obvious caveman look, many of his expressions come across as confused gazes or misguided aggression, like a rabid animal someone kept in a cage that they shook to rile him up. Lee has a surprisingly huge ego though in his promos, oozing with confidence as he builds his heel character, and it is all backed up by his skills in the ring. Add in cruiserweight great Gregory Shane Helms to the mix as his manager and insurance policy, and it isn't hard to see why this unassuming individual had a solid run with the title until recently. Low-Ki took his belt in a multiple man match and it is only a matter of time before he strikes to take it back. There are other former champions who are waiting in the shadows as well, including Suicide, the long-running character played by a variety of different wrestlers, who is currently being portrayed by the talented Caleb Konley. DJZ was also mixing it up until an injury halted his stride, but each of these men still has his eyes on the championship and is capable enough to reclaim it.
---
Past the Division
It's great when a separate division feels like part of a bigger world and not something completely off on its own island. Hear that, WWE? I'm talking about your cruiserweights. Wrestlers have longed moved in and out of the X Division once they are ready to be in bigger matches or storylines. Braxton Sutter is probably the best recent example of this. After coming into the company he made some waves in a vicious feud against Rockstar Spud that let both men show off and built Sutter up as a fan favorite face. He was then part of one of the more memorable stories right before the company's big shakeup, involving his girlfriend Allie and a botched wedding to Laurel Van Ness. Some were not happy with the ending of this, especially after the departure of Maria Kanellis and Mike Bennett left a few lose strings, but the progress was not halted and now sees Sutter facing off against Kongo Kong. No matter how this particular pairing turns out, this is bringing Sutter a lot of attention as someone who can headline his own storyline, proving his potential ceiling is higher than many might have expected. During all of this though Braxton has still had a few matches in the division, helping his transition and making the roster feel more fluid. The X Division is a great proving ground for talent who can later spread their wings and set their sights on the main event, making it feel even more important.
---
Stephen Wilds is a freelance author with a flair for retro videogames, old cartoons, and bad movies. He has written for Playboy, Unwinnable and others.