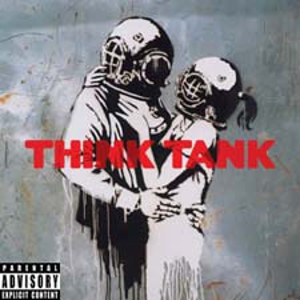 Blur has managed a convincing reinvention at least once in their career,—depending on your perspective. The band answered Brit-pop boy band allegations with the challenging and diversely orchestrated pop of their fourth album, Parklife, and tried to wend their way through a media-manufactured feud with Oasis (when such a thing mattered) like they were the better sports. After Parklife became a critical landmark, Blur helped redefine Brit-pop by cranking up Graham Coxon's guitars and releasing its self-titled fifth album, including the mega-hit "Song 2." The band parted ways with long-time producer Stephen Street for 1999's William Orbit-helmed 13. That album was perhaps less satisfying, but aimed high, with an experimental and spontaneous vibe.
So. Here's Think Tank, the band's seventh record. We'd be disappointed if it was more of the same of anything Blur has offered in the past, right? Sure, but eliminating the band's musical axis seems like a sketchy idea for the new formula. Coxon was ousted during the early stages of this album's development. The undeniable fact is that musically, he's missed. The elegant, psychedelic, album-closing space odyssey "Battery in Your Leg" is the ex-guitarist's only appearance here.
Frontman Damon Albarn does have the voice and charisma to carry an album (as the success of his Gorillaz collaboration with Dan the Automator in 2001 attests), and the synergy between bassist Alex James and drummer Dave Rowntree is still present to anchor the music. In fact, the rhythm section is pushed to the fore on tracks like "Jets," during which James' buzzing and lurching bass becomes the lead instrument. Nonetheless, Think Tank comes off as a transitional record full of potential, not quite feeling like the successfully realized next evolutionary step for the band.
Albarn's experience with the genre-blending Gorillaz and his cultural immersion project with 2002's Mali Music have enhanced his knack for experimentation. The Gorillaz' touch is evident on "Ambulance," with its dubby bass and expanded percussion. The band's six-week tenure in Morocco during fall 2002 has left its stamp on Think Tank as well, with Arabic vocal samples in the throwaway "We've Got a File on You," and the shifting, camel's-pace rhythm of the haunting "Caravan."
A vocal opponent to military action in Iraq, Albarn seems to be seeking the things that everyday people have in common on both sides of the conflict. Not pop music's headiest lyricist, however, Albarn couches his sentiments in songs like "Moroccan Peoples Revolutionary Bowls Club" with lyrics such as, "the road is hot and dusty / the desert needs a beer / but if we go and blow it up / then we will disappear."
The band's finest moment is "Out of Time," marked as the U.K.'s single. It's a lilting mid-tempo tune with a Latin beat and Andalucian strings accompanying a sweetly aching melody. The American market gets the cartoonish "Crazy Beat," which fill's this album's "Song 2" slot. Produced by Norman (Fatboy Slim) Cook, the song's big rock beat and fuzz-punk guitar are overshadowed by a vocoder effect that will remind Dr. Demento devotees of Rick Dees' "Disco Duck." Cook also produces "Gene by Gene," a charmer of a pop tune with a summery vocal hook and self-assured "I believe myself" mantra, all absolutely slathered in gratuitous production. Just because you can sample a squeaky washing machine and put it in your song doesn't mean you should.
Better is the appropriately named "Sweet Song," produced by William Orbit. The piano-driven ballad features Albarn's tender falsetto in a soothing lullaby singing "stop crying now, here comes the sun." The low spark of the funky "Brothers and Sisters" is a laundry list of the drugs we're all addicted to—acknowledged, legal, or otherwise. "Cocaine is for murderers, codeine for the jurors," sings Albarn, before dragging caffeine and aspirin into the picture.
One could consider Think Tank similar in Blur's canon to Zooropa or Pop in U2's, or Kid A in Radiohead's. Both of the U2 albums contained undeniable gems but showed a band finding their way through new territory. By the same token, Think Tank will be essential to Blur fans, and may even drag Gorillaz fans into the fold. Nonetheless, it's hard not to wonder what Blur could have made as a well-functioning four-piece.