Field Day Fiasco
New Jersey (2003)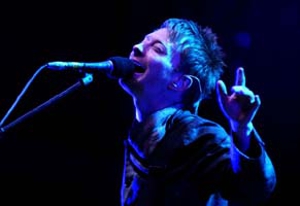 On May 30, some friends of mine began driving from Boulder, CO to Calverton, Long Island, then home of what was rumored to be the best concert of the summer. Field Day promised a laundry list of household names including Radiohead, Beck, the Beastie Boys, Sigur Ros, Elliot Smith, Interpol and Blur. In simple terms, the concert was going to be epic. But when my friends arrived a week later they arrived to nothing. There were no people, there were no stages and most importantly, there were no bands. Within the time it took to drive the near 2,000 miles from Boulder to Long Island, Field day had been canceled, rescheduled, shortened and moved. Instead of being held on 1,000 acres of rural Long Island, the concert was moved to Giants Stadium and the adjacent parking lot. And, instead of camping with thousands of other music fanatics, my friends were left to wallow in the Metromedia Hotel across the street from the Giants Stadium parking lot. It should serve as no conciliation that New Jersey is nick-named the "Garden State" when non-Jersey natives trenchantly refer to it as the "armpit of America."
Web chat rumors began flying even before the concert changed venues. Many people blamed the Long Island Police Department for refusing to assist the Suffolk County Police Department. But the Long Island Police must have been hesitant in the wake of Woodstock '99, a debacle of a concert, which erupted in rape and arson. An influx of 50,000 people can mean quite a handful, so why get involved when you don't have to?
Outside the rumor mills (where blame was being spread to concert promoter Andrew Dreskin and rival promoter Clear Channel), real accusations were being dispensed. The town of Riverhead blamed Suffolk County for not providing adequate police coverage, while Suffolk County blamed the town of Riverhead for not giving adequate time to create a police plan and a traffic plan. Regardless, the initial concert plan was disastrous and there remains plenty of blame to go around.
But wait, did I mention Radiohead was still playing? After a week of confusion and disruption, the list of 35 bands was paired down to 16, though it included Beck, the Beastie Boys, Blur, Elliot Smith and headliners Radiohead.
Field Day began as scheduled on Saturday, June 7, despite the change in venue. But the 15,000 fans that showed up were blasted with rain for 10 hours. It was as if a divine force wanted no part of Field Day to be a success. Yet, despite the rumors, mismanagement, rain and change in venue, the concert continued.
Karl Hydi, the lead singer of duo Underworld, challenged the audience early when he recited a few words from the end of the Rolling Stones album Let it Bleed: "You can't always get what you want, but if you try sometimes you just might find you get what you need." The words brought a smile to everyone's face and lifted the spirits of the now drenched fans on the floor. For the next hour, Underworld played its unique brand of electronica, vibrating everything that wasn't drilled down. During their hit "Born Slippy," even those in the mezzanine were risking life and limb to dance on their chairs.
Blur followed and continued to excite the crowd. Although focused mostly on playing songs off their new album, Think Tank, they mixed in a few older hits, too. At the top of the list was "Song 2", which, led by lead singer Damon Albarn, inspired the audience to scream the anthem with him. Unfortunately, in the middle of Blur's set a stagehand accidentally collided with Beck, sending Beck to the puddles. At first doctors thought Beck had fractured his ribs and the internal debris would puncture his lung. But after a trip to the hospital, it turned out Beck's ribs were not broken
Beck's absence left open an enormous period of time for the Beastie Boys to fill. Instead of being limited to an hour set, they would have over two hours to use as they pleased. But the Beasties, led by Veteran DJ Mix Master Mike, had a difficult time with their performance. The first half of their set was plagued by microphone problems. In comparison to Mix Master Mike's echoing beats, the MCs were quiet. No matter how hard they yelled, their voices came out dull and muffled. Typifying their performance, the MCs unanimously yelled into their mics, "Turn up the mics!," but all that was turned up were the lights. After a few more requests the mic volume was finally raised and the Beasties finished up strong with a choppy version of their hit "Intergalactic."
By not using all of the available time, the Beasties left two hours for headliners Radiohead. While stagehands were setting up the polychromatic picket fence, which would illuminate the band from behind, the rain stopped. After 10 hours of unrelenting precipitation, it all stopped. When Radiohead came on, Thom Yorke was smiling like a little kid and so was I.
I'd heard Radiohead put on a good live show, but this was incredible. On "There There," the single off their new album Hail to the Thief, Radiohead let loose, building the anthemic tempo only to fall into an electronic crescendo. "2+2=5" demonstrated Radiohead's heavier influences. Thom Yorke's eerie voice, combined with hair-raising guitar work, bridged the song together, though this was the only moment I felt the band was out of control. Most of the time Radiohead is incredibly accurate. Every note and syllable are where they should be. Without this knack for perfect timing, the band's "no structure" systems would fall apart. But "2+2=5" erupted with screaming guitars and blurry electronics. Though it was Radiohead's fastest and hardest song, it took away from the overall aesthetic of the performance. Timing was most evident on "Sail the Moon," an unimpressive album song, but an amazing live experience. Blips and bleeps faded and rose with Thom Yorke's voice and the song melted away as the last melodic tunes slipped into the crowd. During their three-song encore, Radiohead proved it still had a handle on its old material. When the band broke into "Talk Show Host," a personal favorite, the bulk of the audience began swaying with the music. I looked around and it seemed that the entire audience was awed and amazed. In the end, the characteristic electronic bleeps faded and I was miraculously dry. After a day of cold wet depression I couldn't be happier. The last two hours of the concert made up for everything that went wrong in the last two weeks. The crowd left sublimely happy.
If you're sitting in the rain for ten hours trying not to see the irony in a stadium made of metal and concrete, with the word "Meadowlands" printed on every trash can, the music doesn't produce such a lovely feeling. But, then again, these things build character. And I can say that seeing Radiohead play for two hours was probably the closest I'll ever get to a religious experience, that is until I see them again in August.
Bonnaroo North East, with a similarly epic line up, was also scheduled to take place at Enterprise Park in Long Island. However, citing Field Day's logistical problems, Bonnaroo North East was officially cancelled. The press release read, "It would be irresponsible to the artists, to the festival goers, to citizens in the community, and to ourselves to move ahead with our plans given the circumstances that now exist". Perhaps, with a little more preparation and hopefully a different location, Field Day 2004 will go smoother and all in attendance will be exposed to what will hopefully go down in history as the greatest summer festival since the original Woodstock.